Metal band Benea Reach headlines India rock festival
The music cooperation with India includes concert activities within jazz, rock and school concerts. The projects are funded by the Ministry of Foreign Affairs
This week Norwegian metal band Benea Reach leaves for India where they headline The Great Indian Rock Festival. - This will definitely be an extraordinary and unforgettable experience, says the band, which features the front cover of this month's RSJ, the greatest rock magazine in India. The music cooperation with India includes concert activities within jazz, rock and school concerts. The projects are funded by the Ministry of Foreign Affairs.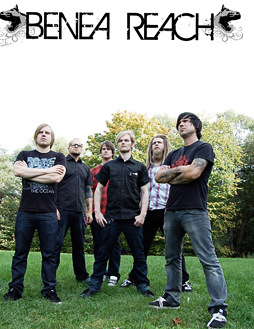 - When we got the request from Concerts Norway/Rikskonsertene of touring in India, we had to confirm that no one was joking with us, says drummer Marci Storm. - Pretty soon we understood that it was for real, and that just blew our minds. We are so exited to be able to visit and play shows in India, and are looking so much forward to the trip, adds Benea Reach, all ready and set to go.
From splatter to Bollywood
Since the start in 2003, Benea Reach has released two albums; Monument Bineothan and Alleviat, which both were nominated for Norwegian Grammys as "Best metal album of the year" in 2006 and 2008 respectively. Benea Reach has featured a long series of the greatest rock festivals at home and abroad, and is given some of the highest scores in some of the world's most recognised an prominent rock- and metal magazines. The band's song "Awakening" is also part of the soundtrack to the Norwegian splatter film Dead Snow.
The circumstances Benea Reach will be part of in India, however, differ significantly from Norwegian splatter in northern territories. The band will experience a real round trip in India during their stay, with several concerts at The Great Indian Rock Festival in Pune, Delhi and Bangalore from 23-26 October. In addition to these gigs, Benea Reach also features Thoms '09 Cultural Festival of IIT Roorkee, one of India's greatest student festivals, where they will play 31 October.
The metal genre in India
The Great Indian Rock Festival is being held for the 13. time. Head of festival and founder Amit Saigal has during the last few years presented several Norwegian rock- and metal bands at his festival, among them Satyricon, Enslaved and El Caco. The festival appearances have all been made possible through the cooperation between The Great Indian Rock Festival, The Norwegian Ministry of Foreign Affairs, and Concerts Norway.
- Metal as a genre has increased in popularity over the past few years, says Amit Saigal to The Indian Express. Saigal has visited Norway several times in order to spot Norwegian metal bands to present at The Great Indian Rock Festival. He continues: – The definition of metal changes with every generation. Deep Purple was considered metal in the 1970s, but today it's called classic rock. Metal is a slightly harder music but it is getting its share of audience now, he says.
India - strategic target
Concerts Norway has had a music cooperation with India since 2002. The cooperation is financed by the Norwegian Ministry of Foreign Affairs, and has been renewed and expanded several times. Last autumn an extensive general agreement that will run through 2012 was signed. The music cooperation is also part of the Norwegian government's new India strategy that was launched this august.
Contact:
Acting Head of Communications, Guro Kleveland,Rikskonsertene/Concerts Norway guro.kleveland@rikskonsertene.no
Tel.: + 47 91 70 49 21, mobile: + 47 99 59 01 30
Read more and listen to samples here:
www.rikskonsertene.no / www.concertsnorway.no