The Norwegian Way to the Information Society - Bit by Bit
Report from The State Secretary Committee for IT, January 1996
Report from The State Secretary Committee for IT
The Norwegian Way to the Information Society - Bit by bit
Preface
The rapid and sweeping development within information technology is in process of changing our everyday lives. It is creating new ways of disseminating knowledge, providing us with new kinds of products, and changing the way that we organize both production and management. It removes the obstacles associated with long distances, thereby bringing countries and regions in contact with each other in a totally new way. The fact that the development is so rapid, dynamic and wide-ranging increases the importance of a broad commitment by the public authorities in cooperation with both sides of industry.
In this report, we have attempted to describe the development within information technology, and to draw attention to concrete measures that should be carried out. Our point of departure has been that Norway must make use of information technology in ways that further the Government's aims for a securer and fairer society with full employment and a better quality of life for all citizens. The report shall form the basis of a coordinated Norwegian IT policy.
In Norway, we have a sound basis for making progress in the information age. We have a tradition for active cooperation between the public and private sectors, and are, in many ways, in the forefront of developments where making use of information technology is concerned.
Change gives rise not only to opportunities, but also to insecurity. We cannot opt out of information technology, but we can opt to grasp the opportunities that it gives, and actively address the challenges that it raises. The Norwegian road to the information society must be laid bit by bit through a cooperation between the authorities, business and industry, organizations and the public at large.
Since the report was presented to the Government in January 1996, it has been circulated for comment to organizations in both the private and the public sector. It is important that as many people as possible are able to participate in the debate on the role of information technology in the development of society. The report's proposals concerning the policies and measures involved in building the Norwegian road to the information society are now being reviewed by the Ministries, where consideration is being given to the comments that have been submitted.
This page was last updated January 22, 1997 by the editors
The Norwegian Way to the Information Society. Bit by Bit
Report from the State Secretary Committee for IT
ISBN 82-7452-017-3
An electronic version of the report is available on the Internet from ODIN, the Norwegian Government's Internet server, at: linkdoc002005-990371#dochttp://odin.dep.no/it/
Enquiries about the report can be addressed to:
The State Secretary Committee for IT,
Samferdselsdepartementet
Postboks 8010 Dep
0030 Oslo
E-mail
x.400: S=it; P=dep; A=telemax; C=no
Internet: linkurlmailto:it@dep.telemax.no_blankit@dep.telemax.no
Layout: RRA Studio
Repro and printing: Tangen Grafiske Senter AS
Norwegian version:
1st impression: 5 000 copies
2nd impression: 5 000 copies
3rd impression: 5 000 copies
English version:
2 000 copies
English translation: Richard Lawson
Ministry of Transport and Communications, January 1996
---
The committee comprised the following State Secretaries:
Torstein Rudihagen, Ministry of Transport and Communications (Chairman),
Norvald Mo, Office of the Prime Minister,
Anne Lise Hilmen, Ministry of Government Administration,
Ottar Guttelvik, Ministry of Finance and Customs,
Ingeborg M. Borgerud, Ministry of Justice and the Police,
Kari Paulsrud, Minister of Education, Research and Church Affairs,
Irene Valstad, Ministry of Cultural Affairs,
Anne Breiby, Ministry of Industry and Energy, and
Svein Roald Hansen (former State Secretary and former Chairman of the committee)
The committee's secretariat comprised the following members:
Per Sanderud (Director General, Ministry of Transport and Communications), Arne Spildo (Director General, Office of the Prime Minister), Vidar O. Steine (Director General, Ministry of Government Administration) and Hugo Parr (Director General, Ministry of Industry and Energy). Special Adviser Jostein Håøy was the secretary.
The committee wishes to extend thanks to all Ministries and external institutions that have contributed constructive opinions and comments during the preparation of the report.
This page was last updated January 22 1997 by the editors
1. Information technology is changing our lives
Information technology is a driving force. The changes it is making in our everyday lives and in our society are every bit as sweeping as those made by the Industrial Revolution. In fact, this is a revolution we are living in the midst of. We are all major daily consumers of information technology.
Every time we shop for groceries we use information technology. The goods in the shelves now have bar codes instead of price tags. At the cash desk, these bar codes are read by an electronic device. When we pay, we put a bank card in a point-of-sale terminal, which directly debits our bank account. Information technology has brought us more speedily through the checkout, and made it possible for us to shop without carrying cash in our wallets.
However, the changes that we, as customers, do not see are even greater. When the price is read in the checkout, information is simultaneously transferred to a computer system, which provides the store with continuously updated information on stocks and demand.
The warehouse system communicates with the suppliers, automatically placing orders for fresh stock before the shelves are emptied.
Sales statistics are always completely up to date, and can be used to keep the store informed about the goods that sell well. Poor sellers can easily be identified and removed from the shelves.
It has been made easier to monitor the receipt of goods, wastage and invoicing. Surveys and periodical reports can be generated as they are needed because the necessary information is instantly available as goods are sold. Payments transmission and cash management are both more efficient and more secure.
Information systems and communication possibilities enable chain stores to collect sales information from all of their branches, thereby providing a basis for more efficient purchasing and sales routines. Information technology has given both the chain stores and the wholesalers a tool to improve the efficiency of stock management and distribution, among other factors. Instead of being dependent on keeping large stocks, shops can have them delivered according to the "just-in-time" principle. When an item is ordered from a wholesaler, an electronic order can automatically be triggered to the supplier, who then starts production of the goods ordered. Warehousing costs are reduced, since goods are only produced and delivered when they are needed.
When used in this way, information technology can reduce costs for both the stores and the wholesalers, thereby resulting in lower prices for the consumers.
Bar codes are an example of how information technology can simplify our daily tasks, improve the efficiency of our work and enable the creation of new ways of organizing tasks and companies. In a great many areas, information technology has become such an integral element that we do not notice it unless it is pointed out.
Household appliances such as washing machines and microwave ovens are controlled by small computers ­ microprocessors. Electronics and computer systems contribute more to the price of a car than does the steel in the car body. On television, we watch world events as they happen.
Your telephone can now receive two calls simultaneously on the same line. You can transfer your calls to another telephone number anywhere in the world, and the telephone service now has a built-in automatic answering service. We can use automatic telephone services to pay bills, transfer money between bank accounts and cancel the monthly choice of a book club we belong to.
Schoolchildren learn to use word processors and spreadsheet programs in their Norwegian and mathematics classes. In higher education, information technology is an indispensable tool for most subjects.
We experience information technology in the form of better, cheaper and simpler products and new products and services. Tasks that once required expert knowledge can now be carried out by most people because much of this knowledge has been built into the products.
The basis for information technology lies in the fact that sound, text and pictures can all be digitized ­ broken down into so-called "bits" and expressed by means of two numbers: 0 and 1.
In a digital world there is no difference between handling telephone calls, data and television. They can all be accessed via a computer screen and be made available to people all over the world. Home computers are no longer advanced typewriters with a large amount of memory. They have become ports of entry to a worldwide network, enabling access to information, knowledge, entertainment and cooperation with other people.
While the performance of electronic components is continually improving, they cost less and less to buy and become increasingly easier to use, thereby becoming available to an increasing number of people.
We have only just begun to exploit the possibilities of information technology for developing new services and products, simplifying and improving production processes and reorganizing tasks:
Virtual reality techniques allow us to move around in artificial environments that seem real.
The technique can be used to illustrate what a house would be like to live in, how new kitchen fitments will function ­ or to get realistic driving practice without risking one's life in the traffic.
Electronic charts and satellite communications will enable boats to be navigated along the coast with safety margins of only a few metres, thereby considerably increasing the safety of coastal traffic. On the roads, continually updated traffic information, digital maps and receivers in all cars will help us to find our way, while enabling a freer flow of traffic and reducing the number of accidents.
Communication via networks allows the establishment of so-called virtual companies or project organizations to solve specific tasks.
Specialists sitting anywhere in the country or, for that matter, in the world can cooperate on solving demanding tasks. Tasks can be carried out remotely while travelling, while visiting a customer or from home.
The first stage of the information revolution placed personal computers at many workplaces and in many homes. Now these computers are being connected together in networks, and many of the networks are being connected together, for example in the Internet, which has at least 30 million users.
Information technology's highway and transport network consists of the traditional telephone lines, mobile telephone networks, cable networks and satellites. Today's telephone network already links us together and enables us to communicate with people in all corners of the world. Digitizing of the telecommunications network and introduction of so-called Integrated Service Digital Networks (ISDN) enables the transmission of speech, text and pictures via the same network. Before the end of 1996, nine out of ten telephone subscribers in Norway will be able to obtain such services.
In addition to the telecommunications network, a number of other networks can be used for more purposes than is the case today. Cable television systems, the electricity utilities' internal monitoring networks and other telecommunications networks can also be used for telephone calls, data communications, and radio and television programmes. When Telenor's monopoly for operation of telephone networks is brought to a close, the alternative networks will be taken into use. This will result in increased capacity and competition, and reduce the prices of the services.
Networks and infrastructure in Norway
Norway now has a modern and well-developed telecommunications infrastructure, including, in addition to the telecommunications cable network, mobile telephone networks, broadcasting networks, cable TV networks and satellite networks. In addition to this, alternative infrastructure resources exist in the form of the electricity utilities' networks, the armed forces' network, the telecommunications network belonging to the Norwegian State Railways and municipal networks.
The transport network in the telecommunications network links together all regions of the country. On 1 January 1996, 81% of the transport network was digitized, and the network will be fully digitized by 1998. The transmission medium in the core network consists mainly of optical fibre cables and radio relay systems. The optical fibre network has today a total capacity equivalent to 240000 simultaneous telephone calls (8 x 2.5 Gbit/s). New technology will in the short term quadruple this transfer capacity. The current radio relay systems have a transfer capacity of 5000 simultaneous telephone calls (0,42 Gbit/s). A doubling of this capacity is planned.
The subscribers' network in the telecommunications network, which connects the individual subscribers to the nearest telephone exchange, is currently mainly an analogue system, based on copper cables. The subscribers' network is a bottleneck to transferring large amounts of data. New digital technology will stretch the capacity considerably. By the end of 1996, 90% of subscribers will be able to connect to the Integrated Service Digital Network (ISDN). Use of radio-based solutions for connection of subscribers to the network will result in increased mobility and rapid development of new infrastructure. We will probably see a gradual development of optical fibre systems in the subscribers' network.
The Broadcasting network consists of several countrywide networks for broadcasting of TV and radio for the Norwegian Broadcasting Corporation's two TV stations and for the four national radio stations, which can all be received by over 90% of the population. In addition to these, there are over 25 local TV networks and a large number of local radio networks.
Satellites can in many cases function as an alternative to the ground networks, and are used for both telecommunications and broadcasting. The infrastructure associated with satellites can be divided into three. Firstly, the unidirectional satellite broadcasting network, which currently has 17 television channels. These transmit signals to cable networks and dish antennas, which are estimated to reach 60% of the Norwegian population. The signals can be received by over 97% of the population if they obtain antennas for this purpose. Secondly, there is a satellite network for bidirectional telecommunications between fixed and mobile stations both in and outside of Norway. Thirdly, there are other satellite systems that are not Norwegian-owned but which can be received within Norwegian territory, which have over 150 channels for transmission of TV programmes. Most transmissions are made via the satellites Astra, Eutelsat and TeleX/Sirius.
Norway has four nationwide mobile telephone services (2 GSM-operators, NMT 450 and NMT 900). All of these systems will by the end of 1995 cover 90% or more of the population.

Source: Statstics Norway, Ministry of Transport and Communications, Norwegian Consumer Electronics Retailers Association.
In a few years' time, it will be possible to use all networks for all types of service. The available services for telecommunications, television programmes and data communications will then be far more extensive than today. It will be possible to offer special services, such as the supply of video films or excerpts from television news broadcasts via the network.
Distance is no longer an obstacle to contact and cooperation between companies and individuals. Differences in time zones may be a greater obstacle than distance. Colleagues located in different parts of the worlds are able to cooperate on the same projects. Experts can be consulted directly. Processing time can be reduced by moving the work on a project between different parts of the world according to where there is daylight.
However, the information networks also make it more difficult to regulate and limit the spreading of undesirable content. Information networks also contain violence, pornography and propaganda for nationalist and racist movements. We must find new and appropriate ways of combating these things.
The Internet
The Internet is now 25 years old. From its small, academic origin, it began in the middle of the 1980s to be connected to public and commercial networks. Since then, it has doubled in size each year, and has thereby spread more rapidly than any other consumer electronics product in history, including the telephone, the telefax and television.
At the current time, approximately 30 million people in 90 countries are estimated to be connected to the Internet. In January 1995, there were 4.9 million host computers on the Internet, 120% more than the previous year. Such growth and geographical distribution is rapidly making Internet the universal network, connecting individuals, organizations, countries and continents.
The Internet is not a single network with a single owner. It consists of many networks, from companies' local networks and national grids to international basic networks that link continents. The Internet has no separate physical infrastructure, but rents telephone lines. The capacity in existing lines is utilized effectively. This is one of the reasons why the Internet can grow so rapidly.
Graphic user interface
The growth of the Internet is due not least to the World Wide Web (WWW). In February 1995, there were 27 000 host computers connected to the Web, an increase of 1758% during the course of 1994, and by August 1995, the number had increased to approximately 100 000. The Internet service World Wide Web was developed at the European Laboratory for Particle Physics (CERN) in Switzerland in 1990. The service provided the Internet with multimedia properties enabling the simple combination of text, pictures, video and sound. WWW made the Internet available as a mass medium, and gave completely new potential for two-way communication.
This has been instrumental in immediately making the Internet more commercially interesting, which has revolutionized the content. During the course of the last year, a large number of companies have given priority to exposure on the global Internet. During 1994 alone, WWW traffic multiplied ten times, and a total of 60% of the traffic on the Internet is now commercial.
More advertising than sales
Companies have so far used WWW and the Internet more to market themselves and their products than for the sale of goods and services. In a market survey carried out by ActivMedia, 72% of the companies responded by saying that the reason for being on the Internet was to improve the company's image, and 74% used the Internet to spread price and product information. Only 22% answered that Internet activities resulted in a positive yield, while a total of 40% did not expect to see positive results for 12 months to two years.
Information technology has provided the basis for powerful measures to rationalize and improve the efficiency of traditional industries. Computers are used for tasks ranging from word processing to control of machinery, and whole factories are manned by robots. Use of debit cards and automation of tasks has reduced the need for employees in banks and post offices.
At the same time, information technology creates new tasks and a growing market for new industrial activities and new occupations. When the telecommunications networks are able to carry far more data than they can today, the content of this data ­ new services, information, news, culture and entertainment ­ will represent a larger part of the value generation. It is here that the jobs and the profits will be created.
It would no doubt be possible to put a brake on this development by giving support to established commerce and industry. However, it will not be possible to solve the problems of the future if we allow Norwegian industry to become old-fashioned and if our workforce lacks the ability to avail itself of information technology. Equipment, technology and production can be moved across national borders. What cannot easily be moved is the knowledge and expertise of the workforce and of the population in general.
Expertise and knowledge will be an increasingly important basis for value generation, especially for the opportunities created by information technology. The challenges of information technology must therefore be met by Norwegian industry continually taking advantage of new possibilities as they arise. Training and further education will play a major part in this. A society for which knowledge is increasingly important at the same time experiences a constant need to readjust because knowledge is constantly developing and changing. Security must therefore be engendered through the ability to overcome the difficulties associated with change.
New channels for information and communication will influence and create the basis for the further development of our democracy. New channels of influence will be established and political issues will be dealt with more swiftly than before. We will be given new possibilities for dialogue between politicians and the public. In this way, technology can be used to provide faster and broader access to information about opportunities and rights, and to influence democratic government and participation.
Men seem to be quicker than women in taking advantage of the new possibilities for communication provided by technology. This raises a need for a conscious approach to gender equality both at school and at work ­ both in general and particularly where information technology is concerned. A development resulting in inequality between those who succeed in mastering the new technology and those who do not, and between people with greater and lesser occasion to use the new technology, is not desirable.
Some people assert that the new technology may lead to a reduction in the contact between people. It is important to be aware of such dangers, and to be active in taking countermeasures for both individuals and groups to ensure that activities in clubs and societies, cultural work, etc. do not suffer. However, there is not likely to be any great danger of this, since no technology can replace people's need for each other's company. The new technology simplifies people's daily lives, thereby giving them more time for social activities and contact with each other. New forms of communication also provide the basis for new forms of human contact.
Norway must be at the leading edge of developments. Only then is it possible for us to create new jobs. Since the beginning of the 1960s, trade between countries has gradually increased. Obstacles such as customs duty and import restrictions have been reduced or removed. Information technology will contribute to increases in world trade and to drawing continually more areas into the global economy.
Norway has an open economy, and is to a great extent dependent on the developments in world economy. We must ensure that we succeed in acquiring our share of the new markets for information services and products.
To an increasing extent, our prosperity will depend on our ability to create and produce the content of the information society's products and services, coupled with our ability to utilize information technology in the production and marketing of traditional goods in a cheaper and more intelligent way.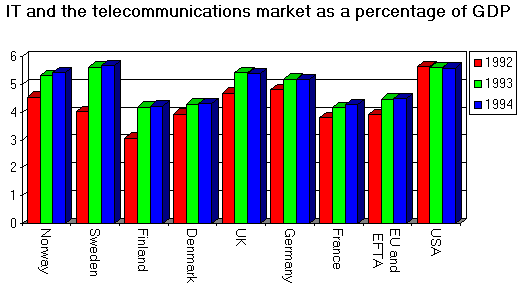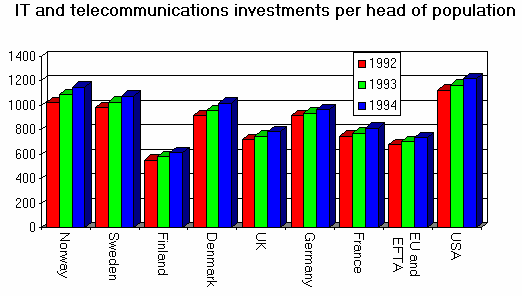 Source: EITO 95 European Information Technology Observatory 1995
Earlier Norwegian IT plans
1987-1990
The national action plan for IT.
Investment areas included all levels of education, the public sector's use of information technology, basic research, strategic and applied research, product development, regional measures and telecommunications. Nine ministries were involved.
1990-1992
National infrastructure for data processing.
The main areas were standardization, preparation for electronic interaction and Electronic Data Interchange, and for utilization of information as a shared resource.
1992-1995
IT plan for commerce and industry and IT plan for public administration.
The plan for commerce and industry focused on more and better use of information technology in the Norwegian private sector. Slogan: From "nice to have" to "nice to use". The emphasis has been placed on traditional commerce and industry, and also on the IT industry itself.
The focus for the plan for the public administration was on development projects within standardization and technological infrastructure, information as a shared resource, support for new applications and readjustment in the public sector as well as international activities such as stimulation of the electronic information service market.
This page was last updated January 20 1997 by the editors
2. Milestones on the Norwegian way to the Information Society
If Norway is to be at the leading edge, there must be further development of the cooperation between the authorities and both sides of industry. In selected areas, the private and public sectors must cooperate on utilizing the potential of information technology. In some fields, the public sector must function as a locomotive in this development.
The authorities must ensure that laws and regulations are consistent with the technological potential, and that they do not stand in the way of developments. The relationship between regulations and technology must be a neutral one.
The whole country must be involved in the development and be given a share in the opportunities that are created. New technology reduces the drawbacks of long distances and creates new perspectives for regional policy. All households and companies throughout the country must therefore be given access to the same basic telecommunications services, and at the lowest possible price.
The authorities must safeguard common interests, such as consumer considerations, the protection of privacy and security in networks. It must be made possible to link different networks together to provide consumers with stable and satisfactory services.
The public sector must show the way by implementing new technology and contributing to the development of expertise and attitudes that result in exploitation of the potential. Central and local government must cooperate on implementing information technology for better, faster and cheaper solving of tasks.
The Norwegian equality ideal must be maintained. The development towards an information society must not create new inequalities between those who master the technology and understand its potential, and those who refuse or are unable to make use of it. By means of education and training, the authorities and the industrial community should ensure that as many people as possible acquire the necessary knowledge. An effort must be made to ensure that as much software as possible is available in Norwegian.
In its reform process, the educational sector must place great emphasis on information technology. Norwegian pupils, apprentices and students must become personal users of information technology. Information technology must be utilized in adult education, in the development of expertise and in supplementary training.
Information technology must be used to promote Norwegian culture and language, while at the same time safeguarding copyrights.
Norwegian cultural expressions ­ literature, music, drama, applied art, architecture and audio-visual culture ­ must be available on the digital networks. Use of information technology must become a part of Norwegian culture policy.
This page was last updated January 20 1997 by the editors
3. Better utilization of information technology in Norway
The Norwegian government is aiming for a securer and fairer society with no unemployment and with an increased quality of life for all citizens. To achieve this aim, the policy defined by the Government in its long-range programme is designed to generate increased productivity, ensure a fair distribution of wealth, and provide individuals with the potential to use their abilities and knowledge through active participation in society.
The State Secretary Committee views the utilization of information technology in this context. Correctly applied information technology can be an important source of economic development and increased employment, result in a more efficient and qualitatively better public sector, and supply greater opportunities for individuals. When availing ourselves of information technology, we must build upon the Norwegian culture and form of society.
New technology has several contradictory developmental features inherent within it. It can have a centralizing effect, in that large amounts of information and tasks can be handled in one place. At the same time, it can have a decentralizing effect because, in several senses, the significance of geographical distances can be reduced ­ many people can be given access to the same knowledge and services. Implementation of electronic communication can result in greater availability and openness, but can at the same time entail poorer availability if traditional channels are phased out. It can lay the basis for flexible and competitive units through increased specialization. At the same time, it can have a devisive effect, since large organizations are broken up into small independent units in a network.
The authorities must cooperate with commerce and industry in ensuring that Norway is able to utilize the potential of information technology for increased competitiveness through improvements in organization and efficiency and through new products. The whole country shall have access to the same basic high-quality telecommunications services at the lowest possible price. Emphasis shall be placed on finding solutions that make it easy for consumers to begin using new services, and that make it easy to find one's way around in the market. Monopolies of telecommunications services are no longer an appropriate instrument for the achievement of defined objectives. Regulated competition is necessary for efficient use of new technology, for cheaper services and for development of new products. In this perspective, protection of privacy, consumer considerations and security procedures must be further developed.
The use of information technology in the public sector must be controlled to ensure that it supports free access to and free exchange of information, and codetermination by individuals. Information technology must contribute to more openness in the public sector, both through increased availability and through improved access to information. It shall be conducive to personal development by supporting individuals both at work and in their free time. Increased information technology must be utilized to create a better society for all. Information technology shall contribute to more efficient use of resources in the public sector and enable better services. As a large and advanced user, the public service shall function as a locomotive in Norwegian IT development, and contribute to supplying sufficient users for new solutions.
Whether we like it or not, information technology will have an increasing influence on all sectors of society. The countries that succeed in implementing information technology in a conscious and positive way will have an initial advantage in the international competition.
This must be the point of departure for our policy and for the distribution of work and responsibilities between the private and public sectors. Compared with many other countries, the Norwegian public sector has made great progress in the use of information technology. Forms of cooperation between the public and private sectors in Norway are also well developed.
The prerequisites for an active involvement by the public sector in Norwegian IT policy are therefore in place. In the Norwegian approach, central and local government will play important roles as users, as locomotives for the development and as alliance partners with commerce and industry in promoting a development based on common interests.
Policy 3.2.1
Commerce and industry, including state-owned enterprises, will have the responsibility for the development of infrastructure, for its own product and business development and for the development of expertise and knowledge in its own activities.
Commerce and industry is itself responsible for implementing information technology, for following up developments, and for discovering and exploiting its potential. New markets make headway as a result of technological developments, and provide potential for growth and value generation.
The capacity of companies for readjustment and innovation will be decisive for the success of Norwegian commerce and industry in utilizing information technology. This applies to the full breadth of Norwegian commerce and industry, from service industries to traditional manufacturing industries and the new information industry.
The information technology industry has an especially important role as developer and supplier of competitive solutions to companies, to the public sector and to users.
A broad research and technology base is important for the success of IT-based value generation. In this area, cooperation between the private and public sectors is especially important. It is of decisive importance that commerce and industry involves itself actively in research and development work, and participates in areas that coincide with its own priority targets.
The introduction of information technology into working procedures will affect the expertise required of employees. Technological development demands a creative and adaptable workforce. Companies must take active responsibility for measures to raise the level of expertise among their employees.
Trade organizations have an important role to play in informing, motivating and otherwise involving companies in the implementation of information technology.
A special challenge will involve helping the many small and medium-sized companies with no expertise of their own to exploit the potential for more efficient routines, better organization and cooperation. As a link between companies, they can contribute to the establishment of constructive forms of cooperation.
Policy 3.2.2
The authorities have responsibility for regulatory frameworks and regulations, for education, development of expertise, research and development, and for developing the public sector as an advanced user of IT and a demanding customer.
The main task of the authorities will be to ensure that social considerations are safeguarded by means of laws and regulations.
The regulatory framework in important areas such as telecommunications, the media, protection of privacy, data security and copyright, will promote genuine competition and ensure that everyone has access to new products and services.
The public sector has a major responsibility within education and the long-term development of expertise. A basic high level of knowledge in the population is a necessary precondition for reaping the rewards of information technology. The facilities available in the educational sector must provide pupils and students with the necessary platform to satisfy the new requirements regarding knowledge and skills. The university and college sector must have the responsibility for fundamental long-term research and development of knowledge.
The range of measures aimed by the public sector at commerce and industry and the research institutes is an important supplement to the research and development of expertise carried out by companies.
In general, there is a risk attached to both private and public IT investments. However, broad investments within education and basic research are robust in coping with unexpected changes of course in the technological developments, and adequate provision must be made for them in any IT strategy.
The public sector has an important role to play as an advanced user of information technology and as a demanding customer of commerce and industry. An efficient and user-friendly public sector is important both for Norwegian commerce and industry and for all users of public services. The public sector must therefore be at an advanced level in its utilization of the potential of information technology in the health sector, in transport and communications, in public administration and in work on safeguarding environmental considerations and ensuring openness in the administration. This can result in reduced costs, higher quality and better availability of public services. Public institutions also have a responsibility to collaborate with Norwegian companies on advanced pilot projects. The promotion of industrial development and exports is of major importance.
The authorities have a responsibility to address the challenges of the information society in the culture sector, and in issues concerning gender equality. In this connection, it is the responsibility of the authorities to ensure equality of available facilities and participation, and to safeguard the social development of the information society.
The forms of cooperation and distribution of roles between the public and private sectors may change during the course of time. Many new applications, such as electronic data interchange between public institutions and companies, require that the authorities play an active role in the initial phase. When new applications have reached a critical size, the most important task of the authorities is to create a framework of conditions that stimulates further industrial development, and safeguards important considerations by means of regulations.
Policy 3.3.1
Norway shall be in the front rank internationally in the use of information technology to increase value generation. This applies to both public and private sectors and to the interaction between them.
To reach the ambitious goal of being in the front rank internationally in the use of information technology, we must use our economic strength and freedom of action to prepare for the communications solutions of the future, to stimulate cooperation between industries and develop a competitive commercial and industrial sector. A conscious and demanding public service user will contribute to achieving this. It is important to realize the advantages of a small, dense and homogeneous society like the Norwegian in developing ingenious and effective solutions. There must be cooperation between trades and industries and between the public and private sectors.
To meet the challenges we are now facing, the Norwegian information technology, software and telecommunications industries must develop internationally competitive solutions and products. A strong national IT sector is also important for the achievement of growth and value generation in other onshore industrial activities.
Policy 3.3.2
Norway's leading position in geographical and maritime information technology shall be exploited for domestic applications and in assertive international focusing.
In the use of geographical information systems, Norway is in the front rank internationally. This must be exploited to create an international competitive advantage. Through the public sector, a demanding domestic market will be developed, which will be a good point of departure for international focusing. Norway's international environmental profile should be used to support the image of Norwegian suppliers.
Measure 3.3.2a
Digital maps for the whole of Norway, both for land areas and for domestic waters, should be prepared as a basis for map production, and to provide geographical information for various DP applications.
Geographical information is fundamental to a number of applications, such as transport and traffic planning, navigation, spatial planning, town planning and other administrative applications. Products such as electronic maps and navigation systems to improve security at sea are based on digital maps.
Measure 3.3.2b
The electronic sea route for easier and safer navigation along the Norwegian coast should be completed.
On the basis of digital charts and extremely accurate satellite-based positioning systems, the safety of our domestic waters can be considerably improved. The preparation of digital charts is already well underway, and must be completed. The establishment of an electronic sea route will provide, in addition to increased safety, a number of export opportunities for Norwegian industry through development of solutions and systems.
Measure 3.3.2c
Central and local government should cooperate on an information network for geographical data in local government, in association with the network investments that are being made in the administration.
It is important that matters concerning planning and construction are dealt with swiftly and efficiently. Here, geographical information plays a major role. It is important that the municipalities have rapid access to the necessary data. A project should be initiated to develop a demonstration system for use in the communication between the administration and the developers when dealing with planning and construction cases. Developers should have easy access to localized information concerning development areas, conservation areas, etc.
Measure 3.3.2d
Norway should have an effective national information system for real property.
Through the establishment of the electronic real property register and the Norwegian Land and Property Register (GAB), Norway has made considerable progress in making property information available in digital form. The information about buildings in GAB should be supplemented with data concerning buildings and apartments to cover the needs within local government, housing valuation, financing, insurance, statistics and property management. Work should be completed on the establishment of digital property maps as a part of the total information system.
Policy 3.3.3
By means of information technology, Norway shall become an international pioneer in the fields of environmental efficiency and environmental monitoring.
Information technology should be implemented to increase the efficiency of production and consumption, and to contribute to a more goal-oriented management. The technology should also be used to make information on the environment available to manufacturers and consumers. By developing, managing and disseminating methods that reconcile customer satisfaction and profitability with a reduction in environmental burden and lower consumption of resources, information technology can lead to a more environmentally benign society.
Measure 3.3.3a
A common reference system for information on the environment should be developed to simplify the retrieval and use of environmental data for commerce and industry, organizations and public administration.
Retrieval and distribution of information on the environment must be improved. In spite of a number of good individual systems, the environment area is still characterized by information chaos. A reference system will in a simple way provide information about the available environmental data and where it can be found. The system will increase the availability of information on the environment, and provide broader and better background information for decision-making. At the same time, resources associated with collection, retrieval and re-use of information on the environment will be used more efficiently.
Policy 3.3.4
The public authorities should encourage increased use of information technology in all areas of transport and communications, and direct their efforts towards increasing the efficiency of the transport sector, with a special emphasis on security.
The adaptation and further development of information technology for use in certain areas of the transport sector will contribute to a more rational and efficient use of resources. The development is rapid, and there is considerable potential for applications for the public sector, for commerce and industry and for individual users. More advanced payment and ticket systems, information systems, road tolls, etc. may also have a positive effect on factors such as the utilization of capacity, traffic security and the environment.
In the transport sector, there is a considerable potential for implementing information technology in new areas and for improving its use in existing areas. The potential for increased use of IT is already being evaluated, but there is a need for an overall strategic focus on this, not least within the area of research.
Measure 3.3.4a
Work should be completed on establishing a digital road information system employing digital road maps, satellite-based positioning and road data.
Examples of areas of application for such a system are planning of routes, monitoring of traffic and of the environment, and operation and maintenance of the road system.
Use of digital road maps, in combination with satellite-based positioning of vehicles and with access to other road information, would enable considerable efficiency gains to be made in the transport sector. Such systems were in use during the Olympic Winter Games at Lillehammer in 1994, and are now being tried out for ambulances, taxis and goods transport. Work on building such an infrastructure must be completed.
Measure 3.3.4b
Efforts should be made to ensure that new information and telecommunications technology is given greater priority in the transport sector.
Information networks in the transport sector can contribute to more efficient transport and thereby also to improvements in the environment. Geographically restricted demonstration projects should be carried out in cooperation with government agencies and companies in several industries so as to gain experience for larger projects.
Policy 3.3.5
Cooperation on the efficient use of information technology in business operations in trades and industries shall be stimulated, but commerce and industry shall have the main responsibility.
Electronic information networks represent a considerable potential for value generation in Norwegian commerce and industry, and contribute to improvement in efficiency and development in both the private and the public sector.
The efficiency of business operations must be increased and operations must be reorganized so that early access to information and good utilization of information technology contribute to creating competitive advantages.
The main responsibility for this lies with commerce and industry. The public sector can have a support function, such as partial financier and initiator of such cooperative projects. The organizations within trades and industries have important roles to play in creating a basis for common solutions.
Measure 3.3.5a
Support shall be given to pilot projects for the establishment of electronic information networks in trades and industries that have the necessary fundamental resources to make use of them, and where considerable gains and other positive effects of the information networks can be assumed. Examples of appropriate industries are building and construction, petroleum, food, furniture manufacture and tourism.
The development of electronic information networks in the building and construction industry would result in more and better cooperation and information flow between the companies. This will facilitate the setting up of temporary networks adapted to the needs of individual projects, and strengthen the potential for mutual development of expertise. This has especial importance for the improvement of cooperation with subcontractors.
Information processing constitutes approximately 50% of the costs involved in development and extraction of oil and gas deposits.
Today the oil companies have extensive internal electronic networks, while external communication is mainly paper-based. There is therefore a need for a common electronic information network in the petroleum sector, which also includes relevant units within public administration.
The Norwegian tourism industry is characterized by a large number of small players. Use of networks with the potential for transfer of information in the form of pictures, video and sound is therefore of particular interest to the tourism industry.
The authorities should support pilot projects with a view to regional and national cooperation on marketing and sale of Norwegian tourism products in international markets. This investment must build on previous experiences, such as the trial project for use of the Internet.
Policy 3.3.6
Electronic communication and the use of networks as infrastructure for interaction shall be just as accepted and confidence-inspiring and have the same legal validity as traditional paper-based communications and documentation.
To stimulate the broad use of electronic communication throughout Norwegian society, it is necessary to carry out pilot and introductory projects on a large scale. Before setting up such information networks, a number of factors must be clarified and new common arrangements must be developed with a well-defined structure of responsibilities. This applies, for example, to security solutions for protection of privacy and economic interests, address structures for the networks, and legal contracts for cooperation and exchange of information via the network.
Measure 3.3.6a
Arrangements shall be made to enable electronic trading by means of electronic data interchange in both the private and the public sector.
Electronic Data Interchange (EDI) contributes to efficiency improvement, cost reduction and an increased degree of service, and can provide increased competitiveness and strategic advantages for commerce and industry. There is a considerable utility value to commerce and transport, payments transmission and purchasing, and interaction in the value chain can be supported and simplified. EDI should also be implemented for reporting by commerce and industry to the authorities.
As a large customer, the public sector will be able to increase the efficiency of its procurements significantly if suppliers have EDI solutions. The suppliers will be able to benefit from efficient information handling in relation to their own purchases.
Measure 3.3.6b
Efforts should be made to stimulate new, better and cheaper services in an more open and coordinated market for electronic payments transmission services.
There should be cooperation on new services such as digital cash solutions and electronic transfer of payment transactions from customer to bank. The transition to various forms of electronic payment systems will probably contribute to an increase in security. So-called electronic cash solutions may provide the anonymity that is desired in connection with cash purchases. In many areas, electronic solutions can provide solutions that are simpler, more operationally reliable and less vulnerable than the traditional use of cash. In small country such as Norway, it should be relatively easy to bring about the coordination necessary for implementation of new services of this kind.
Measure 3.3.6c
The authorities should establish conditions for use of open networks such as electronic markets, so that goods, services, information and intellectual property can be marketed electronically.
There are in principle two forms of trade that can be carried out via electronic networks: sale of physical goods, where the item is delivered after being ordered electronically, and sale of digital products and services, where both orders and deliveries are made via the network. In both cases, electronic payment systems play an important role. So far, the networks have primarily been used for communication and retrieval of information. To an increasing extent, the networks are also becoming a market place for goods, services, information, software, film, music and literature.
Pilot projects should be carried out in cooperation with private parties to reveal the practical problems that users are likely to meet in connection with issues such as standards, security, rights, tax regulations and barriers to trade.
It will be necessary to investigate aspects concerning legal considerations, security and policy, and possibly propose changes to ensure that the network can become a market place characterized by the necessary trust and openness.
The authorities should also operate information services to increases the public's knowledge about electronic trading.
Measure 3.3.6d
The authorities must cooperate with commerce and industry on arrangements to provide satisfactory security in IT systems and electronic information networks.
If the security in the networks is not good enough, users will be reluctant to use electronic communication. Common solutions inspire confidence in the users that the information they receive is authentic, ensure that sensitive information is available only for authorized use, and that unauthorized users are not allowed access to modify or delete information.
Norwegian authorities shall cooperate with each other and with the private sector on the implementation of security products and solutions.
The accrediting of certifying authorities and the certification of products and services are appropriate measures to employ in obtaining the desired degree of information security. This should be coordinated with equivalent international arrangements. Guidelines and standards should be set up for the public sector.
Measure 3.3.6e
An investigation should be made to ascertain which common administrative tasks must be carried out when open information networks shall be set up in different sectors and industries.
The new information networks, such as industry networks, health care networks and public administration networks, are logical rather than physical networks. They have been established on the basis of existing physical networks and telecommunications services. Important common tasks, such as structuring and allocation of logical addresses and identifiers, must be coordinated. Common rules for selecting routes through networks, solutions for digital signatures and administration of encryption keys are also included in common tasks.
Such arrangements require coordination across national borders to ensure that Norwegian users can participate internationally. The arrangements also have importance for user-friendliness and flexibility in information networks.
Policy 3.3.7
Information technology shall be used to increase availability and the potential participation of all groups of disabled persons.
Each sector is responsible for safeguarding the needs of disabled persons in its area.
The goals of full participation and equal rights apply also in connection with computer technology.
The United Nations recommends that member nations encourage the media, particularly TV, radio and the press, to make their services available to disabled persons. Member nations are also requested to ensure that modern electronic communications and services that are made available to the public, already during the development phase are adapted and made available for disabled persons.
The United Nations recommends that disabled persons' organizations are consulted during the development phase for guidance on ways of making information services available.
Measure 3.3.7a
The public authorities should promote the work on increased availability for disabled persons by means of open standards solutions. Pilot projects should be carried out on the use of telematics to improve the quality of life and self-fulfilment for disabled persons. Public electronic information and electronic publications should be made available to all groups
Information technology affords new opportunities for communication, adapted tasks and an independent life for disabled persons and can contribute to increasing their possibility of leading a fulfilling life.
It is a matter of concern for the authorities that disabled persons are ensured full participation in the information society.
A program should be established to focus on technological applications for disabled persons. In cooperation with the Research Council of Norway and research institutions a basis should be set up for encouraging the development of new products for a demanding and interesting market, which would also have interesting industrial potential. For example, speech synthesis, voice control and text generation can be used in interactive multimedia solutions. Requirements concerning standards and harmonized solutions should be safeguarded through participation in the EU's programmes and through Nordic cooperation.
Measure 3.3.7b
An investigation should be carried out into ways of organizing and financing countrywide and coordinated follow-up, individual training and adaptation of IT solutions for disabled IT users in the home, at school and at work.
New areas of application are continually being found for IT-based aids. The technology increases the potential for active participation in the home, at school and at work. Training and individual adaptation of the equipment is of major importance for ensuring that individual users are able to exploit the potential that lies in the computer equipment. Costly computer equipment that is provided at public expense is often allowed to gather dust as a result of a lack of training, follow-up and adaptation.
Measure 3.3.7c
Digitizing of the production in Norwegian publishing should benefit people with impaired vision by facilitating the production of electronic and adapted editions.
Computer technology has simplified the production of books adapted for blind and weak-sighted people. The same data that is used for production of normal books should be used for producing adapted editions, and should also be made available in machine-readable form. Many blind people own personal computers, which gives reason to suppose that diskettes and CD-ROM would be of interest as distribution media.
Policy 3.3.8
The public sector shall cooperate as an alliance partner in the development of new products to serve the needs of the public administration. This may result in providing a basis for products with potential on the world market. The public sector shall be a demanding customer on the IT market, and function as a locomotive in relation to development.
Taken as a whole, the public sector is the largest IT user in Norway, and can play a major role as a prime mover for use of information technology in society. Government agencies must make an effort, both individually and collectively, to make optimal use of information technology as a tool. As a large user of IT, the public sector must consciously influence the general development. By actively using electronic information services, the public sector can stimulate and contribute to the creation of a critical mass in the development of a market for information services. By means of sector solutions and applications in areas where the public and private sectors meet, the public sector can stimulate the transition to electronic communication in commerce and industry. Keen focusing on unsuccessful public IT investments must not prevent the public sector from taking calculated risks in relation to IT investments.
Individual sectors and agencies should use public research and development contracts in connection with the development of new applications and investigation of potential future applications. An initiative should be taken to collaborate on pilot projects for electronic communication with industrial sectors that interact extensively with the public sector. The public sector should continually evaluate its own use and development of IT in relation to the profitability of self-developed solutions as opposed to purchase of ready-made solutions, and evaluate its own operational functions against the external solutions. Adopting such an approach will result in savings, and contribute to making the public sector more active and assertive in its choices and evaluations.
Measure 3.3.8a
A strategy should be defined for a coordinated effort in the public sector as a development partner for the Norwegian IT industry, combined with clarification of the public administration's needs for and requirements concerning new products and services.
As a major user of IT, the public sector has considerable development needs, which can be utilized better to benefit Norwegian industry. Public research and development contracts are an important instrument for innovation at the point of intersection between the public and private sectors. Particularly in connection with the preparation and generalization of requirements specifications, it is important to investigate the potential for cooperative projects which can result in both general requirements specifications for the public sector and competitive products based on these. A certain concentration of efforts in this area may be desirable.
Through increased cooperation between public institutions and sectors, the effect of the collective investment of resources and expertise can be improved, and common development needs can more easily be attended to.
This development must be stimulated both by emphasizing the responsibility of individual agencies, through offers of technical assistance, and by giving more active support, e.g. through new investment opportunities.
Measure 3.3.8b
The procurement function in individual agencies and the joint support functions for procurements must be developed.
As a large customer, both in the IT area and in general, it is of major importance to increase the efficiency of routines associated with procurements. This entails a need for better management, control and organization of the procurement function. Joint advisory services, outline agreements, standard contracts and surveys of standard requirements concerning procurement of IT products must be further developed. Better correlation between purchases and budgeting/accounting will result in improvements in the control and planning information in individual agencies and at higher levels in the Government.
Electronic Data Interchange in connection with ordering, invoicing and electronic payments will result in the more efficient use of resources and more secure deliveries. The development within IT-based logistics systems is creating a new basis for efficient purchasing. An evaluation should be made as to whether the efficiency of the procurement function in general would be improved by setting up a shared database for cooperation on public procurements.
Policy 3.3.9
IT research shall focus on basic technological research, applied research and product development in niche areas and special interest areas where Norway has an especially good chance of success.
The IT industry has estimated that it uses approximately 12% of its turnover on research and development, which is more than in most other sectors. Compared with other industries, IT has a large export share, and the need for expertise is greater than in many other sectors. Norwegian IT industry has been successful in a number of niche areas. A national IT industry is also important for advanced IT use by Norwegian commerce and industry and by the public administration. Commerce and industry will continue to have a major responsibility for ensuring that adequate relevant research is carried out on the basis of commercial assessments.
The authorities shall contribute to continued heavy investments in IT research in Norway. Publicly financed IT research shall supplement R&D programmes carried out by commerce and industry, and reduce the level of risk. Public IT research shall reinforce the development and use of information technology in all sectors of society. Basic research is important, and must respond to rapid changes in technology if active use is to be made of it. Industrial research into IT must give pride of place to the priorities and needs of the users. Information technology is also an important tool for other types of research, and plays an increasingly greater role in other fields.
The development of the information society entails investing in the educational system, good research institutions, technology products, infrastructure, new applications, and adaptation within organizations and for private and public users. Research investments must therefore be directed not only towards new technology, but also towards the relationship between new technology and people, organizations and society at large. A major element of IT research will concern issues relating to network-based distributed systems.
Measure 3.3.9a
To stimulate innovation and the establishment of new enterprise, arrangements should be set up to improve communication between IT research at universities and research institutes on the one hand and Norwegian industry and public administration on the other.
The public sector invests large amounts of money in IT research at both universities and research institutes. Most industrial research institutes carry out a considerable amount of IT-related research.
The challenge involves achieving results in the form of new products, services and methodologies. It is therefore important to improve the contact between research environments, especially the universities and industry. The Research Council of Norway currently supports mobility between research institutions and industry, but this activity should be extended and reinforced. A precondition for this is that the universities are given more responsibility for deciding their own research policies.
Research institutes in the IT sector should be encouraged to contribute more to innovation and establishment of new enterprise in this area. One way of achieving this would be to relate basic government grants to the number of new enterprises an institute's activities had resulted in.
Measure 3.3.9b
The level of important basic and strategic research within telecommunications technology and data communications must be maintained despite increasing competition in the telecommunications sector.
Norwegian Telecom/Telenor have been and continue to be a major public player in the development of the Norwegian telecommunications sector and associated industries. Increased competition in the sector requires certain changes in the role of the public sector in the long-term development of expertise in the telecommunications area.
The priorities of Telenor will to a greater extent take commercial factors into consideration.
Long-term projects that are important for the development of the information society must not be allowed to come to a halt. A special task for the public sector will therefore involve the financing of long-term strategic research in telecommunications as a basis for future uses and for new companies.
Measure 3.3.9c
Research must embrace social and cultural aspects of the development of the information society.
IT research must include social and cultural aspects of the development and use of information technology, e.g. in connection with automatization and new production methods. This also concerns new patterns of use, forms of cooperation and organizational development. The use of IT is closely related to organizational development. Other important research topics are information sources, information processing, user interface and security, in relation to both access to and use of data. society. Concepts such as virtual organizations and telecommuting give rise to new conceptions both of the workplace and of working hours. Research must be carried out to investigate how this affects organizations and the working environment.
Norway a world leader in data storage
Tandberg Data AS is one of the largest IT companies in Norway, with an annual turnover in excess of NOK 1 billion. The company has very advanced production lines for electronic products, and is a world leader in the field of production technology for electronic products.
Tandberg Data's most important product is streamer drives. The company has unique expertise in the field of data storage technology, and supplies streamers to leading international companies within data processing, banking and insurance as well as public institutions in Norway and abroad. The company's expertise has been built up over several decades, first in Tandberg Radiofabrikk and later in Tandberg Data. Tandberg Data's turnover of data storage units in 1994 was NOK 850 million.
Development in the field of data storage technology is very rapid, and Tandberg Data invests heavily in research and development. Customers place increasingly greater demands on quality and performance. To stay in the lead, Tandberg Data has established close ties with some of world's leading technology suppliers and customers, among them companies such as 3M, IBM, Sony and Siemens-Nixdorf. Through alliances with the most important customers, Tandberg Data is laying the basis for increased industrial value generation in Norway.
The development of Tandberg Data's data storage units has been supported by the public sector through the Norwegian Industrial and Regional Development Fund. Tandberg Data is also participating in a EUREKA project in collaboration with the French technology company Thompson on the further development of its data storage technology.
Monitoring the environment
Each year, hundreds of millions of kroner are used in Norway on collecting information on the environment. NOK 100 million is spent each year on the environmental monitoring programmes for which the authorities in the environmental sector are responsible. An initiative has already been taken to introduce a greater degree of user control of this extensive collection of data, through work on national environmental indicators in cooperation with R&D institutions. Better administration of monitoring assignments, also across sector boundaries, is conducive to more efficient use of resources.
Agencies in the environmental sector have cooperated to a great extent on the use of IT solutions. Comprehensive systems have been developed for processing of cases, decision support and information work. Close electronic links through MVNETT, a computer network shared by agencies in the sector, have been important for the development of these systems.
In cooperation with the Ministry of the Environment, the Norwegian Pollution Control Authority, the Directorate for Nature Management and the environmental authorities at county level have developed a shared information system covering the technical areas concerned with sewage processing, refuse disposal, aquaculture and monitoring of water resources. The system collates data from several sources: monitoring data from the Norwegian Institute for Water Research, localization data from the environmental departments at county level, information concerning the countryside, game stocks and recreation areas from the Directorate for Nature Management and data concerning sewage treatment plants from Statistics Norway. Electronic mapping tools are used for retrieval, collation and presentation of the information.
In cooperation with sectors such as agriculture and fisheries, agencies in the environmental sector will continue to procure and systematize relevant information from monitoring of the environment. This enables improvement of the reports of results made to the Storting, and otherwise provides better general access to information on the environment, among other ways, by making information available on the Internet and for use in schools.
IT in the Norwegian furniture industry
The Norwegian furniture industry has developed common computer systems for economy, orders and production, which contribute to increased value generation and competitiveness. New systems have been implemented for companies involved in series production, companies that produce to order, small and medium-sized companies and groups. Furniture manufacturers are able to meet demands for a greater variety of products and for rapid and accurate deliveries. At the same time, manufacturers and dealers wish to minimize costs by reducing warehouse stocks. These challenges can best be met by using computer-assisted administration systems. The 20 companies that have participated in the project report annual savings of NOK 30-50 million as a result of improvements in economic management, better production planning and more efficient logistics.
Common computer systems for orders increase the efficiency of the international sales apparatus. A salesman in England can use his PC to order products, specifying a choice of leathers, fabrics and colours. The order is processed straight away by the manufacturer's computer system, and the representative in England is immediately notified of the date when the product can be delivered. For Norwegian furniture manufacturers, which are located throughout the length and breadth of the country, and often far from their important export markets, this represents a considerable improvement.
The project has been carried out in cooperation with the Norwegian Industrial and Regional Development Fund and the Research Council of Norway.
The Customs Service's information system for commerce and industry, TVINN
The Customs and Excise Service has responsibility for charging customs duty and levies on goods imported into Norway. TVINN replaces the use of paper-based customs declarations on import and export. The system has been designed for forwarding companies and large exporters and importers, and embraces many trades and sectors. The system is based on open communications standards and electronic data interchange (EDI).
Public research and development contracts
A public R&D contract is a contract between a public institution and a Norwegian company, whereby the company develops a product or solution to meet a need of the institution. The Norwegian Industrial and Regional Development Fund (SND) can, in response to an application, provide support amounting to up to 35% of the total budget for the project.
Public R&D contracts are an important instrument of industrial policy. They result in a better quality of procurements for the public sector, at the same time as they increase the expertise of Norwegian companies. The scheme helps to bring developers and users closer together. At the same time, the users' expertise is utilized in functional areas, providing knowledge that is difficult for developers to obtain.
An evaluation of the scheme shows that the results have been satisfactory. 80% of the projects have resulted in sales to public institutions. Approximately 50% have led to sales outside the public administration. 30% have resulted in exports, and approximately 50% have resulted in increased employment. The contracts are regarded as a successful instrument for promotion of both social and industrial development.
In 1994, NOK 150 million was distributed between 77 projects, of which half were IT projects. The scheme is administered by the Ministry of Industry and Energy in conjunction with the Norwegian Industrial and Regional Development Fund (SND), and applies to projects involving participation by public institutions and private companies.
Policy 3.4.1
Norwegian telecommunications policy must ensure that ordinary telecommunications services are available for households and companies throughout the country at a price and quality on a par with the best in the world.
The most important task for the government will be to formulate rules that cater for the needs of the future, that further the overall aims of telecommunications services that are available to all at a price and quality on a par with the best in the world.
At the same time, it is important that the manufacturers of equipment and services are ensured a clear regulatory framework. Achieving the desired level of development and safeguarding the considerations that underlie legislation governing competition, the interests of consumers and protection of privacy entail the need for powerful legislation for the telecommunications and media sectors. Particularly in connection with the transition from monopolies to regulated competition, there is a need for legislation to ensure effective competition, the safeguarding of users' needs for clear presentation and ease of use, and social control of developments. This is important, among other reasons, to prevent the creation of new forms of monopoly.
Measure 3.4.1a
Work on the establishment of competition for all telecommunications services shall continue, and be complete by 1.1.1998.
The introduction of competition will contribute to the continued fall in the price of telecommunications services, resulting, among other effects, in reductions in the charges for long-distance calls. Economies of scale in telecommunications activities have been reduced in a number of areas, and the same services can be supplied by means of different technologies.
At the same time, the technological development has led to a dramatic increase in the number of lines and a corresponding reduction in the price per unit.
The telecommunications network is no longer used exclusively to supply basic telephone services. An increasingly differentiated set of desires and needs can now be met. The distinction between the transfer of speech, data and pictures in separate networks is unnatural when the technology sees no difference between them. This also applies to the distinction between different network and service operators. Such a distinction would also be undesirable, since this would stand in the way of the advantages to be gained from synergy, and hamper the development of new services. Abolishing these distinctions enables suppliers to develop and market services combining speech, data and pictures. This will contribute to the development and growth of new and more reasonably priced services.
A regulatory system in Norway that differs from that found in the remainder of the western world would result in competition drawbacks for Norwegian companies. Technological developments would make it difficult to enforce a monopoly. A failure by Norway to keep up with the EU in carrying out further deregulations would also result in drawbacks for Norwegian commerce and industry and for Norwegian consumers.
Measure 3.4.1b
Different infrastructure resources should be utilized to provide new services and traditional broadcasting and telecommunication purposes
In addition to the telecommunications network, there are several networks that can be used for both telecommunications and broadcasting. The monopoly on infrastructure for telecommunications purposes has until now prevented the use of alternative infrastructure resources for these purposes. Examples of such networks are cable TV networks and internal networks owned by the electricity utilities.
Measure 3.4.1c
New regulations should be made to cover the following areas among others: countrywide services, concessions and licenses, interoperability, competition rules, access to limited resources such as frequencies and numbers, requirements concerning standards and expropriation
The regulation should be independent of technology, and not result in some technological solutions being given advantages over others. It will be necessary to make rules for linking the different companies' networks and services, and for intercommunication between them.
Rules must also be made concerning access to use other companies' networks and basic services as a basis for one's own services. Interoperability should as far as possible be based on direct commercial agreements between the parties involved.
Priority must be given to finding solutions that enable consumers to acquaint themselves with the different services offered by telecommunications companies and on such matters as interoperability between the networks, directory enquiries, etc.
A study must be made of the question of consumer protection in relation to billing and complaint procedures.
For pricing of telecommunications services, a system must be devised that does not involve unreasonable regional and geographical variations. However, operators that are under a statutory obligation to supply services throughout the country must be allowed flexibility within the framework that is decided, so that they do not lose the profitable areas of the market, thereby forcing price increases in less profitable areas.
Measure 3.4.1d
The achievement of political goals is dependent on controlling Telenor through active ownership.
The size and nation-wide activity of Telenor AS make it a major player in the markets for both IT and telecommunications. It will be possible for Telenor to function as a locomotive in future developments in Norway. As a large player, Telenor can encourage the appearance of niche suppliers that both supplement the services offered by Telenor and provide new solutions and services. Ownership by the Norwegian State will contribute to ensuring the fulfilment of tasks assigned by the community.
The reorganization that is currently taking place within the telecommunications sector and the associated improvement in the efficiency of the production of basic telecommunications services should be continued so as to ensure further price reductions. Although this reorganization has negative consequences in that it leads to an internal reduction in the number of jobs, without it Telenor will be unable to offer services at competitive prices, which will then result in higher telecommunications costs for companies and households, thereby undermining the ability to hold one's own in an increasingly competitive telecommunications market.
Charges for long-distance calls and for services that require a high transmission capacity, such as picture transmission, will fall by more than the average. Such a pricing policy is expected to stimulate the development of new services and to result in a range of applications that will increase the commercial interest of the services by achieving the lowest possible critical mass or, in other words, acquiring a sufficient number of users. Low prices are important in ensuring competitiveness and employment levels for commerce and industry. The transition from monopoly to competition necessitates the adoption of a pricing policy that ensures the lowest possible prices and a real fall in prices for households and companies throughout the country.
Policy 3.4.2
Media legislation should be as independent of technology as possible. It should be possible to supply multimedia services on all types of network regardless of the traditional classification of infrastructure.
The media are regulated primarily with respect to Norwegian language and culture and for the maintenance of a diversity of media. Media regulation is also carried out to ensure a fair distribution of limited resources, such as radio frequencies, and to prevent a content that violates the penal code. The regulation is intended to uphold democracy, freedom of expression and editorial freedom ­ important social functions that are fulfilled by the media.
Measure 3.4.2a
It should be made possible to broadcast programmes via the telecommunications network.
We are used to making a relatively clear distinction between telecommunications and broadcasting. However, technologically speaking, telecommunications and broadcasting are now based on the same digital components, which can be transmitted via the same networks. This results in a blurring of the distinction between telecommunications and broadcasting, and creates a basis for new services combining elements of both traditional broadcasting and telecommunications services. An example of this is the possibility of ordering videos over the telecommunications network.
Sound and video are already being transferred via the Internet. It is therefore possible for a PC to function as a telephone, radio, television and videoplayer. The technological developments challenge our habitual ways of thinking.
Measure 3.4.2b
Regulation of content must be regularly reappraised and revised.
Regulation of content should in principle be independent of technology. The same rules should apply irrespective of whether television, radio, PC or telephone is used and irrespective of whether the content is transmitted via the Internet, radio waves, cable television networks or the telecommunications network.
Measure 3.4.2c
Ownership of the infrastructure must not entail control of the programme content.
A special committee appointed by the Government has investigated the ownership of the media, and has proposed a number of measures to regulate ownership. When the Government evaluates the proposals concerning future regulations of ownership, a clear distinction should be made between infrastructure and the production of content. An increasing concentration of ownership might endanger the independence and diversity of opinion and expression.
On the other hand, too strict a regulation of ownership would make it less attractive to invest in media enterprises, thereby weakening the industry's access to capital. The effect of this would, not least, be endanger the establishment of new Norwegian media enterprises based on capital-intensive IT solutions.
Policy 3.4.3
Arrangements shall be made for Norwegian public broadcasters to use digital technology in production, preparation and broadcasting of their programmes.
Measure 3.4.3a
Plans should be made for the development of digital broadcasting.
Nationwide broadcasting companies are currently cooperating with Telenor on the production of technical trial broadcasts for digital sound broadcasting. The local broadcasting sector is also participating in this work. Digital radio broadcasting has many advantages: the network is cheaper to operate, provides digital sound of CD quality, enables better reception conditions in motor vehicles, utilizes the frequency range better and allows the provision of data transmission services.
The Norwegian Broadcasting Corporation (NRK) plans to carry out trial broadcasts during the period up to 1998, when regular digital radio broadcasts will probably be started, and digital radio receivers for consumers will be available on the market. From 1998 to the turn of the millennium, a countrywide network will be created for digital sound broadcasting. It will be necessary to maintain the existing analogue broadcasting network during an interim period. A number of important issues concerning digital television transmissions have not yet been solved. Digital television will therefore not be available for some time to come.
Policy 3.4.4
In connection with the production and transmission of intellectual work in digital form and the conversion of existing work to digital form, the rights of the copyright holders shall be safeguarded as well as in the case of traditional production and transmission of intellectual work.
The copyright law regulates the rights of creative and performing artists, broadcasting companies and manufacturers of, for example, films, gramophone records and computer programs. The enterprises that base themselves on this law, such as publishing companies, newspapers, theatres, film companies, record companies and broadcasting companies, are responsible for generating more than 3% of the gross domestic product. This is as much as agriculture, forestry and mining combined.
Copyright must be respected, and payment must be made for the use of works protected by copyright, including when they are transmitted by digital means. This is a precondition not only for development of the electronic highways, but also for there being any traffic on them. The development of digital technology necessitates the clarification of a number of issues, but the basic principles of copyright stand firm. Since copyright is an area of international law, the issues must primarily be solved internationally.
Measure 3.4.4a
Arrangements must be established to safeguard intellectual property rights in connection with the use of works in digital products.
Because a digital copy of a digital work is just as complete as the original, and cannot easily be identified as a copy, digital technology makes it simpler to exploit and misuse works that are protected by copyright. This increased potential for misuse also makes the control of uauthorized utilization of copyrighted works more complicated to administer.
At the same time, it is important to develop arrangements that enable users to establish clear rights for use of copyrighted material.
Norway should participate actively in work aimed at establishing international copyright regulations for intellectual property in digital form. Because information technology revokes the limitations of distance and ignores national borders, these services can, in principle, be made available to a global market. Adaptation of the regulations to the technological development is therefore an international challenge. Norway participates actively in Nordic, European and international fora where these issues are discussed. Nordic solutions that have proved to function well must take their place in the new international regulations.
Policy 3.4.5
Protection of privacy legislation and regulations must be adapted to the technological potential for re-use, sharing and flow of information while at the same time maintaining protection of privacy.
An ever-increasing amount of information is available in electronic form. The cost of processing information is sinking dramatically. The need for powerful legislation to protect privacy increases as the potential for manipulating information concerning individuals increases. At the same time, protection of privacy legislation must be developed in such a way as to permit the rational utilization of non-sensitive personal information. This must be done without involving extensive bureaucratic procedures. Consumer considerations must be given high priority.
In the case of sensitive information concerning race, religion, politics, sexual and criminal matters and health matters, it is natural that there are strict rules specifying what can be registered, what the information can be used for, and the extent to which the information can be made available to others. Within the framework of a high level of security, priority must be given to finding practical means of utilization to the advantage of individuals and society. Nonsensitive information, such as addresses, should be subject to very few restrictions.
The committee appointed by the Government to investigate and propose changes in the legislation concerning personal data registers, will consider these issues in the light of the technological, economic and administrative developments in the fields of information technology and telecommunications in general.
Measure 3.4.5a
An expert group should be appointed to survey the possibilities for extensive use of information across the boundaries of agencies in the public sector. This should be considered in relation to the restrictions made by current laws and regulations, and amendments should be proposed that combine protection of privacy, security and increase of quality with re-use and information flow.
Considerable priority should be given to ensuring openness in relation to the persons who are registered, providing information on the agencies that have stored information about them and indicating what the information is used for. At the same time, this practice must involve a certain amount of flexibility. Principles can in many cases be safeguarded without informing individuals and requesting their consent. The Government will comply with international agreements and conventions concerning protection of privacy and security. A directive concerning protection of personal information has recently been adopted by the EU. The directive is intended to ensure that personal information that is exchanged between member countries is afforded a high and consistent level of protection.
Policy 3.4.6
Through international cooperation on standards, arrangements shall be made to ensure interoperability between networks. Cooperation on standards is important in the development of new applications and services.
Standardization forms the basis for competition in the IT and telecommunications market. In the area of communications, standards are a basic precondition for the creation of services that can grow to the volume acceptable to the market. An OECD report on the economic aspects of IT Standardization points out that common standards result in significantly greater value for all parties as compared with a situation involving coexisting competing standards. Demonopolization of markets and increased competition put pressure on the work on standardization.
Standards are a prerequisite in many new applications, such as Electronic Data Interchange, geographical information systems for monitoring of the environment and for traffic control, and applications where many players are involved in collectively realizing systems.
Measure 3.4.6a
A strategy should be designed to increase the yield from participation in international IT Standardization. Such a strategy should view research, development and major national investments in conjunction with national and international work on standardization.
There has been an extensive debate both in Europe and worldwide about the problems associated with IT Standardization. A corresponding consciousness-raising and purposive discussion should be started in Norway in cooperation with the Standardization organizations.
The merging of telecommunications, broadcasting and computer technology reinforces the need for standards that can provide a basis for interaction between networks and services that were originally designed to serve quite different purposes. By attending to the needs of the users, standardization increases the probability of receiving the market's acceptance of the solutions that the standards are designed for. The public authorities, both in the role of regulator and as a large IT user, are interested in ensuring that work on standardization functions satisfactorily.
Developments in Norwegian regulations
1988 Full competition allowed for type-approved terminal equipment for all networks ­ telecommunications, mobile telephone and computer networks.
1989 Full competition allowed for value-added telecommunications services
1990 Competition allowed for mobile telephone services based on licences
1993 Competition allowed for data transmission services and resale of capacity
1994 Competition allowed for satellite networks and satellite communications services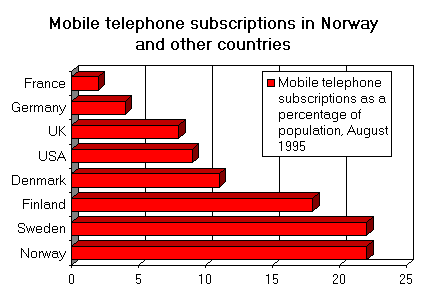 Source: Telenor
Policy 3.5.1
Pupils and teachers in the Norwegian schools must become personal users of information technology so they can use it for learning, for work and for play.
The achievements of good results from information technology is dependent on commerce and industry and the public sector being able to use it to improve the efficiency of production and new products, for organization and for cooperation. Where relevant, employees at all levels, not least at management level, must have sufficient knowledge of the technology. It is also important that information technology itself functions as a personal aid to achieving satisfactory utilization of the technology.
Measure 3.5.1a
Use of information technology as an educational aid should be given priority, so that it is utilized in all subjects and topics where it is natural.
We are currently experiencing a social development that makes increasing demands on adaptability and on the ability to implement new knowledge and skills. In learning processes, information technology can, in many areas, contribute to completely new ways of learning by stimulating the pupils' curiosity and inquisitiveness. Instead of the traditional situation where the teacher asks the questions and the pupils are expected to answer, the pupils, for example by accessing and using a worldwide computer network, can ask the questions and then use the information in new ways.
Measure 3.5.1b
Norwegian pupils, students and apprentices at all levels should be given a basic understanding of information technology, and taught how to use it. It is particularly important to ensure that girls are motivated to start using information technology.
Pupils, students and apprentices must be ensured knowledge, skills and understanding of the use of information technology. Without such knowledge, Norwegian candidates risk being less able to compete than foreign candidates in an increasingly international labour market. The different levels of instruction must be coordinated in such a way that the instruction given at higher levels can build upon the instruction given at lower levels.
Measure 3.5.1c
Research, experimentation and development work should be carried out to acquire more knowledge about how information technology can be utilized in learning processes, and about the consequences of extensive use.
There is a lack of knowledge about the results of using modern information technology in teaching. It is far from sufficient to place computers in the classroom and hope that useful applications will somehow be found for them. Use of information technology as an educational aid must be followed up by systematic work based on educational theory and practice in the field concerned.
Priority must be given to Norwegian educational traditions and values. Norwegian information and culture must also be visible in the international information networks. Norwegian publishers, software houses and innovators must also play an active part in the extensive international development of electronic educational aids.
Measure 3.5.1d
Norwegian educational institutions at all levels should be offered connection to national and international computer networks.
Access to international networks has been established for all universities and other higher educational institutions. Norway has been in the forefront in this area. Now the rest of the educational sector must also be given reasonable access to the networks at the same cost, irrespective of geographical location.
Policy 3.5.2
The adult population must be given the opportunity to acquire the necessary knowledge and skills to use information technology.
Measure 3.5.2a
Commerce and industry and employers in the public sector must take upon themselves the responsibility for setting in motion the necessary development of expertise in the IT area.
Continuous development of expertise for employees and a special effort within information technology will be of decisive importance as the Norwegian information society grows.
Measure 3.5.2b
Distance education must be adapted to the needs of individuals to acquire knowledge and skills in the use of information technology.
It will take a long time before all Norwegian employees have received an elementary education in information technology through the schools. It is therefore of decisive importance that adults are also offered suitable facilities for acquiring the necessary knowledge and skills, irrespective of whether this is given priority by their employers.
There is hardly any area where development is so rapid as within information technology. The need to update knowledge and skills is therefore considerable. We are facing great challenges when all who need it shall be given the necessary supplementary training during the course of a few years.
Nordic school computer networks
In the autumn of 1993, the Prime Ministers of the Nordic countries decided through the Nordic Council of Ministers to develop a Nordic school computer network. An important objective of the school computer network is to utilize new technology to promote Nordic cooperation by giving schools the opportunity to participate in, and develop Nordic cooperation. The Nordic school computer network is based on the Internet.
The network was started in 1994, and was inaugurated by the Nordic Prime Ministers 8 March 1994 in Stockholm during the session of the Nordic Council of Ministers. All of the Nordic countries now have national school computer networks with a considerable level of activity under the auspices of the national school authorities, although the quality and prevalence varies somewhat from country to country.
In Norway, the National Centre for Educational Resources has the operative responsibility for further development of the school computer network, which will play a part in the implementation of the school reforms. Teachers in the primary and lower secondary schools face new and considerable challenges when they shall implement the new national curriculums where information technology is integrated in the subjects. Work on "learn to use" and "use to learn" have a place in this picture. The school computer network will provide opportunities for support activities for different subjects and levels based on this perspective.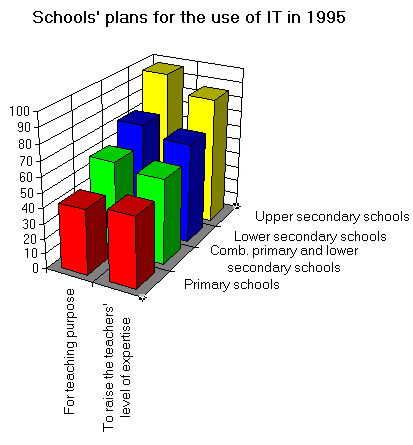 Source: Statistics Norway Use of DP in schools 1995
It is necessary to increase our awareness of the possible consequences for the culture and media area of the digitization, globalization and convergence of different media and technologies. The current situation is heavily dominated by international players. Far too little of the content communicated via information technology-based media and communication systems has been developed with a basis in Norwegian culture and society. Stimulation of the production of Norwegian content must be a task worthy of priority by both the public and the private sectors.
Policy 3.6.1
Norwegian language and Norwegian user interfaces must be available in digital media and communications systems.
Norwegian users should be offered software that has been adapted for Norwegian conditions. Foreign software should be translated in accordance with common Norwegian definitions and language norms for user interface. Efforts must be made to ensure that Norwegian software and Norwegian information products in the Norwegian language are made available in the new digital media and communications systems.
Texts that Government institutions make available via computer networks, e.g. on ODIN, the information system of the Norwegian ministries, must fulfil the legal requirements concerning the use of language in public service. In the case of Norwegian databases for public use, the main rule must be that it shall be possible to search in both official forms of the Norwegian language, Bokmål and New Norwegian. The Sami language must also be given satisfactory consideration.
Policy 3.6.2
The authorities should focus on the production of Norwegian content.
Our continued cultural development is dependent on a conscious approach to our national presence in the global electronic information networks.
Measure 3.6.2a
To increase the proportion of material in the Norwegian language in digital form, publishers, authors, researchers and educational institutions must cooperate with a view to making Norwegian material available in digital media, for example in information networks.
The production of films, videos, CDs, CD-ROMs, etc. involves industrial enterprises that produce goods for a commercial market. The content and quality of the products is important in the context of cultural policy, both because of its expression of cultural and linguistic values and because of its role in the creation of a cultural and linguistic identity.
When the potential for distribution increases, the products that win are usually those with the largest potential markets. The message communicated by these products will have a better chance of reaching the public through the "opinion market".
The maintenance of the principles of Norwegian language policy is dependent on active contribution by the State to increase the proportion of material in the Norwegian language that is available on the information networks. This particularly applies to educational material. If this is not done, the Norwegian language will suffer increasing pressure from English.
Measure 3.6.2b
Efforts should be made to arrange that historic sound and picture material from public broadcasters can be utilized in new digital products and in electronic publications.
Public broadcasters, particularly the Norwegian Broadcasting Corporation (NRK), possess historic sound and picture materials that constitute a considerable resource in both cultural and economic terms. The same applies to the Norwegian film archives. Perhaps some of these resources could be used to supply the considerable need for material for use in new software.
Digital technology can increase the efficiency of the utilization of this material. Arrangements should be made to utilize such material in new digital products.
Policy 3.6.3
The cultural sector shall utilize information technology actively.
Information technology creates new opportunities in the cultural sector. Public access and interaction between cultural institutions can be improved.
Measure 3.6.3a
An investigation should be made into the role of public libraries in the information society and their use of information technology.
The close relationship of the public libraries with the public at large enables them to function as municipal centres for information technology. An extended use of information technology will play a major role in developing the function of public libraries as central resources of knowledge and information for the public at large. In this context, the public libraries will be able to play an important part in increasing the availability of information and the use of information technology.
The public libraries and the schools have many tasks in common, and the Act relating to Public Libraries requires them to cooperate.
The public libraries and schools should cooperate on developing methods for using information technology as an educational instrument for acquiring knowledge. Further education and distance education should also stimulate people to make greater use of the expertise of the public libraries.
Measure 3.6.3b
The archives should intensify their efforts in relation to electronic storage and transmission of official documents.
The principal task of the National Archives of Norway is to manage archives derived from different government agencies and make them available for further use.
Electronic storage must satisfy general considerations concerning security, efficiency and the preparation of materials for long-term storage and subsequent use.
During the last ten years, the National Archives of Norway have played an important role in major projects involving the modernization of the archives and their use in the public administration, which has resulted in valuable support for the primary administrative and informational tasks of the archives in the cultural sector.
The collection and ordering of private local and regional archives shall be encouraged, and such collections shall be made available at libraries and museums.
Measure 3.6.3c
The museum sector should develop expertise both in the technology field and in providing information to the public, so that the museums can use information technology to develop their role as knowledge banks and meeting places for learning, experience and social debate.
The museums' catalogues and other knowledge bases have been compiled primarily for their own specialists. If this material is to be made available to the public, the user interface must be developed, and the contents must be presented pedagogically.
Information technology is an important aid to the museums' exhibition activities.
The technology enables extensive use of pictorial materials as well as allowing materials to be made available to people who wish to make a closer study of the subject of an exhibition.
Measure 3.6.3d
Efforts should be made to establish a cultural network which links the resources of libraries, archives and museums, and which is available to the general public.
Cooperation and coordination activities shall be started with a view to establishing a more uniform structure, common search mechanisms and better integration in the IT area between libraries, archives and museums. A cooperation has been entered into between some major players with a view to preparing a common IT plan for the sector. This plan can be extended to include the whole of the cultural sector.
Policy 3.6.4
Norwegian participation in international cooperation must be used to strengthen Norwegian production environments for information services and new media.
The role of the content industry will gradually acquire greater importance as the information infrastructure is extended and developed. This will increase the demand for user-friendly, useful information and information services of high quality. The opportunities for knowledge-based activities will be strengthened.
Norway will therefore participate actively in the cooperation in this field. Among other projects, Norway intends to participate in the EU programmes in INFO 2000 which aims to support the European information industry, to develop new information services and to strengthen the linguistic and cultural diversity in Europe. Norway will also participate in the EU program Media II for development and distribution of audio-visual productions.
The Documentation Project
At the four Norwegian universities, there are many museums and collections containing information on a broad spectrum of Norwegian language and culture. Some of these are well known, such as the Viking Ships at Bygdøy in Oslo and the Museums of History and Natural History in Bergen, Oslo, Trondheim and Tromsø. In addition to these there are many large and important collections that are less well known. Examples are the Norwegian Folklore Archive, the Norwegian Folk Music Archive, the Oslo University Coin Collection, the Runic Archives at Oslo University and archives for place names and Norwegian language.
The purpose of the Documentation Project is to implement modern information technology in the universities' collections. The project was begun in 1991 at the University of Oslo, and, since 1992, has also involved the universities of Bergen, Trondheim and Tromsø. The universities' database for language and culture is planned to be operative from 1997.
The information in different archives and collections ­ manuscripts, catalogues, booklets, books and archive cards ­ will be registered in a database. This will increase the value of these materials for research and studies, and enable simultaneous searches to be made within different fields. The database will also increase access to the archive materials by the general public, but in such a way as to safeguard copyrights and the security of the collections.
Policy 3.7.1
The public authorities, employers' organizations and the unions must cooperate closely on the main challenges resulting from the increased prevalence and more integrated use of information technology. This will call for continued cooperation between organizations on both sides of industry in relation to the introduction of information technology and the readjustments that this will necessitate.
The introduction of information technology alters both the content of tasks and ways of working.
There is an increase in production efficiency and there are considerable alterations in administrative tasks. Major changes are made in all work associated with collection, processing and dispatch of information.
Information technology has provided new opportunities for localization of workplaces.
The terms telework and telecommuting are used in several different senses:
Work is carried out in premises geographically separate from the employer or client.
Telecommunications and post are used instead of personal contact at the workplace.
The teleworker uses computer technology to process and often to transfer information.
This way of organizing work has advantages for distribution of workplaces and for individual adaptations. However, telework can also have negative effects on individual employees, on the working environment and on the legal protection afforded by contracts. Telework can reinforce existing differences between women and men and between outlying districts and urban centres.
The development presents us therefore with considerable challenges in relation to the way that work shall be organized in the future.
Measure 3.7.1a
Measures should be initiated to analyse changes resulting from the adjustment to new forms of organization in connection with the introduction of information technology and communications solutions, and which completely change the meaning of the term workplace.
As yet, we have no idea how prevalent telecommuting will become, or how rapidly workplaces will be restructured in this way. However, if the restructuring is to be carried out in the best possible way, this will depend on satisfactory and active cooperation between the authorities and the two sides of industry. They should make a joint assessment of the consequences of the changes, and promote measures to ensure that as few people as possible fall outside the labour market. New and more flexible ways of organizing companies and workplaces should be thoroughly discussed. Models should be applied that ensure that the working environment and rights of teleworkers are safeguarded as effectively as they are for other employees.
Measure 3.7.1b
The authorities and the two sides of industry should assess the social, legal and security considerations and then present any proposals they may have for the increased use of telecommuting and telework.
Issues associated with telework are currently the subject of a number of studies and investigations both nationally and internationally. It is too early to propose concrete measures to meet the challenges. It is important that the concrete regulations are formulated in cooperation with the two sides of industry. The existing regulations should be assessed in relation to the specific considerations that apply to telecommuting. Some agreements prohibit work being carried out in the homes of employees. Proposals have been submitted by ILO for both conventions and resolutions concerning paid work in the home and telework. If these are adopted, Norway will have to consider whether or not to ratify them.
The organizations on both sides of industry have an important task to carry out in keeping their members informed of the development of information technology and the opportunities and challenges it represents.
The trade unions are encouraged to debate how the development should be approached, so that agreements can be reached about joint approaches to the industrial development, thereby avoiding crippling conflicts such as those that were experienced in certain trades in several countries during the 1970s and 80s.
The Norwegian Confederation of Trade Unions (LO) has appoint a working party to prepare an information brochure about telework. The aim is to elucidate technological, organizational, social and legal issues, and at the same time create the basis for a debate.
The Norwegian Union of Information Technology Workers is represented in the working party under the Norwegian Confederation of Trade Unions, and also participates in a Nordic working party that is to work on the same issues. An expert group in the EU is to investigate the social consequences of the information society.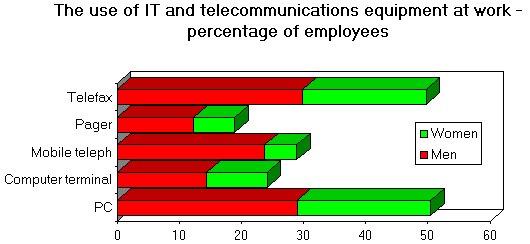 Souce: Statistics Norway, Telenor R&D 1994
Policy 3.8.1
The basis shall be laid for establishing electronic communication as a normal form of communication within central government. Commercial concerns and members of the general public who so wish shall be able to use electronic means to communicate with central government institutions.
Measure 3.8.1a
A joint programme will be started in 1996 to lay the basis for the comprehensive use of electronic mail by central government institutions for internal and external communication.
There is a need for clarification concerning a number of different aspects of a joint e-mail system for government institutions. Among issues that must be clarified are the questions of how the intentions of the Freedom of Information Act shall be satisfied, how electronic mail shall be dealt with within the rules for entry in post journals, as well as various security considerations. The public administration must ensure that there is no weakening of the traditional forms of communication, since these will continue to be of fundamental importance to parts of the population. In addition to personal contact and traditional written communication between the public administration and the users, the basis shall be laid for electronic interaction and dissemination of information.
This will open up the public administration and lead to increased interaction and improved access to information. This increased availability will be of benefit to the whole society, companies, voluntary organizations, individual members of the public and others.
Policy 3.8.2
The public administration should use electronic information systematically in its information to the public, the media and commerce and industry.
To achieve the goal of making public information available for all, central and local government must use the channels the majority of people have access to. Where electronic publishing is concerned, the Internet is an important communications channel.
However, reaching as many people as possible necessitates using a broader range of media and following the principles of media-independent publication.
An example of such services is the joint electronic publication from the Government and the Ministries, Official Documentation and Information from Norway (ODIN). A trial version of this service is currently being operated. The information server of the Municipal Web Server of Norway, operated by the Norwegian Association of Local and Regional Authorities and subsidiaries is another example of pilot projects of this kind.
Measure 3.8.2a
The information service of the Norwegian Government and Ministries, ODIN, should be further developed so that, in a systematic and user-friendly way, it can provide electronic information to the public and to commerce and industry.
The systematic presentation of information from central government institutions is dependent on guidelines for the type of material that shall be presented and for where the editorial responsibility shall lie. Information concerning legal obligations and rights, i.e. laws and regulations, is of decisive importance to the strengthening of the democratic process, and must therefore be given high priority both in ODIN and in other contexts. Electronic publication of information from government institutions must be extended to include subordinate agencies as well as ministries.
Measure 3.8.2b
Electronic information services in central and local government must be coordinated in such a way that the public sector as a whole can provide comprehensive and user-oriented information.
Central and local government sectors must cooperate on the creation of guidelines aimed at achieving a systematic and comprehensive presentation of public information as a whole. Commerce and industry and members of the public relate to both central and local government. The new communication facilities must be used in such a way that the public sector appears to the users as an integrated whole, regardless of administrative classification. Public information should therefore be presented in such a way that users can easily search for information about a topic without needing to know who is responsible for the information or where it is stored.
Facilities such as electronic publishing must be utilized to increase the informative value, while at the same time laying a basis for media-independent publishing, whereby information is presented in such a way that it can easily be disseminated via several media.
The achievement of uniform standards is dependent on basing electronic publishing on established standards and eschewing supplier-specific solutions. Basic solutions should be adopted, followed up by training and user support to make it easier for information providers in the public sector to comply with the guidelines.
The potential of information technology to make public information available regardless of time and place should be taken into consideration when preparing information from the public sector. The new facilities must also be used to create a more active dialogue between the public sector and the users, and to give the users more insight into the processes of public administration.
Policy 3.8.3
The Government must establish internal networks for cooperation and interaction between the different agencies. Central and local government should cooperate on establishing a joint public administration network to prepare the way for cooperation and interaction between all parts of the public administration.
The development of infrastructures and networks has already made considerable progress in several sectors. However, there is potential for a great deal more cooperation on infrastructure and applications. The internal government networks and the public administration networks have been established with a view to efficient operations within the public administration and to achieving a high degree of user-orientation in the public administration as a whole in its relations with the general public and with commerce and industry.
Measure 3.8.3a
A programme should be initiated to further develop existing networks to serve the communication needs of central and local government.
Although the existing potential for communication within the public service is good, there are still a number of needs that could be supported better than they are today.
The need of the Government and Ministries for close and rapid interaction must be accommodated. The same applies to the needs for coordination between agencies, which is also found at the regional level. The sectors' networks should be adapted to function in such a way that there are no technical obstacles to their being integrated in an overall information network for the public service. A precondition for this work is that public service regulations and intentions are taken into consideration.
Measure 3.8.3b
A programme should be initiated in cooperation between the central and local government sectors to develop a joint public administration network.
The public administration network shall be a logical electronic network that embraces the whole of the public sector. It shall create a basis for shared applications such as electronic mail, management communication and reporting between central and local government sectors, and good information flow as a part of working procedures.
All employees in public administration, at both central and local government levels, shall be able to communicate with each other electronically through a public administration network.
Policy 3.8.4
Information technology shall be used systematically to improve interaction between the central government administration and the public in the further development of the democracy.
Measure 3.8.4a
A programme shall be initiated to evaluate measures that enable the public to communicate electronically with central government institutions, with the aim of contributing to democratic decision-making processes.
It is important that the central government administration facilitates electronic communication with members of the public, with commerce and industry and with organizations.
This will improve the facilities for participation and exchange of views, e.g. by means of public consultation, and will give the public administration better access to information available in the society at large. Issues regarding electronic publication must be considered in relation to the Freedom of Information Act and the framework for the public administration's constitutional responsibility and tasks. Documents that are processed by elected bodies should be made available on the networks to facilitate access and communication. A study should be made of the ways in which this affects the way our democratic system functions.
Policy 3.8.5
Electronic procedures shall become a normal part of procedures in central government agencies. Paper shall gradually be replaced by electronic documents.
Measure 3.8.5a
A programme shall be carried out with the aim of introducing the use of electronic procedures in central government agencies.
In preparation for the introduction of electronic procedures, amendments must be made to laws and regulations relating to public service procedures and the collection of information about cases. The use of electronic procedures requires common principles for areas such as electronic storage and communication.
These adjustments must be carried out in compliance with the Freedom of Information Act and the rules for the recording of correspondence in post journals.
The use of electronic tools will result in cases being dealt with more rapidly, but can lead to making sensitive information more easily available. Work on security improvements in association with the exchange of information, the use of electronic signatures and encryption will be of major importance on the introduction of electronic procedures.
Measure 3.8.5b
The public sector shall experiment with ways of simplifying the contact between the public administration and the users by coordinating across agency boundaries and administrative levels.
The experiment currently being carried out at public offices in seven municipalities is the most important current work on coordination of procedures and communication between the public administration and the users. This will be evaluated and completed during the course of 1996. These offices offer the general public a common point of contact with central and local government for information purposes and for dealing with cases.
Use of information technology is a prerequisite for processing cases at public offices across agency boundaries. The factors limiting this coordination are of legal rather than technological character.
The local information offices that have been established in most municipalities are intended to enable the municipal authorities to present a single face to the general public. The further development of the public service offices and information offices will depend on an increase in the use of information technology. The development of the necessary information systems is now in progress.
The role of the local information offices should be assessed in relation to that of the public libraries.
Policy 3.8.6
The different sectors of the central government shall cooperate with external alliance partners in commerce and industry and in organizations in establishing systems for Electronic Data Interchange (EDI), where appropriate.
Measure 3.8.6a
The public sector shall actively participate in the current work on the preparation of a national EDI plan to promote a broad focus on the exchange of information between the public and private sectors.
Through active participation in the national EDI project, the public sector will make a significant contribution to the establishment of EDI solutions of importance both to commerce and industry and to the public administration. Through the work on EDI, the public sector will have the opportunity to cooperate closely with those who are working on the development and introduction of EDI in the private sector.
Measure 3.8.6b
Reporting to the authorities shall be simplified and made more efficient for users through increased use of information technology and better reporting systems.
Work must continue on improving the systems for reporting to the authorities by commerce and industry and other users. Among other factors, this work involves simplification, coordination and reform of the regulations, greater re-use of information, improvement in the quality of public registers and more efficient information flow between the public administration and commerce and industry. It should not be possible to register a specific item of information electronically more than once. As well as simplifying use of the system, this will also increase the quality of public registers. It is essential that work on coordinating public registers is carried out in compliance with the regulations concerning protection of privacy.
Development of solutions for the various reporting systems will be a major priority for the use of Electronic Data Interchange (EDI) in the public sector.
Policy 3.8.7
Public administration databases shall be designed and managed so as to achieve optimal utilization of electronic information throughout the public administration and in relation to the private sector. National databases and information services shall constitute a competitive advantage for commerce and industry.
The re-use of information is an important precondition for cost-effective utilization of public information in both the public and the private sector. The public administration has responsibility for managing many large registers and databases containing information that is in daily use in dealing with cases in ministries and directorates and in local government agencies. Central registers such as the National Population Register, the Norwegian Land and Property Register (GAB) and the Central Coordinating Register of Legal Entities are examples of important data sources for public institutions, the information service market and commerce and industry.
It is important to lay a basis for efficient shared utilization and for realization of the value-generation potential represented by such types of basic data and shared information, while paying attention to considerations relating to security and protection of privacy. Efforts should be made to ensure that all laws and regulations are made available electronically. Principles for availability and pricing should be assessed in relation to the information in the individual databases.
Measure 3.8.7a
A programme shall be initiated for coordination and standardization of important data in public databases with a view to an increased exchange of information between public institutions and between such institutions and commerce and industry and the general public.
This programme should have responsibility for assessing the need for common guidelines aimed at establishing a common basis and consistent practice in relation to the public administration of public data and shared information, so that these resources can be better utilized both in the public administration and in the private sector. Technical standardization coupled with restructuring by those responsible for central public registers and databases shall enable the retrieval of data electronically.
High-quality public data are a prerequisite for correct processing of cases and for the safeguarding of protection of privacy as well as the need of individuals and enterprises for protection against fraud. Managers of public databases shall take steps to ensure the establishment of quality control routines for collection, registration and maintenance of information in the databases.
Policy 3.8.8
Public administration shall participate actively in the European and international developments in the area of information technology. It is important that the public sector closely and systematically follows up international developments in IT. National activities should be coordinated in relation to international development activities.
Priority must be given to participation in international standardization work to ensure development and acquisition of solutions designed to ensure the efficient exchange of information both nationally and internationally. Priority must also be given to participation in international collaborative projects for development of systems for exchange of information and interaction across national borders.
Information technology increases the efficiency of crime prevention
Most of the resources of the legal sector are used for dealing with reported and registered violations of the law. From the moment the police are notified of a criminal matter until the matter has been completely dealt with, large public institutions are involved in work on the case. A criminal case that is tried in court and ends with a prison sentence is processed in a number of stages, involving a number of different bodies; the police, the prosecuting authority, the court, and then the prosecuting authority again to consider the appeal. Care and confinement in prison is followed by probation and aftercare, and then there remains final processing by the police.
A number of IT systems have been developed to simplify and increase the efficiency of the processing of criminal cases. The main aim has been to free resources to reinforce primary tasks, for example to reduce the amount of office work so that police officers can be freed for more visible police work. These systems were originally developed separately with limited objectives. The result was a number of separate systems, which increased efficiency in individual areas, but which failed to take into consideration the need for the transfer of information between systems. All information needed to be re-registered when a criminal case was to be processed by a new body. The systems were developed and maintained by organizational units that had no formal cooperation with each other.
Measures have now been implemented to coordinate the use of information technology in the legal sector. The aim has been to re-use information. Ideally all information should be registered only once. Re-use of information is dependent on communication, which takes place on several levels. Firstly, a basis must be laid for cooperation between the organizational units responsible for development and operation of the IT systems. Secondly, the type of information to be exchanged must be known and accepted in the IT systems. Thirdly, a technical infrastructure must be established that makes practical exchange and re-use possible, for example by means of electronic mail. Information security will be an important element of these systems.
A common register for basic data in the Public Service
The Central Coordinating Register of Legal Entities is a complete solution for shared utilization of basic data concerning corporate bodies. It enables more efficient and qualitatively better execution of tasks by public institutions because the same basic data is registered only once. The register enables the simplification of a number of reporting procedures. A general improvement in the basic information provides the basis for new applications. The register has been located with the Brønnøysund registers.
The National Population Register is a basic data register that, in addition to its importance to the tax offices, also has a number of uses in both the private and the public sector. The information that is registered must be as correct as possible out of consideration for legal safeguards and the protection of privacy. Further improvement of basic information and the quality of the register will be a challenge for the future. Updating of the National Population Register is the responsibility of the tax authorities.
Policy 3.9.1
The quality of the health services shall be improved by the coordinated introduction of information technology in all parts of the treatment process. Local, regional and national health care networks for telemedicine and other solutions shall reinforce cooperation and resource management in the health sector.
The introduction of information technology in the health sector has so far revolved around solutions for individual units, laboratory systems, patient administration systems, journal systems, etc. This has resulted in local improvements in efficiency and quality.
The greatest benefits are expected when information technology is coordinated in all parts of the treatment process from the patient via the primary health service and local hospitals to specialized suppliers of medical services. Efficient information flow, cooperation and distribution of responsibility between health care institutions demands a systematic introduction of information technology.
Information technology is also an essential tool for managing resources.
Owing to the decentralization of responsibility for health care institutions, the challenges are as much a result of organization as of technology. The greatest benefits can only be reaped if the health care institutions cooperate closely.
Measure 3.9.1a
Need-oriented processes should be established for the introduction of telemedicine and other IT-based solutions that bind the health service together in a national health care network, rooted in the overall strategy for cooperation and control in the health service.
The Government has presented a strategy for cooperation and management of the health service with a need for factors such as sharing of resources and network cooperation to achieve a better hospital structure. The strategy includes reinforcement of the network cooperation between the primary health services, local, central and regional hospitals. Regional health plans for coordination of work and a clearer distribution of responsibilities between the hospitals in the regions play a part in this, as well as a national plan for emergency services.
The introduction of telemedicine and other solutions based on information technology is an important instrument for implementing the strategy. During the period from 1996 to 2000, processes must therefore be established for the introduction of telemedicine and other IT solutions throughout the country.
The implementation processes must be managed at a local and regional level, and be coordinated between all the affected institutions. The introduction of telemedicine and other IT solutions should be included in the regional plans for health care.
Measure 3.9.1b
New refund arrangements should be set up, so that health services supplied by means of telemedicine are financially equated with services that are supplied in the traditional way.
In relation to the current schemes, for example involving ambulating medical specialists, a system of financial transfers has been built up involving refund arrangements that balance for all the affected parties. If this scheme is replaced by a system based on telemedicine, a situation will arise involving a clear economic gain for some of the parties involved and a loss for others. As a result of this, there is little interest in implementing telemedicine, even though it would be more socially beneficial to do so. The refund arrangements must be adapted to the new possibilities.
Measure 3.9.1c
The Ministry of Health and Social Affairs should continue to give priority to common infrastructure measures.
During the period from 1990 to 1995, the Ministry of Health and Social Affairs invested in research, development and standardization measures to lay the basis for interaction and exchange of information between health care institutions.
Through the standardization programme, work on a general requirements specification and communications contingency plans for the health service, a sound basis has been laid.
Concrete examples of experiments and measures that are being carried out are experiments within telemedicine, use of information technology for control and decision-making systems and the establishment of regional health care networks. This work must be continued, but must be geared to the needs created by the processes involved in introducing telemedicine and other IT solutions.
CD-ROM Compact Disk Read-Only Memory. A data storage medium using the same physical format as audio compact disks. CD-ROM is popular for distribution of large databases, software and multimedia applications, and can store large amounts of text as well as sound, pictures and video. EDI document Standardized document used for exchange of information between computer systems. Electronic Data Interchange (EDI) Electronic transfer of business data between computer systems (EDI) in a standardized format. By
business data
is meant information such as documents and forms. Typical examples are orders, invoices and customs declarations, but the system is now used in an increasing number of areas, such as for technical information and specifications, and in the medical field for prescriptions, replies from laboratories and doctors' bills. EDI specifies both what shall be exchanged and the agreed processing procedure. Basic telecommunications service Services that must be available for all companies and households in the country. The content of these services will change over time in relation to developments within telecommunications. Information super highway Data communications network with a large capacity, designed for communication-intensive applications and integration of text, data, pictures, video and sound, and with efficient utilization by means of techniques enabling the distribution of available capacity between simultaneous users according to their needs. ISDN Integrated Services Digital Network. Networks that can supply all services. IT Information technology Information technology Technology involving the preparation, storage and transfer of text, data, sound and pictures in digital form for use in computer, electronics, broadcasting and telecommunications products. It is often divided into the categories of software, hardware and netware technology. Information society Society dominated by industries supplying services, communications and information. Traditional industrial sectors and primary industries maintain and increase production with fewer employees, among other ways through efficient use of information technology. Like the industrial revolution, the digital revolution will have social as well as industrial consequences. Internet A worldwide logical network connecting many thousands of smaller networks, and based on a common addressing system and communications protocol called TCP/IP (Transmission Control Protocol/Internet Protocol). Logical network A network that functions as a uniform entirety as a result of a common address schema and a set of logical addresses, which uniquely identify all systems connected to the network. The logical network can be realized on the basis of many different physical networks, such as local area networks and telecommunications networks, and can utilize different telecommunications services. Telecommunications Transfer of sound, text, pictures or other data by means of light, radio signals or other electromagnetic signals in a system for signal transmission. Telematics The combination of telecommunications and computing. Data communications between systems and devices. Telemedicine Medical services carried out via a telecommunications network by means of systems and solutions based on information technology. Among other services, telemedicine includes remote consulting and diagnosis, distance education and other transfer of expertise, medical information services, and services for distress messages and emergency preparedness. Teletechnology Technology for transfer of signals in a communications system. Teleservice Commercial telecommunication service wholly or partly involving transfer of data via telecommunications networks. Integrated service networks Networks that can supply several parallel services. The most well-known type is ISDN. Wideband ISDN provides the possibility of extended services because the capacity and bandwidth are greater. Virtual Not physically existing, but made by software to appear to do so from the point of view of the program or the user. World Wide Web Internet service supplying a graphic interface and facilities for simple search and retrieval of information on a global basis via the Internet.
During recent years, documents have been issued in many countries that focus on the development of the information society and propose political involvement and follow-up in the IT area. The most important documents, which have also been major sources of inspiration for the work of the State Secretary Committee for IT are:
National Information Infrastructure (NII): Agenda for Action
About the focus on information infrastructure in the USA, issued by the Clinton administration, September 1993. Global Information
Infrastructure: Agenda for Cooperation
Proposals for international cooperation on information infrastructure submitted by USA at the G7 meeting on the information society in Brussels in February 1995.
Europe and the Global Information Society ­ Recommendations to the European Council (Bangemann Report)
Policy recommendations to the EU, submitted by the Bangemann Commission at the EU summit on Corfu in June 1994.
Europe's Way to the Information Society: an Action Plan
Action plan for the EU decided by the Council of the European Communities in August 1994.
G7 Information Society Conference ­ Pilot Projects
Submitted by the European Commission at the G7 meeting on the information society in Brussels in February 1995.
Info-samfundet år 2000
Report to the Danish Government from the Committee on the Information Society in the year 2000. Presented in October 1994
Fra visjon til handling: Info-samfundet år 2000
Account to the Folketing of "The Information Society in the year 2000" and Action plan for IT 1995 for the development of the Danish information society. Submitted by the Danish Ministry of Research in March 1995.
Vingar åt menniskans formåga
Report on the Swedish information society presented by the IT Commission in Sweden in August 1994.
Developing a Finnish Information Society
Action plan for development of the Finnish information society submitted by the Finnish Ministry of Finance in January 1995.
This page was last updated January 20 1997 by the editors