Prime Minister Jens Stoltenberg
Prime Minister's New Year's Address 2011
Historical archive
Published under: Stoltenberg's 2nd Government
Publisher Office of the Prime Minister
1 January 2011
Speech/statement | Date: 01/01/2011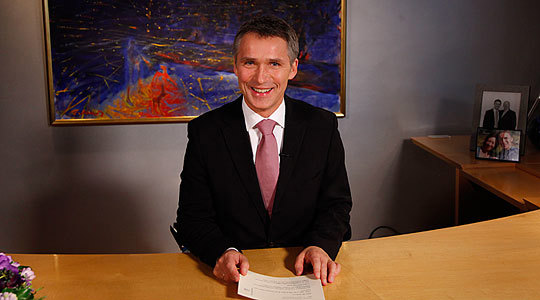 Norway's Prime Minister Jens Stoltenberg's New Year's Address, 1 January 2011. Photo: Jon Eeg/Scanpix. Video (Norwegian).
It is almost exactly 100 years since Roald Amundsen set up camp in the Bay of Whales.
From his winter base there, Framheim, Amundsen made preparations for his advance on the South Pole and the final stage of the race against the British.
The whole world waited with bated breath.
After an incredible expedition, five men from the north reached the southernmost point on the surface of the Earth on 14 December 1911.
When Roald Amundsen planted the Norwegian flag at the South Pole, he also put Norway on the world map.
This year we will therefore celebrate an important anniversary in the history of our country.
Amundsen's achievement filled a young nation with pride.
Along with Fridtjof Nansen's expeditions, it became part of our identity as Norwegians.
It can be said that Norway was shaped by the icy wilderness.
A small country showed the world that it could accomplish great things.
In December I will take part in celebrating the 100th anniversary at the South Pole.
There, we will remind each other that each generation must set itself new, ambitious goals.
Today, in 2011, Antarctica is no longer the scene of a race. It is the scene of cooperation.
Researchers from many countries are working together in order to understand the dangers of climate change that are threatening the whole world.
Nansen and Amundsen conquered the ice.
Our goal must be to prevent the ice from melting.
---
There are more than 1200 Norwegians still living today who were alive when Roald Amundsen reached the South Pole.
In the hundred years that have passed since then, they have taken part in what has been an amazing transformation of Norway.
At the same time as the polar explorers were travelling south in the ship Fram, thousands of Norwegian domestic servants and smallholders were sailing west to the US.
In the new land, there were better prospects of finding work and land to farm.
One of the Norwegian emigrants wrote home enthusiastically, saying that in America "we eat Christmas food every day".
In 1911, Norway was a poor agricultural country that many people moved away from.
In 2011, Norway is a rich, modern country that many people want to move to.
According to the many Swedes who keep things going in Norway, our country is very attractive because of the high wages and good jobs it offers.
It is quite some journey the oldest members of our society have been on.
They were born in a young nation that was one of the poorest in Europe.
When they were young, many of them were unemployed during the Great Depression of the 1930s, the previous major global economic crisis.
They became adults during the fight against Nazism.
They spent the rest of their lives building up a welfare state, the like of which no other people anywhere in the world have ever experienced.
The oldest members of our society are therefore quite rightly called the "pioneering generation".
---
The "pioneering generation" will also be remembered for their efforts in another context.
You see, there was a great deal to celebrate during the spring of 1945, after the liberation of Norway.
We saw the result of this in the high birth rate in 1946.
The large post-war generation is now nearing retirement age, and our life expectancy keeps increasing.
According to historians, a generation is 30 years.
In Norway, our life expectancy has increased by almost a generation in the space of 100 years.
The fact that so many of us are living longer is perhaps the best indication of the progress we have made.
One hundred years ago, many 65-year-olds were looked after by their children.
Today, many 65-year-olds look after their parents.
What we are seeing is a completely new kind of old age.
Today the elderly are not hunched up and forgotten in a corner of the room, but hunched over their computers.
They meet each other at shopping centres, bridge clubs and golf courses, and at university classes for senior citizens.
Our society's view of ageing is changing with the times.
And as I discovered when I turned fifty, our own view of ageing also changes as we get older.
As a society, we need to change our attitudes to ageing in tandem with our increasing longevity and health.
That is why we are establishing a completely new pension system in Norway as of today.
When we introduced the National Insurance Scheme in 1967, the retirement age was 70. Average life expectancy was 74.
Many people had little or no time as pensioners.
It will now be possible for everyone to draw a pension from the age of 62, while average life expectancy has risen to 81.
Most people can now look forward to many years of retirement.
The new pension system gives people a choice if they can no longer work, or do not want to continue working.
Many people have worked hard all their lives, and would rather have some well-deserved time to slow down, cultivate their interests and pursue their dreams.
That is something they truly deserve.
At the same time, there are many people who have valuable experience and good health who want to keep on working.
For that reason, as of today it will be easier to combine work and retirement.
For the benefit of the individual and society as a whole.
If anyone has any doubts about the contribution the older generation can make in working life, just look at Norway's national football coach, Egil "Drillo" Olsen.
During the past year he has shown in no uncertain terms that the power of experience can be difficult to beat.
---
However, the fact that our health deteriorates as we get older is also part of life.
Only a few decades ago, care of the elderly was primarily a private responsibility in Norway.
As recently as the 1960s, most of the elderly had to be looked after by their families.
One of the most important pillars of a modern welfare state is high-quality, public care of the elderly.
We must provide the elderly with the care they need.
Fortunately, the vast majority of the older generation manage well on their own, but no one should be afraid that they will lack a helping hand when they need one.
For some people, a few hours of help in the home every week is all they need.
Others need nursing around the clock.
The majority receive the help they need.
Every day, tens of thousands do a tremendous job.
In municipal home care services, in nursing homes run by voluntary organisations and in private care facilities.
They give comfort, and help with the heavy work.
They do the cleaning and tidying.
They buy in food and give medicine.
Thank you for all the care and consideration you show every single day.
But we also need to do something about the things that are not working so well.
Through a concerted effort, we managed to achieve full day-care coverage for children.
We have now started on the next major task:
All the elderly must be given the help they need.
That is why we are now offering a nursing home place or 24-hour care to all those who need it.
---
Throughout the ages it has been women who have borne the greatest burden as caregivers.
They have looked after the younger generation and the family's oldest members.
It is therefore only fair that we reward women to a greater extent for their efforts as caregivers in the new pension system.
Those who have stayed at home with children will now receive a bigger supplement in their pension for this when they reach retirement age.
Those who have had a low income or worked part time will also receive larger pensions. Altogether, this means that far fewer women will receive the minimum pension.
Having good day care centres for children and good care of the elderly is important for children and the older generation, but it has also made it possible for more women to get an education and participate in working life.
What makes Norway rich is that so many people are in paid employment.
And what sets us apart from most other countries is that so many women in Norway choose to work.
Many people tell me that Norway is lucky to have its oil reserves.
That is true, but much more important:
Norway is lucky to have its women.
This brings me back to one of my pet subjects. We depend on each other's work for our livelihoods. The more people who are in work, the higher the level of welfare.
---
Roald Amundsen became our national hero for the courage he showed in the icy wilderness.
Today, our foremost heroes are the Norwegian men and women who are serving in Afghanistan.
I had the pleasure of celebrating 17 May with our forces in Meymaneh and Mazar-e-Sharif, and I was filled with pride when I saw the tremendous job being done by Norwegian soldiers in a country so far away.
This made my grief all the greater when, just a few weeks later, I received the news that Andreas Eldjarn, Simen Tokle, Trond André Bolle and Christian Lian had been killed by a roadside bomb.
Earlier, we were also deeply saddened to hear that Claes Joachim Olsson, Trond Petter Kolset, Kristoffer Sørli Jørgensen, Tor Arne Lau-Henriksen and Tommy Rødningsby had lost their lives.
Sent by Norway on a mission for the international community.
They gave their lives for peace in Afghanistan, for a safer world, and for Norway's security.
Let us therefore remember our fallen.
Our thoughts are with their families and friends, and we extend a heartfelt thanks to our forces abroad.
---
This year, it is ten years since the terrorist attacks in the US led to the campaign in Afghanistan.
I understand that many people have experienced this last decade as one of global turmoil.
However, in some ways the last decade has probably been the best decade in human history.
Despite Afghanistan and Iraq, the number of armed conflicts and the number of people killed in hostilities have fallen.
More people than ever before are living in free societies.
Despite the financial crisis, the average income has never been higher on a global basis. Total production has almost doubled in the space of ten years.
Despite the work that remains to be done to prevent global warming, we are in the process of solving other environmental problems such as acid rain and depletion of the ozone layer.
Several hundred million people have been lifted out of poverty.
Just before Christmas, we received the news that for the first time the HIV epidemic is now on the wane.
And we may be in the process of eliminating some of the most dangerous infectious diseases. Thanks to increased vaccination of children, around five million lives have been saved over the last ten years.
All over the world, child mortality rates are falling, and life expectancy is rising.
I would therefore like to start the new year on an optimistic note and remind us all that mankind creates its own history.
As the oldest among us can confirm:
The world moves forwards, if we want it to.
And we want it to.
I would like to thank the Royal Family for their efforts during the last year.
With faith in the future and what the coming year will bring, I would like to wish you all a Happy New Year.