Speeches and statements
Norway and electric vehicles – a successful combination
Historical archive
Published under: Solberg's Government
Publisher Ministry of Transport and Communications
Speech/statement | Date: 09/05/2019
This text by the Minister of Transport, Jon Georg Dale, was published in Euractiv 11 April 2019.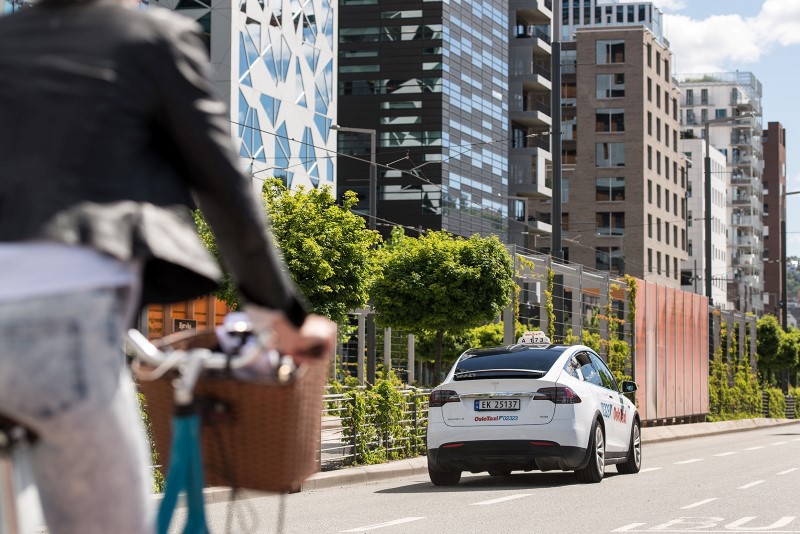 Foto: Heggø/Samferdselsdepartementet
No other country in the world has more electric vehicles per capita than Norway. In fact, this March the sales of electric cars made an historic mark. For the first time ever, more than half of all new cars sold were electric this month. In total, Norway now has more than 200,000 electric cars, which constitute around 7 per cent of the passenger car fleet. In 2018, the car with the most sales was Nissan Leaf.
This has a simple explanation – political willingness and possibilities. Numerous benefits include less tax and user incentives, and abundant hydropower is important.
With many early adopters, Norway has been a frontrunner, and we see that politicians from many European countries look to Norway to learn and get inspiration for achieving similar results. We are happy to share our experiences and wish to be an attractive partner for the EU in this field.
In Norway we have seen a steady growth in the sale of electric cars. The first financial benefits were introduced already in the early 1990s with the removal of the vehicle purchase tax for all electric cars. In 1996, an additional exempt from annual motor vehicle tax was announced, and from 1997 drivers of electric vehicles did not have to pay on toll roads. Free municipal parking was introduced in 1999. We now see a tendency that electrical solutions also come in other heavier segments, which is very pleasing.
Mainly because of our incentives, new models and increased range, we have seen a tremendous growth in electric vehicles in Norway the last few years. Norwegians love driving to their cabins on weekends, and new electric cars are able to take us door to door without a fear of running out of battery power half way. Infrastructure for charging is also important. There are now more than 11 000 publicly accessible charging points in Norway. A dedicated app called Nobil from the Norwegian EV Association makes it easy to see where they are and how many are in use at any given time. Directive 2014/94/EU on the deployment of alternative fuels infrastructure is part of the EEA Agreement, and the Ministry of Transport and Communications is currently working on a national strategy for infrastructure for alternative fuels in transport.
Norway has a clean power supply that is 98 per cent renewable, and we also use clean energy to heat our homes. This means that we do not have the same opportunity as many EU countries to reduce greenhouse gas emissions by switching from coal to more climate-friendly energy sources. The transportation sector accounts for 60 per cent of emissions from non-quota sectors in Norway, and cutting emissions within this sector is therefore important for Norway to comply with our climate commitments.
In addition to being environmentally friendly, owners of electric cars in Norway have many economical and practical advantages when driving. The exemptions of purchase tax and VAT provide a large financial incentive for potential buyers of electric cars. As a result, a new Tesla has a price tag about the same as a new Audi or Mercedes. Local benefits, such as free parking on public parking spaces, no road toll, free access to ferries connecting national roads and mostly free access to public transport lanes have also been important. Local municipalities have influence over local benefits, but we have a national binding standard stating that fees for electric cars should not exceed 50 per cent of the fee for conventional cars.
Estimated to almost NOK 10 billion per year, it is no secret that all these benefits come with a substantial cost for the government. However, we see that it works, and that we can measure the success in lower emissions from the transport sector. In fact, September 2018 marked a new low with 55 g CO2/km – the lowest ever on record. In 2018, average CO2-emissions from new passenger cars were 71 g/km .
In 2016, the Norwegian government published its long term National Transport Plan. It has ambitious goals and states that by 2025 all new passenger cars and light commercial vehicles should be zero emission vehicles. Improvements in technological maturity, in a way that zero emission vehicles will be competitive compared to conventional vehicles, is a precondition for the targets. We believe that technological development and political signals will be powerful drivers for the decarbonisation of our transport sectors.
Our goals for zero emission cars and reduced greenhouse gas emissions rely on the technological development in the coming years. To stimulate technological development, Norway supports the EU initiatives for ambitious reductions of allowed average CO2 emissions in 2030, both for passenger cars, vans and heavier vehicles. This is, in our view, important for a sustainable Europe, the European transport sector and the competitiveness of the European auto industry.
In Norway, we see the rise of electric vehicles as one of many important measures to reduce climate emissions. Not by limiting mobility, instead we will reach our goal with political willpower, financial incentives, cooperation with industries and good infrastructure. A more "green" transport form is definitely within reach.