All salmon farmed in the sea are vaccinated against a number of diseases, primarily bacterial diseases. Consequently, the use of antibiotics in Norwegian aquaculture industry is extremely low.
The levels of salmon lice on farmed salmon are low and do not pose a problem for farmed salmon itself. However, because the high number of farmed salmon in the cages, fish farms may be a source of salmon lice that can affect wild salmon, particularly in areas with a lot of fish farms. The authorities are therefore working to secure a siting structure and operational practice in the aquaculture industry that contribute to good fish health, both for farmed and wild fish.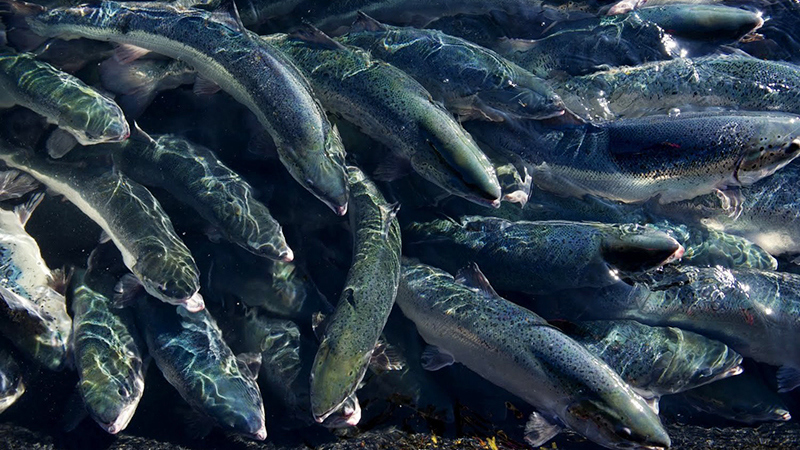 The health situation in aquaculture
Although the health situation in aquaculture has improved significantly over the past 20 years, disease and parasites exists in Norwegian salmon farming. The greatest disease losses are due to viral infections such as pancreas disease (PD), heart and skeletal muscle inflammation (HSMI) and infectious pancreatic necrosis (IPN). There is no treatment for these viral infections. None of these viruses can affect humans. 
Diseased fish is not allowed to enter the food chain. Fish is slaughtered in an approved facility, where there also is a quality control of the fish so that those with blemishes or signs of disease are not put on the market. Fish showing signs of disease are destroyed. If there is a fish virus in a healthy fish, it will not affect the health of the consumer or the quality of the fish. The bacteria and viruses that cause diseases in our fish species cannot breed at our body temperature. 
Low levels of sea lice
The regulations relating to sea lice have been tightened significantly in recent years and there are currently very low levels of sea lice in Norwegian facilities. The fish farmer must report the amount of sea lice on the fish on a weekly basis. These reports can be continuously monitored via the website Lusedata in Norwegian (lice data) www.lusedata.no. In some areas, however, sea lice can be a problem for wild salmon and sea trout smolts. The Norwegian Institute of Marine Research has been commissioned by the Food Safety Authority to coordinate the monitoring of sea lice on wild fish. Although lice also occur naturally in these species, this is an example of a parasitic disease that is being intensified by the presence of a multitude of hosts in aquaculture facilities. 
How to combat lice
There are several ways to combat lice, such as using cleaning fish (for example wrasse which eat the lice) or adding medicinal products to the water or to the fish feed. New methods are constantly being developed with the aim of reducing chemical treatments and eventually replacing them by alternative methods. 
All veterinary medicinal products currently used to combat sea lice in fish farms have been approved by the Norwegian Medicines Agency. Approval of pharmaceuticals is a complex process which includes assessments of environmental impact and food safety. To ensure that only approved veterinary medicinal products are used, and that they are used correctly, only authorised veterinarians and fish health biologists are allowed to issue veterinary prescriptions for use to treat fish. There are also regulations specifying the length of time that must elapse between medication and slaughter (withdrawal time), to make sure that the fish is safe to eat. 
Norwegian Food Safety Authority