Jonas Collett
First Minister 1822 - 1836
Article | Last updated: 01/06/2011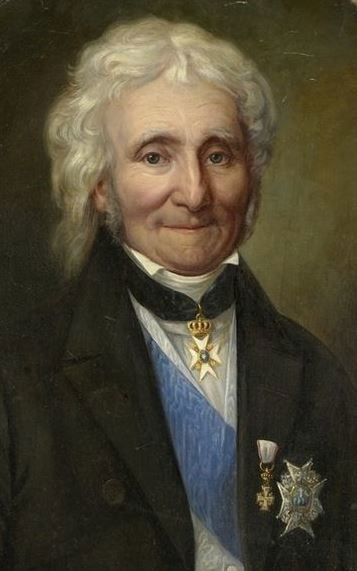 Jonas Collett was civil servant and politician.
(Painting: Johan Görbitz, photo: Oslo Museum).
Councillor of Government 2 March-19 May 1814, Chief of 2nd Ministry (interior affairs).
Councillor of State 19 May-11 November 1814, Chief of 2nd Ministry (interior affairs).
Confirmed in office 11 November 1814, Chief of 2nd Ministry (interior affairs). Chief of 4th Ministry (interior affairs) 30 November 1814. Member of the Norwegian Council of State Division in Stockholm April 1816, Chief 4th Ministry (interior affairs) May 1817, also Chief of 5th Ministry (finance affairs) October-November 1818, no portfolio January 1819, Chief of the Ministry of the Army May 1819, Chief of the Ministry of Church and Education October 1819, also Chief of the Ministry of the Navy May-September 1820, Member of the Council of State Division in Stockholm September 1820, no portfolio August 1821, Chief of the Ministry of Finance January 1822. First Minister in Christiania 1 July 1822.
Councillor of State 19 September 1836, First Minister and Chief of the Ministry of Finance. Resigned 10 November 1836, in office until 17 December 1836.
Born at Rønnebæksholm in Næstved, Denmark 25 March 1772, son of Chamberlain Johan Collett (1734-1806) and Else Elisabeth Ramus Jensen (1746-1788).
Married at Modum, Norway 15 October 1797 to Maren Christine (Tina) Collett (1777-1860), daughter of landowner Peter Collett (1740-1786) and Johanne Henriche Ancher (1750-1812).
Deceased in Christiania (Oslo) 3 January 1851. Buried at Vår Frelsers gravlund (Our Saviour Cemetery) in Christiania.
The Colletts sold Rønnebæksholm Manor and moved to Copenhagen in 1777. Jonas Collett earned his law degree at the University of Copenhagen in 1793, and sought his career in Norway – where he had family roots. In 1795 he became bailiff of Numedal and Sandsvær, and in 1796 of Kongsberg. He was also member of Kongsberg Chief Bergamt, where he became involved in handling the problems at Kongsberg Silver Works and the social effects of the closing down the works in 1805. In recognition of his efforts for those affected by this, he was appointed chamberlain in 1808 and knight of the Order of Dannebrog in 1809.
At the advice of Count Herman Wedel Jarlsberg Collett was appointed county governor of Buskerud when Wedel resigned from that office in 1813. He was one of the leading men participating in the meeting called by Prince Christian Frederik at Eidsvold in February 1814. On 2 March 1814 Prince Christian Frederik appointed Collett as member of his council of government (in May 1814 renamed by the National Assembly as the Council of State) responsible for interior affairs. Together with Niels Aall Collett he negotiated with Swedish representatives at Moss in mid-August 1814, and was responsible for the convention giving the union with Sweden a constitutional basis in Norway.
Collett was confirmed in office as councillor of state on 11 November 1814, as chief of the Ministry of the Interior in the First Wedel Government. Apart from a period at the Norwegian Council of State Division in Stockholm in April 1816, Collett alternated between being chief of the Ministries of the Interior, Finance, the Army, Church and Education and the Navy. From January 1822 he was chief of the Ministry of Finance until his resignation some months into the Second Wedel Government, in December 1836. He succeeded Mathias Sommerhielm as first minister in Christiania on 1 July 1822.
For most of Collett's time as first minister in Christiania, from December 1829, the office as the King's governor-general there was vacant (between Count Baltzar Bogislaus von Platen's and Count Herman Wedel Jarlsberg' s periods). Collett was thus the uncontested leader of government work in Christiania, formally as well as in practice. A sign of this is that Collett in the summer of 1829 established the part-time post as "Secretary to the President of the Norwegian Government", to assist him in his tasks as the First Minister. The post came in addition to the existing State Secretariat in Christiania.
Collett wanted ministries to be enterprising despite the Storting's strict supervision, something that brought him into stormy political weather. In August 1827 he was impeached after his use of state means in 1825 to purchase two steam ships to carry post between Eastern and Western Norway. These ships – the Constitutionen and the Prins Carl – became popular, while the Storting's main aim was to define the border between executive and granting powers. When the judgment fell in October 1827, following King Carl Johan's attempt to force the Court of Impeachment, the conclusion was that impeachment had been premature.
Collett again showed his vigour when he in 1832 refused to follow the Storting's decision to dispose of Kongsberg Silver Works. Due to new silver strikes this in retrospect proved to be a wise decision. Collett also had a central role in preparing the new municipal act of 1837.
Collett was long a solid support for the King's constitutional prerogatives. However, in his last official act he emerged as more faithful to the spirit of the Constitution than to the King. On 6 July 1836 he received orders from King Carl Johan in Stockholm to dissolve the Storting on 8 July, despite ongoing proceedings and the fact that the budget was not ready. Rather than following the King's orders, Collett chose to notify the Storting's presidency, to give them time to speed up proceedings. The Storting, however, decided to impeach Prime Minister Severin Løvenskiold for not having advised the King to refrain from dissolving parliament.
This caused an indignant Carl Johan to appoint Count Wedel as his governor-general in Christiania, and to instruct Collett to tender his resignation. The resignation was accepted by the King on 10 November, but Collett remained in charge of the Ministry of Finance until 17 December 1836. His resignation increased his popularity. He spent his last quiet years as the centre of his large family at Berg Estate in Aker and in the family's townhouse in Christiania.
Source:
Norsk Biografisk Leksikon