Carl Mörner
Governor-General 1816 - 1818
Article | Last updated: 13/04/2011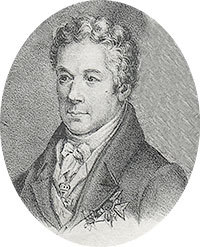 Carl Carlsson Mörner af Tuna was nobleman, military officer and civil servant.
Governor-General in Norway 20 August 1816- 10 October 1818.
Born at Rödjenäs in Björkö near Jönköping in Sweden 1 December 1755, son of nobleman Carl Gustaf Mörner af Tuna (1725-1787) and Margareta Fredrika Duse (1732-1800).
Married 24 December 1810 to Charlotta Elisabeth Wrede, born Arfwedson (1766-1862), daughter of trade councillor Carl Christopher Arfwedson (1735-1826) and Catharina Charlotta von Langenberg (1754-1834).
Deceased in Stockholm 24 June 1821.
Carl Mörner had a long military career when he became governor-general in Norway in the autumn of 1816, at the age of 61. He had been appointed sub-lieutenant at the age of 16 in 1771. As lieutenant general he had commanded the Swedish forces in Pommern (Pomerania) in 1811, and had also for a short period been vice governor there. He was linked to the court of King Gustav IV Adolf until the King was dethroned in 1809.
Crown Prince Carl Johan knew Mörner as chief governor of Stockholm since 1812, where Mörner had demonstrated his administrative skills. Shortly before he was appointed governor-general of Norway in August 1816, Mörner was promoted to the rank of field marshal.
Mörner was the second of the Swedish governors-general in Norway, who from November 1814 had the task of being the Swedish-Norwegian King's deputy in Christiania. The Governor-General led the work of the Norwegian Government, he was military commander-in-chief and also chancellor of the University in Christiania. He had his own chancery with Swedish civil servants, in addition to the Norwegian government offices.
Mörner strove to improve his knowledge of Norway, and undertook a long journey to the northern parts of the country in 1817. He was popular in Christiania, and spent much time on entertaining. Students and cadets were frequent guests at the Palé, the town's royal residence until the Royal Palace was ready in the 1840's.
A central task for the Governor-General in Christiania was to provide information he considered necessary for King Karl XIII and Crown Prince Carl Johan, in addition to the Government's proposals. Frequently Mörner also had to mediate between Carl Johan and the Norwegian Government. Politically Mörner was close to the Minister of Finance, Count Herman Wedel Jarlsberg.
As was the case with his predecessor Hans Henrik von Essen, Mörner was accused by Carl Johan of being too lenient with the Norwegians. He chose to tender his resignation, and left the post "with national respect" in the autumn of 1818.
In Stockholm Mörner was appointed president of the National Debt Office (Riksgäldskontoret) in 1819, but soon retired from public life. He was the owner of several estates in the County of Stockholm.
Source:
Norsk Biografisk Leksikon