Article | Last updated: 01/06/2011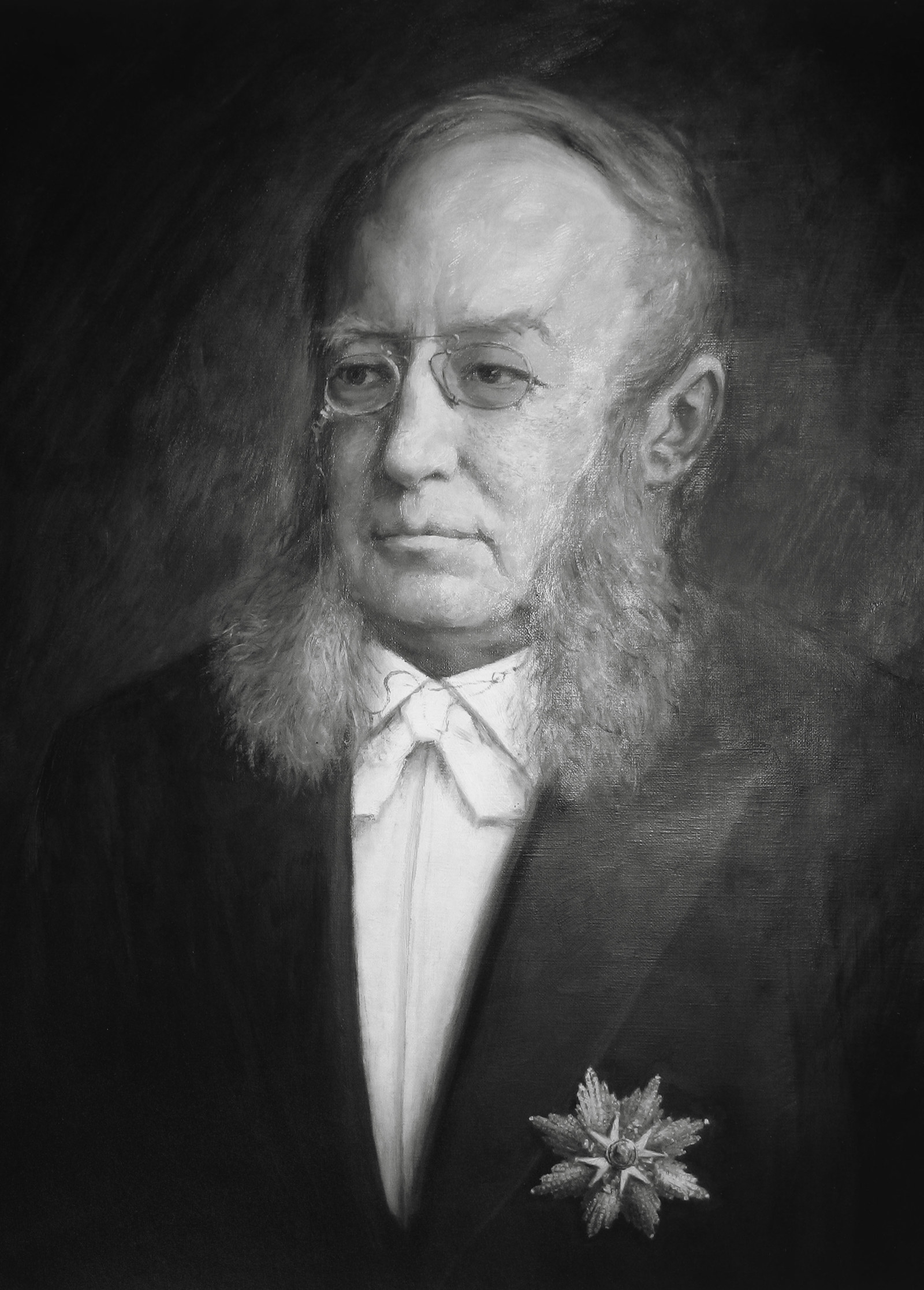 Hans Georg Jacob Stang was lawyer, civil servant and politician.
(Photo: County Governor of Vest-Agder).
Councillor of State 26 June 1884-6 June 1888, Member of the Council of State Division in Stockholm. Chief of the Ministry of the Interior August 1885, Member of the Council of State Division in Stockholm August 1886, without portfolio September 1887, Chief of the Ministry of Justice November 1887.
Acting Norwegian Prime Minister in Stockholm 6 June 1888, appointed 15 June 1888. Resigned 13 July 1889.
Born in Nannestad 17 November 1830, son of Perpetual Curate Hans Georg Jacob Stang and Brynhildur E. Gudmundson.
Married at Eidsvold 28 December 1855 to Anna Sophie Margrethe Holmsen (1834-1901) daughter of District Stipendiary Magistrate Clemet Holmsen and Nicoline Karoline Nilson.
Father of later councillor of state Georg Stang.
Deceased in Kristiansand 1 March 1907. Buried at Kristiansand Cemetery.
Jacob Stang's father died in 1832, so his mother had to take care of his upbringing alone. He finished Christiania (Oslo) Cathedral School in 1848 and received his law degree from the University of Christiania in 1852.
After some years as an assistant lawyer in Christiania, Stang settled as a lawyer at Kongsvinger in 1859. He was also editor of the newspaper Hedemarkens Amtstidende. In 1878 he was appointed magistrate at Kristiania City Court, and became known as a well-informed and capable judge.
Jacob Stang was mentioned as a candidate when Professor Ole Jacob Broch attempted to form a new government in June 1884. When Stang's elder relative Johan Sverdrup was called to form a government in late June, Stang was appointed councillor of state at the Norwegian Council of State Division in Stockholm.
Jacob Stang was not seen as adding any political power to the Government, and many were critical to Johan Sverdrup including younger relatives in the Government. In addition to Stang also Sverdrup's nephew Jakob Sverdrup was member of the Government, as the Minister of Church and Education. Radical circles were also in doubt as to whether Stang was a liberal; many saw him as more of a conservative. Indeed, he all the way belonged to the moderate wing in the Sverdrup Government.
Stang's character was more that of a civil servant than of a politician, and he came to spend three of his five years in government at the Norwegian Council of State Division in Stockholm. This gave him little experience as chief of a ministry. In his two periods in Kristiania he was chief of the Ministry of the Interior and the Ministry of Justice.
As a member of the Norwegian Council of State Division in Stockholm Stang took part in the talks on how to handle common Swedish-Norwegian union matters. However, he gradually lost faith in the possibility of reaching an agreement in this field.
As the gap widened between Prime Minister Johan Sverdrup and the more radical liberal wing of the Liberal Party, Stang continued supporting the Prime Minister's moderate policy. Although he did not share his relative Jacob Sverdrup's support for the low-church Pietistic movement, he supported Johan Sverdrup's church policy – also in the need for introducing parish councils in the Church of Norway.
Stang had already in the summer of 1885 been mentiond by King Oscar II as a successor to Ole Richter as the Norwegian Prime Minister in Stockholm, as Richter's health was not good. On 13 July, just after Richter had tendered his resignation in a Norwegian Council of State meeting at Rosendal Palace in Stockholm, Stang was offered to take over – without the knowledge of Prime Minister Sverdrup in Kristiania. However, in November Richter decided to continue.
In the spring of 1888 Stang was once more chosen by the King to succeed Prime Minister Richter, and on 6 June – the day Richter's resignation was approved – Stang became acting Norwegian Prime Minister in Stockholm. On 15 June, the day Richter took his own life at his office in Stockholm, Stang was formally appointed.
Stang's period as prime minister was dominated by frequent criticism from the daily newspaper Dagbladet and other liberal circles in Kristiania. As Norway's leading representative in Stockholm he was correct and courteous, and knew how to please. King Oscar II came to see Stang's departure as a personal loss.
When the Sverdrup Government resigned in July 1889, Stang was appointed to the vacant post as diocesan county governor of Kristiansand and county governor of Lister and Mandal. A demanding task came to be the reconstruction of Kristiansand after a major fire in 1892, the following economic crisis and the industrialisation after the turn of the century. Stang was honourably discharged from the office in September 1906.
Stang represented Flekkefjord at the Storting 1892-1894, as one of the leaders of the moderate wing of the Liberal Party.
Sources:
Norsk Biografisk Leksikon
State Archive in Kristiansand