Article | Last updated: 10/04/2012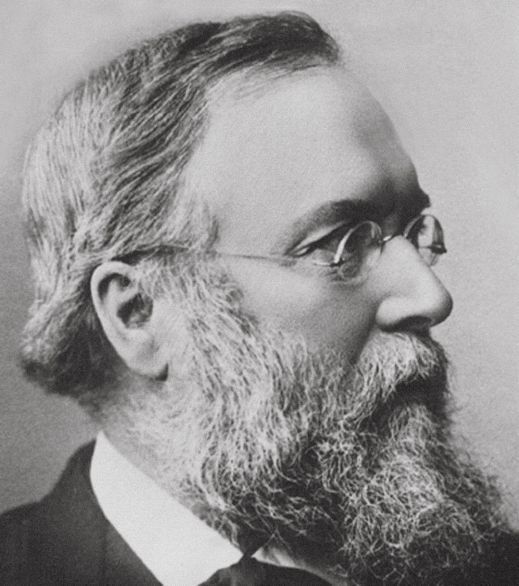 Ole Anton Qvam was lawyer, farmer and politician.
(Photo: Egge Historielag).
Councillor of State 6 March 1891-2 May 1893, Chief of the Ministry of Justice.
Councillor of State 17 February 1898-21 April 1902, Chief of the Ministry of Justice. Chief of the Ministry of the Interior April 1899, also Chief of the Ministry of Auditing February 1900, Chief of the Ministry of Auditing March 1900, also Chief of the Ministry of Agriculture April 1900, Chief of the Ministry of Justice November 1900.
Norwegian Prime Minister in Stockholm 21 April 1902-22 October 1903.
Born at Mek (Kvam) in Bolsøy 5 August 1834, son of farmer Ole Larsen Qvam (1782-1844) and Johanne Pedersdatter Ryen (1797-1850).
Married at Stod 21 May 1865 to Fredrikke Marie Gram (1843-1938), daughter of merchant and factory owner David Andreas Gram (1812-1858) and Louise Augusta Bing (1808-1900).
Deceased at Gjevran in Egge 8 July 1904. Buried at Egge Cemetery in Steinkjer.
Ole Qvam was the second-youngest of seven siblings, and lost his father at the age of ten and his mother at the age of 16. He thus had to work his way alone. He passed university qualifying examination in 1853, and worked as a primary school teacher in Setesdal, Christiania (Oslo), Arendal and Stod. He then started law studies and achieved his degree from the University of Christiania in 1862. In 1863-1864 he was deputy district stipendiary magistrate of Stjør- and Verdal, became a licensed lawyer in 1863, opened his own law practice in Steinkjer in 1864 and had his barrister's licence in 1867.
In his years as deputy district stipendiary magistrate Qvam purchased Gjevran Farm in Egge, settling there in 1864. He moved to By in Stod in 1865, to manage his mother-in-law's landed property, and did not move back to Gjevran on a permanent basis until 1873.
Qvam's political interest was awakened early. He was elected to the municipal council in Stod in 1867, and was the council's chairman 1868-1869. When Egge was separated from Stod as a municipality of its own, Qvam was municipal council chairman of Egge 1869-1885. He gradually became a leading person in Trøndelag, and in 1870 he was elected deputy Member of Storting for the County of Nordre Trondhjem. From 1874 he was permanent member.
At the Storting Qvam was one of few representatives of civil servant background who supported the liberal movement. In addition to Qvam there were only three others on the "extreme left", among them later prime minister Johan Sverdrup. Qvam was seen as the most radical, and also the most outspoken, of them all. He combined political passion with a poetic and musical mind.
When the issue of the union with Sweden came to a head in the time leading up to the impeachment process against Christian Selmer's Government in 1883-1884, Qvam – now president of the Lagting (the smaller house of the Storting) – was among the initiators of a proclamation stating that if the royal power and the union could not withdraw its claim of absolute veto, "then we should let go of the Royal Power and the Union". Qvam presided during the initial sessions of the Court of Impeachment in 1883, but was rejected by the accused. He was now part of the liberal group opposing compromises in the case until Sverdrup's Liberal Government was appointed in the summer of 1884.
Although he did not join Sverdrup's Government in 1884, Qvam's position in the Liberal movement became stronger. In January that year he had been elected deputy chairman under Sverdrup when the Norwegian Liberal Party was established, and was now elected party chairman in September 1884. Later in the autumn regional daily Nordenfjeldske Tidende in Levanger, under Qvam's influence, criticised the Government for not appointing Liberals as civil servants. Sverdrup agreed, and in January 1885 Qvam was appointed district stipendiary magistrate of Gauldal.
During the Storting session 1886-1888, another session marked by issues relating to the union with Sweden, Qvam was president of the Odelsting (the major house of the Storting). At several occasions Qvam disagreed with Prime Minister Sverdrup. In 1888 both the Liberal Party and the Sverdrup Government was split, and Qvam had to leave the Storting presidency.
The Storting elections of 1888 turned out as a defeat for the Liberal Party, and in 1889 Qvam was replaced by Johannes Steen as party chairman. Thus, Qvam for some years was now absent from political life.
When Steen's Liberal Government was appointed in March 1891, Qvam became chief of the Ministry of Justice – a post he held until the Government fell in May 1893. He now settled at Gjevran again, and was again elected chairman of the municipal council of Egge in 1894. However, in December 1894 he was appointed county governor of Nordre Trondhjem, after also having been elected member of Storting for the County of Søndre Trondhjem for 1895-1897.
In the 1897 elections Qvam was re-elected to the Storting for the County of Nordre Trondhjem for 1898-1900. But already in February 1898 he joined Steen's Second Government, once more as minister of justice. Apart from shorter periods as chief of the Ministries of the Interior, Auditing and Agriculture, he was the Minister of Justice for most of the period until the Government retired in April 1902.
Qvam was now appointed Norwegian prime minister in Stockholm in Otto Blehr's First Government, and remained at this post until the Government left in October 1903. During his time in Stockholm negotiations with the Swedish Government led to a preliminary agreement on a separate Norwegian consular service. Qvam now appeared more flexible than before, and as opposed to what had used to be the case, he was now on rather friendly terms with King Oscar II.
When leaving the post as the Norwegian Prime Minister in Stockholm, Qvam was markedly weakened by illness. He died at his home at Gjevran the following year. He never reached the top position in Norwegian politics, but had still represented an important part of the country's leadership.
Source:
Norsk Biografisk Leksikon