Jan P. Syse
Prime Minister 1989 - 1990
Article | Last updated: 31/05/2011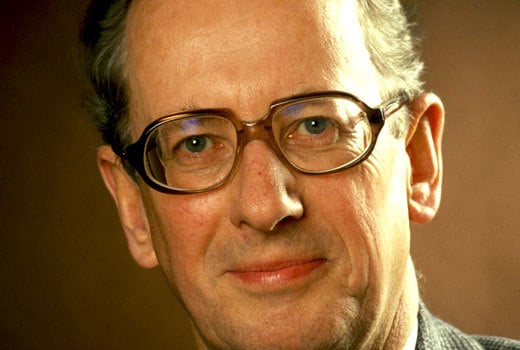 Jan Peder Syse was lawyer and politician.
Private secretary (deputy assistant director general) 1 August 1967-31 July 1969, in the Ministry of Trade and Shipping.
State secretary 1 November 1970-17 March 1971, in the Ministry of Justice.
Councillor of State 16 September 1983-4 October 1985, Chief of the Ministry of Industry.
Prime Minister 16 October 1989-3 November 1990.
Born at Nøtterøy in the County of Vestfold 25 November 1930, son of dentist Peter Syse (1888-1965) and Magnhild Bjønnes (1898-1985).
Married 1959 to Else Walstad (1936-), daughter of manager Kristoffer Walstad (1904-1987) and Esther Nærby (1906-1997).
Deceased in Oslo 17 September 1997. Buried at Vår Frelsers gravlund (Our Saviour Cemetery) in Oslo.
Jan P. Syse grew up at Nøtterøy near Tønsberg. After university qualifying examination in 1949 he took up law studies at the University of Oslo and achieved his Cand. Jur. degree in 1957. From 1959 he worked for the Wilh. Wilhelmsen Shipping Company, first as department manager.
Syse had been active in student politics, and became private secretary to Conservative Minister of Trade and Shipping Kåre Willoch in Per Borten's Government 1967-1969. In the autumn of 1970 he was back as a government politician, now as state secretary to Minister of Justice Egil Endresen until the Borten Government resigned in March 1971.
In 1963 Syse was elected Conservative member of Oslo's municipal council, a post he kept until 1971. In 1965 he was elected deputy Member of Storting, and from 1973 full member. Syse had a central role in the Storting during the first years of the Willoch Government, before himself joining the Government as minister of industry in September 1983. After the 1985 elections, where Willoch's Government lost its majority, Syse had to return to the Storting as leader of the Conservative group.
Syse stayed on as parliamentary leader also after the Willoch Government's resignation in May 1986, and succeeded Kaci Kullmann Five as the Conservative Party's leader in 1988. The posts as party leader and parliamentary leader were now once more held by one person, but the Conservatives were now seeing decreasing support. Some polls gave the party a lower rating than the right-wing Progress Party. Syse saw this as a possibility to renew cooperation towards the centre of Norwegian politics.
The fruit of Syse's efforts to establish a centre-right cooperation came when the Storting elections of 1989 opened up for a coalition government representing the Conservatives, the Christian Democrats and the Centre Party. Their basis was a declaration which the three parties had agreed on in the spring of 1989.
On 16 October 1989 Syse's Government succeeded Gro Harlem Brundtland's Second Government. Already from the start it was clear that the Government would sooner or later break up due to internal disagreement on the European Economic Area (EEA) and Norway's relations to the EU. In late 1990 the Centre Party declared it would no longer remain in the Government, stating that it would now rather see a minority Labour government than a minority Conservative government. On 3 November 1990 Syse's Government was succeeded by Gro Harlem Brundtland's Third Government.
A couple of months before the shift of government, in September 1990, Oslo news media announced the so-called "Blaasenborg issue". Accusations were that Syse, as principal shareholder and chairman of the board of a block of flats in Oslo, had not kept the deadline for submitting documents to national registers. It would later be clarified that Syse's mistakes were not serious, and he was not surtaxed. But the issue weakened him politically.
In his last period at the Storting from 1993, it was a problem for Syse that he in many ways stood at a certain distance from what had become the Conservative Party's policy. Former party leader John Lyng's conservative values had in Syse's view been mismanaged by the new leaders of the party.
After a heart attack in the mid 1990's Syse never fully recovered. He declined re-election to the Storting in 1997. After having been present at the Conservative Party's election day rally in the evening of 16 September, he died of cerebral haemorrhage the following day.
Source:
Norsk Biografisk Leksikon