Jens Hundseid
Prime Minister 1932 - 1933
Article | Last updated: 30/05/2011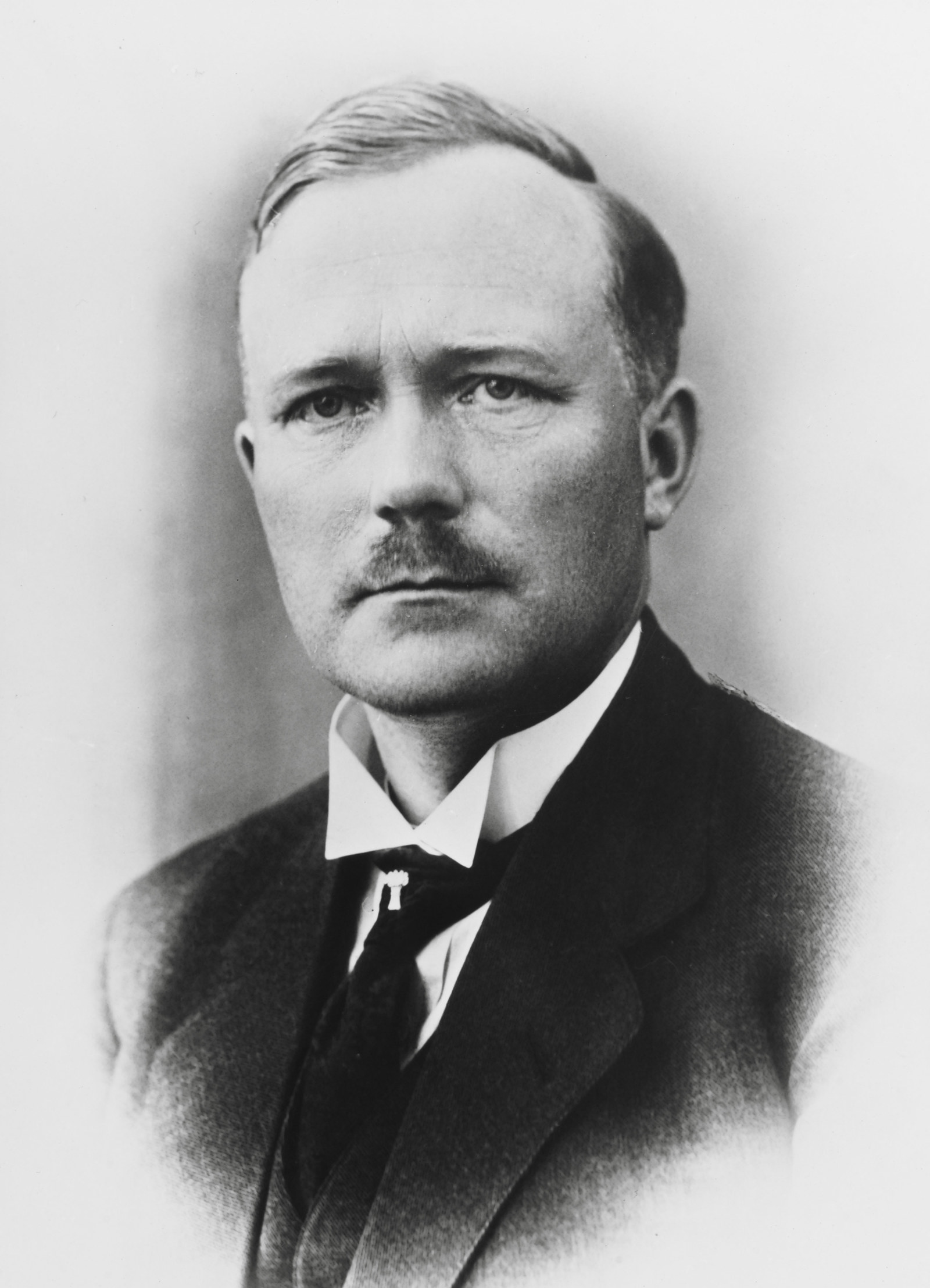 Jens Falentinsen Hundseid was teacher of agriculture, politician and civil servant.
Prime Minister 14 March 1932-3 March 1933, also Chief of the Ministry of Agriculture.
Born in Vikedal (Vindafjord) in the County of Stavanger (Rogaland) 6 May 1883, son of farmer Valentin Hovda (born 1854) and Ingerid Jensdatter Hundseid (1856-1937).
Married 26 September 1912 to Martha Eknes (1889-1969), daughter of forest owner Hans Eknes (1859-1938) and Grethe Skolem (1863-1940).
Deceased in Oslo 2 April 1965. Buried at Komnes Cemetery in Sandsvær in the County of Buskerud.
Jens Hundseid grew up at his mother's family farm in Vikedal in Ryfylke. After Stavanger Agricultural School and Kongsberg Forestry School, he graduated from the Norwegian Agricultural College at Ås in 1905. Following some years as a county college teacher, he was fellow and assistant in geology and agriculture at the Agricultural College 1908-1910. In 1911 he studied agriculture in England and Scotland.
In 1912 Hundseid married Martha Eknes, and the two took over her farm in Sandsvær near Kongsberg. He combined this with working as a teacher of agriculture at Sem and in Holla, and as a county college teacher at Eidsvoll in the winter months. From 1915 Hundseid was editor of the newspaper Eidsvolds Blad, before becoming headmaster of Telemark Agricultural School in Holla in 1918. He held this post until he was appointed county governor of Buskerud in 1935.
Hundseid was member of the Farmers' Party (Agrarian Party) from its foundation in 1920, and both in his childhood and in his years as a teacher he had experienced the large difference in welfare development between urban and rural areas. His view was that farmers, fishermen and other groups linked to the primary industries, were becoming slaves of the other social classes.
Hundseid was also occupied by the social difference between small holders in the southern, western and northern parts of the country and large farmers in eastern Norway. Hundseid's support for small farmers, who tended to identify with the Labour Party, frequently caused tension between him and leading large farmers in the Farmers' Union.
Hundseid was elected Member of Storting in 1924, representing the Farmers' Party in the County of Telemark, and remained member until 1940. During the last four years he represented the County of Buskerud, where he had been governor since 1935.
In 1929 Hundseid was elected chairman of the Farmers' Party, and in 1931 also the party's parliamentary leader. Although he did not want re-election, he was again elected party chairman in 1933.
Hundseid was a popular speaker with the ability to provoke his political opponents. Within the Farmers' Party he was a skilled organiser with broad confidence. He was central when the Farmers' Party became independent of the Farmers' Union in 1931.
Hundseid's most difficult period came when Prime Minister Peder Kolstad died in 1932, and Hundseid had to take over the leadership of a government consisting of ministers he had not chosen. Also the Government's basis in the Storting was very weak. None of the other non-socialist parties wanted to take over, but neither would they let the Labour Party come to power. Hundseid's major personal strain was to prevent Minister of Defence Vidkun Quisling's attempt to have a formal position in the Farmers' Party. The two became harsh opponents.
After the Government was overthrown in March 1933, Hundseid was one of the leading forces behind the emergency compromise between the Farmers' Party and the Labour Party, and the agricultural-political measures resulting from this. He was one of the most prominent advocates of social and economic equality between rural and urban areas.
Due to Hundseid's broad support in the countryside, he was shortly after Nazi Germany's occupation of Norway in 1940 asked by German authorities to lead a new farmers' association which was intended to replace the Farmers' Union and cooperate with the occupants. He refused.
When later threatened by Nazi Minister Sverre Riisnæs to stop criticising Quisling and his party Nasjonal Samling (NS), Hundseid considered the threats real enough that he chose to join the NS. Consequently he was neutralised in the ideological fight for the support of the farming population. Hundseid continued as county governor of Buskerud until the war ended in 1945.
In retrospect Hundseid characterised his conduct during the war as cowardly. The main accusation against him in the treachery prosecution of 1945, was the propaganda gains he had given the NS by joining the party. As a former prime minister he should have known better, it was said. He was sentenced to ten years in prison and several years of penal servitude, but after four years he was let off the punishment in 1949.
Until his death in 1965 Jens Hundseid led a retired life in Oslo.
Sources:
Norsk Biografisk Leksikon
Gerd Ingrid Hundseid