Jens Bratlie
Prime Minister 1912 - 1913
Article | Last updated: 30/05/2011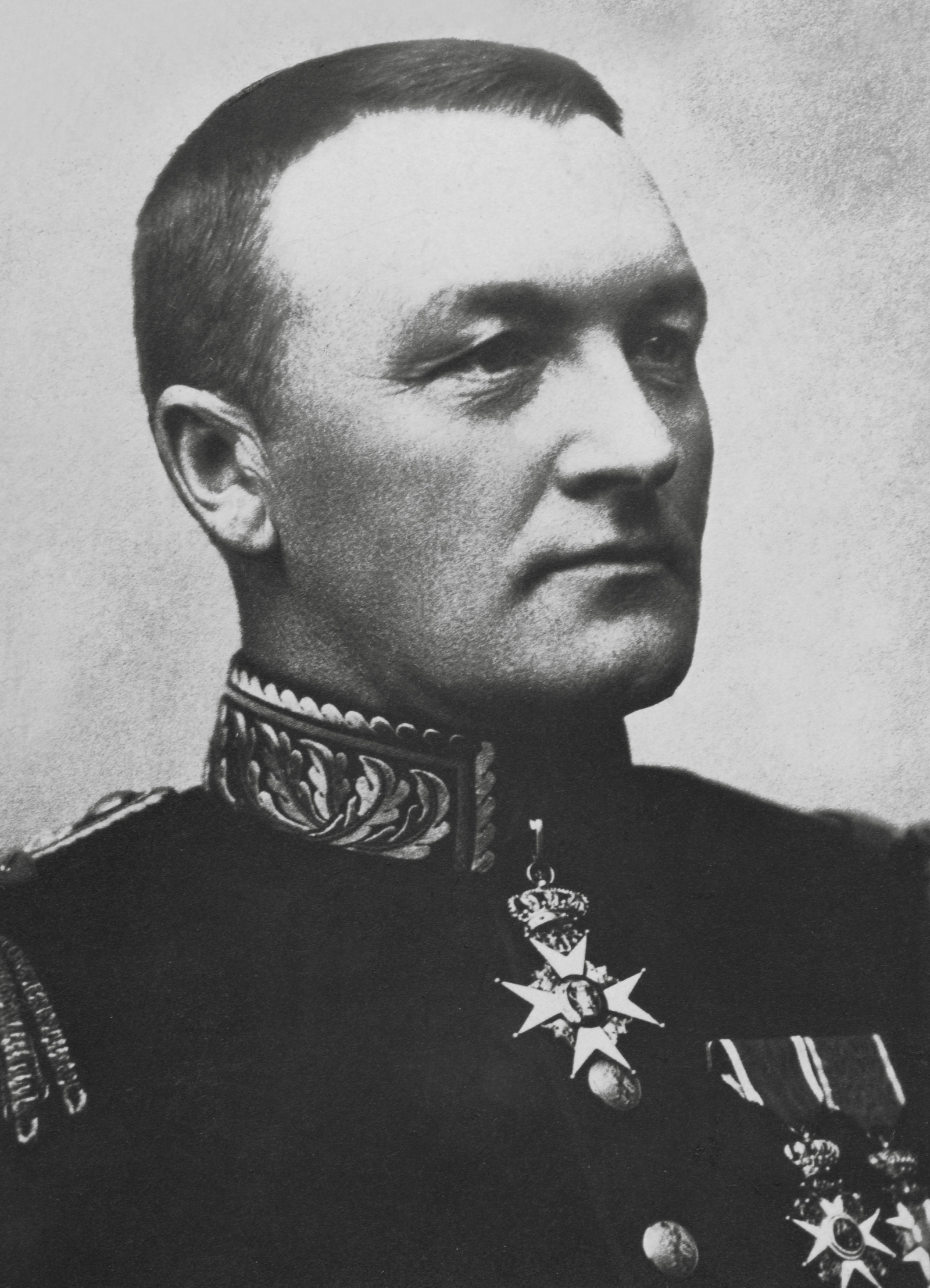 Jens Kristian Meinich Bratlie was military officer, lawyer and politician.
Prime Minister 20 February 1912 - 31 January 1913, also Chief of the Ministry of Defence and the Ministry of Auditing.
Born in Nordre Land in the County of Western Opland (Oppland) 17 January 1856, son of lawyer and bailiff Erik Bratlie (1814-1890) and Bolette Sofie Meinich (1821-1870).
Not married.
Deceased in Oslo 15 September 1939. Buried at Vår Frelsers gravlund (Our Saviour Cemetery) in Oslo.
After graduating from the Military College in 1880, Jens Bratlie continued his studies at the University of Christiania (Oslo) and achieved his law degree in 1885. He worked as an assistant lawyer 1886-1889, before serving as director general at the Ministry of Defence until 1893. He was appointed Conscription Commissioner General in 1898 and also Judge Advocate for the Army in 1906, from 1911 with the rank of major general.
Bratlie's military background was a solid basis for his career, but left him outside of the dominant circles in Kristiania (Oslo) in the politically dramatic 1880's. A recruitment crisis on the conservative side opened the way to politics for younger civil servants, among them Bratlie.
In the 1890's the Conservative Party was split in its view on the union with Sweden. While Prime Minister Emil Stang and his supporters represented a correct but cool attitude, King Oscar II's friend Yngvar Nielsen underlined the positive aspects of the union. So did also Jens Bratlie, who had close relations to Crown Prince Gustaf via their common friend Thomas Fearnley, Crown gamekeeper and ship owner. Fearnley and Bratlie regarded the union as important for Norway in particular when it came to military defence.
That view was not shared by Bratlie's political competitor and military colleague, Colonel Georg Stang – Liberal minister of defence 1900-1903. The debate between the two had been going since they had attended the Military College together, and basically concerned the purpose of Norway's military defence. While Bratlie and the Conservative Party's unionists wanted a mobile field army that might defend the Scandinavian peninsula together with Swedish forces, Stang and the Liberal Party wanted military forces to be able to defend Norway against a possible Swedish military attack.
While Stang passed away already in 1907, Bratlie succeeded as member of the Storting to put his stamp on the army organisation of 1909. A largest possible mobilization field army was central. Defence politics was a major issue for Bratlie in his years as Member of the Storting and prime minister.
Bratlie took over when Prime Minister Wollert Konow (Søndre Bergenhus) had to resign in February 1912, due to his positive remarks on "nynorsk" – a language standard based on rural dialects - in a speech to the Young Farmers' Association. In reality Bratlie did not share the urban language line held by the Conservative Party in the capital. His conservatism was anchored in the countryside. Although participating in the attack on Konow, he chose a softer line by picking "nynorsk"-speaking Edvard A. Liljedahl as minister of church and education. Bratlie was more able than others in the Conservative Party to cooperate with Pietistic groups in Western Norway.
Bratlie's efforts to form a broad non-socialist coalition suffered a defeat already in the 1912 elections, where the Liberal Party gained majority. When the Storting met in early 1913, the Bratlie Government tendered its resignation and was succeeded by Gunnar Knudsen's Second Government. During the First World War Bratlie was active in securing grain imports. He was re-elected to the Storting for the 1916-1918 period. He then continued as Conscription Commissioner General until 1929.
Bratlie remained chairman of the Conservative Party's central board until 1919, but was not nominated for re-election. In 1925 he participated in the founding of Fedrelandslaget ("the Patriotic Association"), and was member of its board in during the organisation's most active years. All his life Bratlie was marked by the rural conservatism he had known since his childhood.
Sources:
Norsk Biografisk Leksikon
Store Norske Leksikon