Jens Stoltenberg
Prime Minister 2000-2001 and 2005-2013
Article | Last updated: 25/06/2014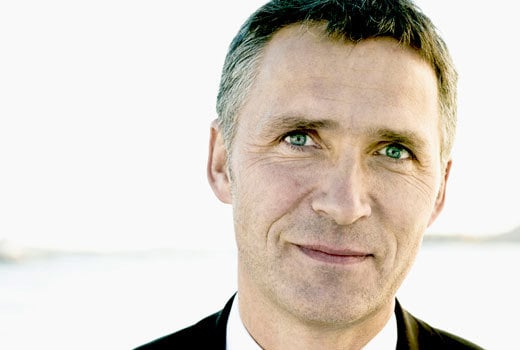 Jens Stoltenberg is economist and politician.
Secretary-General of NATO since 2014.
State Secretary 12 November 1990-22 November 1991, Ministry of the Environment.
Councillor of State 7 October 1993-25 October 1996, Chief of the Ministry of Industry and Energy.
Councillor of State 25 October 1996-17 October 1997, Chief of the Ministry of Finance and Customs.
Prime Minister 17 March 2000-19 October 2001.
Prime Minister 17 October 2005-16 October 2013.
Born in Oslo 16 March 1959, son of later minister of foreign affairs Thorvald Stoltenberg (1931-) and later state secretary Karin Stoltenberg (1931-2012).
Married in Oslo 14 August 1987 to executive officer Ingrid Schulerud (1959-), daughter of subeditor Mentz Schulerud (1915-2003) and Rigmor Christensen (1928-).
Jens Stoltenberg grew up in Oslo, and also in San Francisco and Beograd where his father worked as a diplomat. After school years at the Steiner School and Oslo Cathedral School, Stoltenberg passed his university qualifying exam in 1978. He soon took up studies in economy at the University of Oslo, interrupted by compulsory military service 1979-1980.
Stoltenberg combined his studies with political activity in the Labour Party's youth organisation AUF, where he was the leader 1985-1989 after having been member of the central board since 1979. He was part-time journalist at the national daily Arbeiderbladet 1979-1981 and information secretary in Oslo Labour Party in 1981. In 1985 Stoltenberg was elected member of the Norwegian Labour Party's central board. The same year he also became vice president of the International Union of Socialist Youth, a post he held until 1989.
In 1986 Stoltenberg headed a commission to study male roles, appointed by Gro Harlem Brundtland's second government. He achieved his degree in economy (Cand.Oecon) at the University of Oslo in 1987, and started research work at Statistics Norway. He also lectured in economy at the University of Oslo 1989-1990.

Stoltenberg was elected leader of Oslo Labour Party for the period 1990-1992, and became deputy leader of the Norwegian Labour Party in 1992. In November 1990 he accepted an offer to become state secretary for Minister of the Environment Thorbjørn Berntsen, during Gro Harlem Brundtland's third government period. Although his stay as state secretary did not last much more than a year, this was Stoltenberg's introduction to a life as a full-time politician. He was member of a government-appointed defence commission 1990-1992.
After having been deputy Member of Storting (Parliament) for the Labour Party in Oslo since 1989, meeting permanently since 1991, Stoltenberg was elected full Member of Parliament in the 1993 general elections. When Harlem Brundtland reshuffled her government following the 1993 elections, Stoltenberg was appointed minister of industry and energy. He held this post until Thorbjørn Jagland's government took over in October 1996, with Stoltenberg as minister of finance.
When Jagland's government stepped down after the 1997 general elections and was succeeded by Kjell Magne Bondevik's first government, Stoltenberg returned to his seat in the Storting. In February 2000 he succeeded Jagland as Labour's parliamentary leader and candidate for prime minister. Thus it was Stoltenberg who was asked to form government when Bondevik's government resigned in March 2000.
Stoltenberg's first government was a minority government representing Labour. Following the 2001 general elections it resigned and was succeeded by Kjell Magne Bondevik's second government. Stoltenberg now returned to the Storting as Labour's parliamentary leader. In the autumn of 2002 he succeeded Thorbjørn Jagland as leader of the Norwegian Labour Party.
In 2001 Stoltenberg became member of the board of the Global Vaccine Fund.
In Norwegian politics Stoltenberg now worked to lay the fundament for a majority government representing Labour, the Socialist Left Party and the Centre Party. Following the 2005 general elections Stoltenberg returned as prime minister with a government representing these three parties. This was Labour's first coalition government since Einar Gerhardsen's short-lived government of June-November 1945.
In 2006 Stoltenberg was one of the leaders of a high-level UN panel proposing how the organisation should improve its work in the world's poorest countries.
In the 2009 Storting elections, the three government parties Labour, the Socialist Left Party and the Centre Party kept their majority. This made it possible for Stoltenberg's second government to continue.
In the 2013 Storting elections, the three government parties lost their majority. As it became clear that the Conservative Party and the Progress Party were ready to form a new government, Stoltenberg tendered his government's resignation after the proposal for the 2014 state budget had been presented. On 16 October 2013 the shift took place between Stoltenberg's Second Government and Conservative leader Erna Solberg's Government.
Jens Stoltenberg now returned to the Storting, as the Labour Party's parliamentary leader. On 28 March 2014 Stoltenberg was elected to succeed Denmark's Anders Fogh Rasmussen as secretary general of NATO on 1. October 2014.
Sources:
Norsk biografisk leksikon
Labour Party