Ole Bachke
Acting Prime Minister 1884
Article | Last updated: 24/05/2011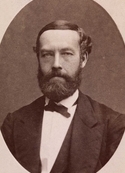 Ole Andreas Bachke was lawyer and politician.
(Photo: Oslo Museum).
Councillor of State 13 October 1879-11 October 1880, Chief of the Ministry of Justice. Member of the Council of State Division in Stockholm September 1880.
Councillor of State 11 October 1880-29 March 1884, Member of the Council of State Division in Stockholm. Chief of the Ministry of Justice November 1881, Chief of the Ministry of Auditing September 1882, acting Prime Minister 11-29 March 1884.
Born at Røros 6 May 1830, son of Bailiff Halvard Bachke and Anna Sofie Ditlevsen.
Married 1856 to Augusta Marie Kräuter (born 1839), daughter of lawyer F. A. Kräuter, Heidelberg.
Deceased in Kristiania (Oslo) 3 January 1890. Buried at Vår Frelsers gravlund (Our Saviour Cemetery) in Kristiania.
Ole Bachke became a student in 1848 and achieved his law degree in Christiania (Oslo) in 1852. Following some years as a clerk and an assistant lawyer, he went abroad for further law studies – at German universities and in Paris and London. His aim was to qualify for a career as a law teacher.
However, on returning to Christiania in 1856 he took up work as an appeal court lawyer, before becoming legal secretary at Christiania Court of Appeal in 1860. He was appointed judge in 1864 and became the court's chief justice in 1878.
In 1861 Bachke was one of the founders of the Norwegian Bar Association, and soon joined the group editing a weekly on law, statistics and economy - the Ugeblad for Lovkyndighed, Statistik og Statsøkonomi. Here, he published the results of his law studies for several years. In the years 1871-1875 he published articles on the proprietary rights of writers and artists, in the quarterly Norsk Retstidende ("Norwegian Law Times"). These articles are seen as his main works. As a result the Ministry of Church and Education invited him to draft the laws on the proprietary rights of writers and of artists of 1876 and 1877. In 1879 Bachke was appointed honorary doctor of law at the University of Copenhagen.
Bachke early on joined the movement for Scandinavian unity, and was one of the founders of Det skandinaviske Selskab (Scandinavian Association) in 1864. That year he also wrote the thesis Skandinavismen, de nordiske Rigers Værn i Nutid og Fremtid ("Scandiavianism, present and future shelter of the Nordic realms"). After his youth dreams of a political Scandinavianism had not come true, Bachke's Nordic sympathies could be seen in his interest for joint Scandinavian lawmaking and Nordic lawyer conferences. He also joined a forum for politics and literature where author Henrik Ibsen participated. In 1866 he signed a declaration proposing that Ibsen should receive poet's pension.
For a longer period in the 1870's Bachke was member of Christiania's municipal council. Politically he went from being influenced by liberal European currents to becoming more of a conservative. He came to hold the view that the Constitution's distribution of power was a better safeguard for the people's freedom than a more radical democratic system. Thus, in 1872 he joined the unanimous protest by Christiania's municipal board against Frederik Stang's Government.
In 1879 Bachke was appointed councillor of state and chief of the Ministry of Justice in Frederik Stang's Government, after the decease of Johan Collett Falsen. When Christian Selmer took over as prime minister in October 1880, Bachke had just arrived in Stockholm as one of the two ministers at the Norwegian Council of State Division there. In November 1881 he was back in Christiania as chief of the Ministry of Justice, before taking over the Ministry of Auditing in September 1882.
Also in his years in government Bachke engaged in lawmaking. He participated in drafting a criminal procedure act based on the system of lay assessors, he prepared the law on expanded freedom of belief for civil servants of 1880, and presented a bill on lawyer advice. Bachke also came to be the minister presenting the last proposal to refuse sanctioning a law stating that government ministers should attend the Storting's meetings. The King's right to refuse sanctioning Storting decisions was here referred to as being "beyond doubt". This caused political reactions that led to the impeachment of Prime Minister Christian Selmer's Government in 1884.
On 11 March 1884 Prime Minister Selmer resigned after he and most of his ministers – including Bachke – had been sentenced by the Impeachment Court to lose their offices. Bachke now became acting prime minister for most of the Government's period as a caretaker government, until 29 March.
After leaving the Government Bachke was appointed Supreme Court judge later that year.
Bachke's health was frail, and he passed away at the age of only 59.
Sources:
Norsk Biografisk Leksikon
National Library of Norway