Article | Last updated: 23/05/2011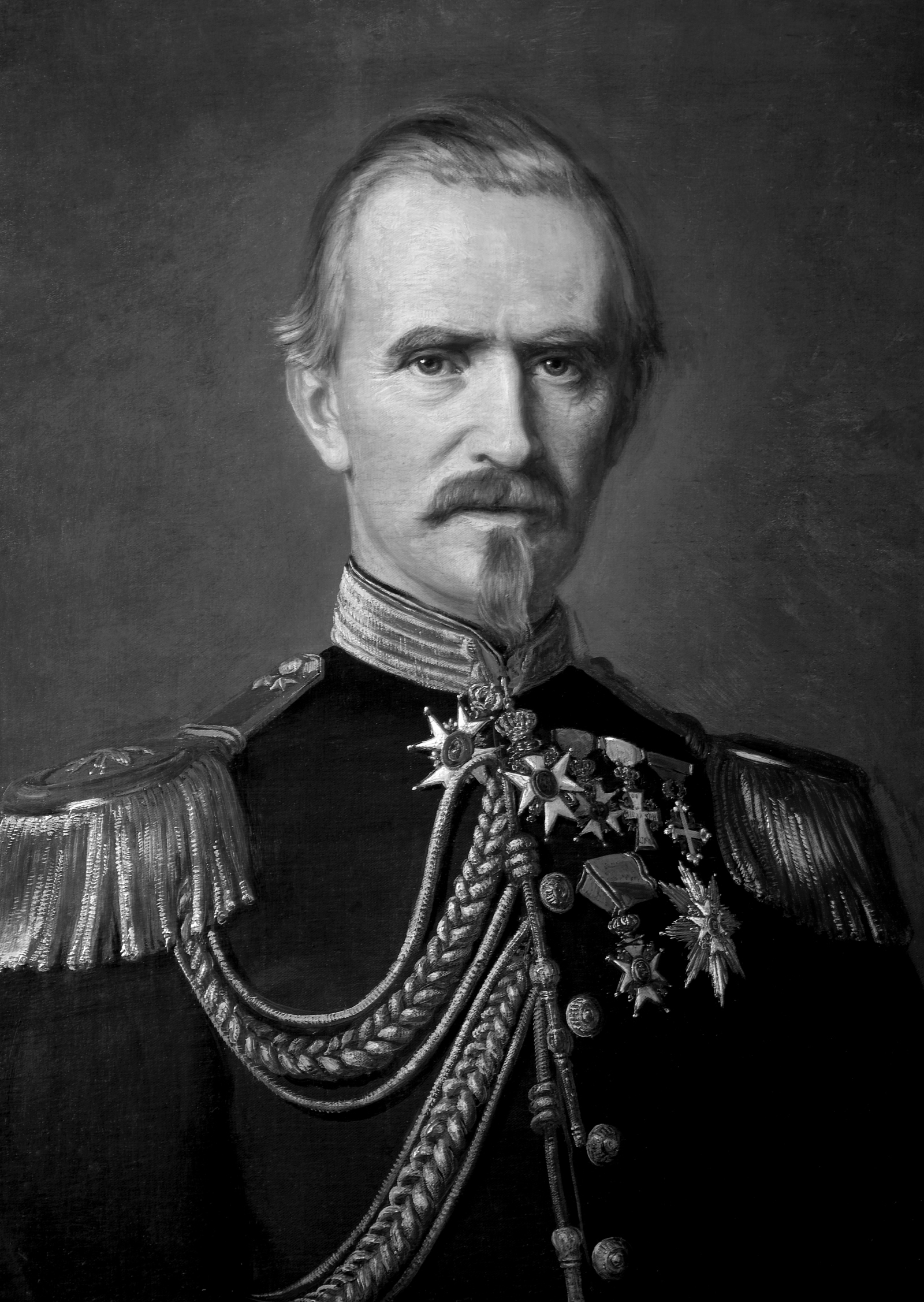 Otto Richard Kierulf was army officer and politician.
(Painting: Army Academy, photo: NTBScanpix/Prime Minister's Office).
Prime Minister 1 November 1871-21 July 1873.
Norwegian Prime Minister in Stockholm 21 July 1873-21 March 1884.
Norwegian Prime Minister in Interim Governments in Stockholm 6-21 July 1875 and 16-26 September 1881.
Born in Christiania (Oslo) 29 January 1825, son of Lieutenant Colonel Christian Kierulf and Anne Marie Sophie Winge.
Married in Christiania 27 May 1857 to Ida Marie Louise Bertelsen (1835-1858), daughter of merchant Paul Fredrik Bertelsen and Anine Wilhelmine Collstrop.
Married in Christiania 10 May 1861 to Petrea Fernanda Bertelsen (1839-1875), sister of his deceased wife.
Deceased in Kristiania (Oslo) 7 January 1897. Buried at Vestre gravlund (Western Cemetery) in Kristiania.
Otto Richard Kierulf was educated as an infantry officer and became second lieutenant in 1842. In 1847 he transferred to the artillery, in 1860 reaching the rank of lieutenant colonel and Army quartermaster.
In addition to his military service, Kierulf had a broad spectrum of interests and activities. As a young lieutenant in 1852 he was secretary to the first army commission, and in 1858 he was – as a captain – secretary to the second army commission. For many years he was on the editorial staff of the military quarterly Militært Tidsskrift, and as military writer he became member of the Royal Swedish War Academy and later of the Royal Norwegian Society of Sciences and Letters. He was member of the boards of the Main Railway Line and Kongsvinger Line, member of Kristiania City Council for many years and deputy member of the Storting for Kristiania 1871-1873.
In the autumn of 1871 Kierulf was appointed Norway's prime minister after Georg Sibbern, as the first without the experience of a government member or a central civil servant. Although his predecessor was disappointed of having "a common artillery officer" succeeding him, Kierulf soon turned out as one taking his office seriously and able to voice his own opinion. On the other hand the office as Norwegian prime minister in Stockholm was now becoming second in importance to the office as first minister in Kristiania, leading to a situation where Kierulf no longer had the possibility to influence politics in the way his predecessors had known.
When the office as first minister in Kristiania in July 1873 was converted to an office as prime minister, Kierulf continued as Norway's prime minister in Stockholm. His major task was to work for the best possible Swedish attitude towards Norway. In this he succeeded, with the Union Act of 1874 and the Coinage Convention of 1875 as clear results.
By the 17 March 1884 judgment of the Court of Impeachment Kierulf, as most members of Christian Selmer's Government, was relieved of his office for not having implemented the Storting's decision that government members should participate in the Storting's meetings. Later that year he returned to the Army as colonel and quartermaster general. He was appointed major general and artillery commander in 1890, and promoted to lieutenant general shortly before his resignation from the Army in 1896.
Source:
Norsk Biografisk Leksikon