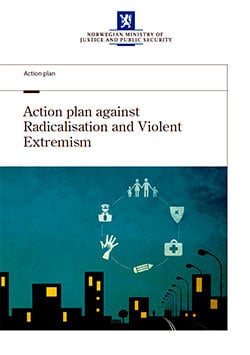 Download the action plan (pdf)

With this plan, the Norwegian government wants to improve the efforts to combat radicalisation and violent extremism. Terrorism is the most extreme consequence of radicalisation and violent extremism. Thus, preventative efforts are a key element for ensuring fundamental values such as democracy, human rights and security. Being able to live our lives without fear of being exposed to hate and violence is a fundamental value of a secure society.
The government wants to prevent recruitment to violent extremism. Through this action plan, we want to improve the preventative efforts against radicalisation and violent extremism. There is a need for more information, more cooperation and better coordination of the efforts in this area. The efforts must be improved in different professional areas and sectors of society.
The goal is to reach persons who are at risk as early as possible and encounter them with measures that work.
This action plan is a framework for a targeted, strategic effort in this field. Many sectors shall contribute in the follow-up of these measures. In order to clarify the responsibility, only one ministry shall be responsible for each individual measure.
In cases where the responsibility for follow-up affects several ministries, one ministry will be given the main responsibility for coordination.