Vital to safeguard freedom of the press
Historical archive
Published under: Solberg's Government
Publisher Ministry of Foreign Affairs
News story | Date: 03/05/2015
World Press Freedom Day is celebrated on 3 May. 'World Press Freedom Day is an opportunity to remind the world of the importance of defending freedom of expression and the right to have a free press. It is disturbing to see that the number of countries in the world in which there is full freedom of the press is falling. Safeguarding freedom of the press is an important part of the Government's focus on promoting freedom of expression in Norway's foreign and development policy,' said Minister of Foreign Affairs Børge Brende.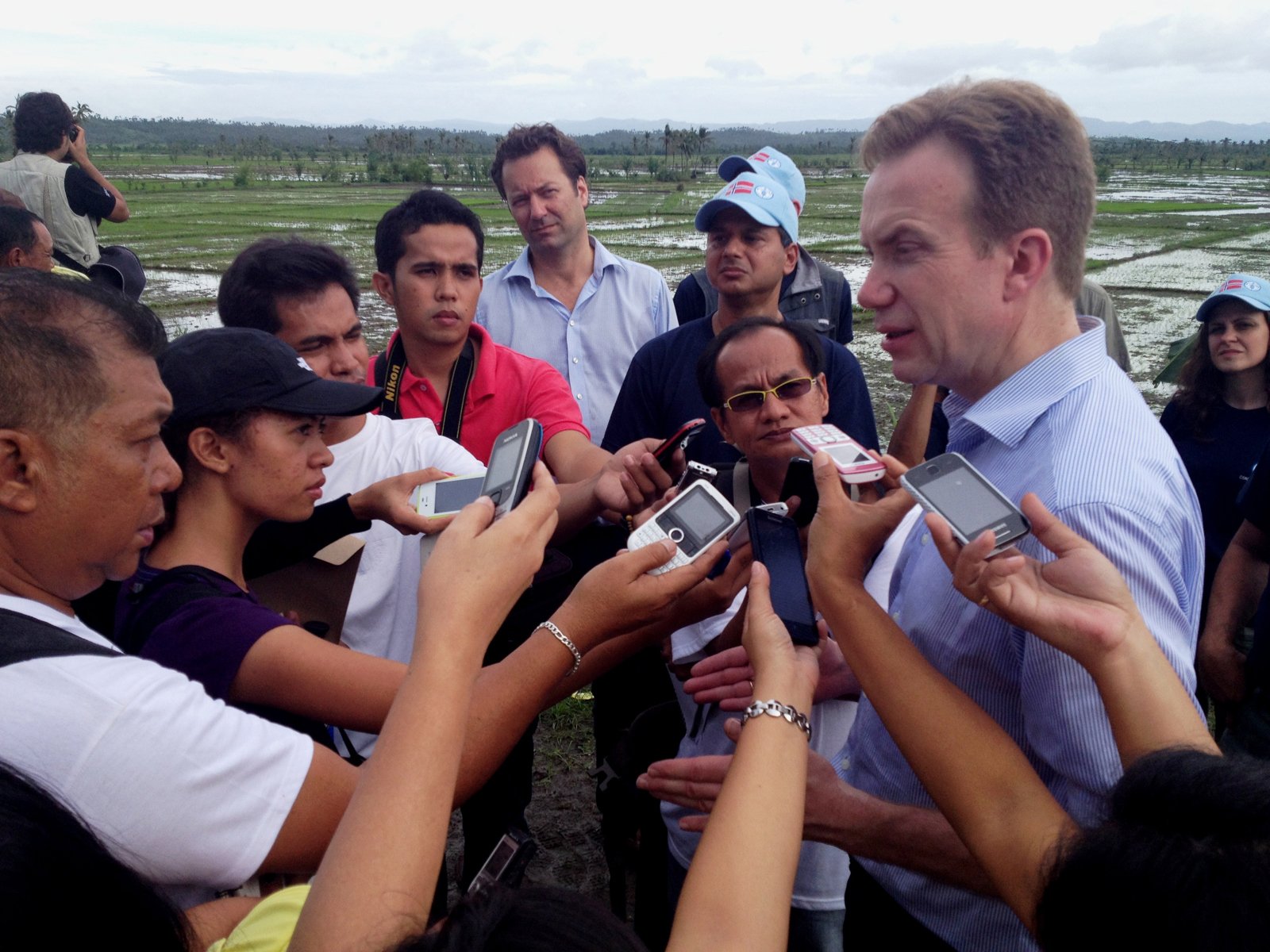 Børge Brende, Minister of Foreign Affairs of Norway, met the local media when he visited the Philippines in January 2014. Photo: Norway MFA/Astrid Sehl.
The purpose of World Press Freedom Day is to celebrate the fundamental principles of press freedom, to evaluate press freedom around the world, to defend the media from attack and to pay tribute to journalists who have lost their lives while carrying out their work. According to the International Federation of Journalists (IFJ), 135 journalists and other media workers were killed in 2014. Just 14 % of the world's population lives in countries where there is complete freedom of the press.
'Free and independent media underpin any vibrant democracy. In countries where journalists and editors are subjected to pressure and threats, there is more self-censorship, and democracy suffers as a result. For every journalist who is killed, many others are pressured into silence. Women journalists and other media workers are particularly vulnerable to harassment and violence. The fact that women are underrepresented in the media sector itself and as sources for journalists is also a persistent problem,' said Mr Brende.
The themes for this year's World Press Freedom Day are independent and quality media, gender and media, and digital safety for journalists and their sources. Norway is already actively engaged in these fields, and intends to further intensify its efforts.
Through Norwegian and international media organisations, Norway is supporting the training of journalists and other media workers in the areas of human rights, ethical journalism, quality journalism and safety.
'Norway will continue to invest in training and we will seek to improve the protection of journalists and other media workers. Digital safety for journalists and their sources is also an area we intend to focus our efforts on more closely in the time ahead,' said Mr Brende.
World Press Freedom Prize
On World Press Freedom Day, the UNESCO/Guillermo Cano World Press Freedom Prize is awarded to a journalist who has demonstrated courage and strength in the name of freedom of expression. This year's prize winner is the Syrian journalist and human rights activist Mazen Darwish, who has been in prison since February 2012. He is being awarded the prize in recognition of the work he has carried out in Syria for more than ten years at great personal sacrifice, enduring a travel ban, harassment, repeated detention and torture.
Norway's work in UNESCO
On 27 March, Norway entered into a new programme cooperation agreement with UNESCO, which increases the support allocated to the organisation's work to promote freedom of expression. Some of the funding will be used to support the implementation of the UN Plan of Action on the Safety of Journalists and the Issue of Impunity, and for training programmes for national police forces and judges in a number of countries.
The funds will be channelled to UNESCO's International Programme for the Development of Communication (IPDC), where Norway has a seat on the board. The IPDC promotes media development in developing countries, and plays an active role in areas such as internet governance and the fight against impunity for attacks on journalists.