Baltzar von Platen
Governor-General 1827 - 1829
Article | Last updated: 14/09/2012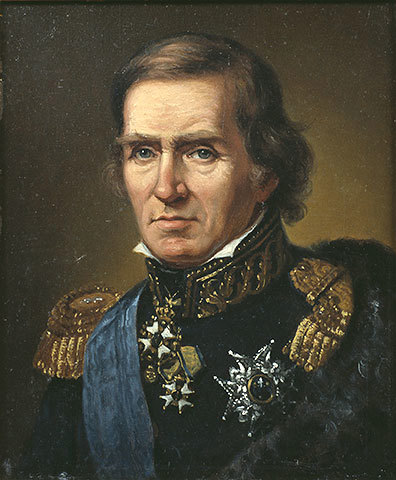 Baltzar Bogislaus von Platen was nobleman, military officer and civil servant. (Painting: Johan Gustaf Sandberg, photo: Wikipedia).
Governor-General in Norway 26 November 1827-6 December 1829.
Born at Dornhof at Rügen in Swedish Pomerania 29 May 1766, son of nobleman and Field Marshal Philip Julius von Platen (1732-1805) and Juliana Regina von Usedom (1742-1810).
Married in Göteborg, Sweden 4 June 1800 to Hedvig Elisabeth Ekman (1780-1862), daughter of merchant Peter Ekman (1740-1807) and Hedvig Boëthius (1739-1811).
Deceased in Christiania 6 December 1829. Buried at Motala in Sweden.
From the age of 14 to 34 Baltzar von Platen served in the Swedish Navy - advancing from cadet to colonel. The rest of his life was mostly linked to Göta Canal, the inland waterway between the Baltic Sea and Lake Väneren. Together with Trollhätte Canal between the Kattegat and Lake Väneren, he canal was intended to contribute to the modernisation of Sweden and, after 1814, to the construction of a robust Swedish-Norwegian union state. The canal was not finished until 1832, but there is no doubt that it primarily was Platen's work.
Platen had a central role when the Swedish-Norwegian union was established. He became member of the new Swedish Government when King Gustaf IV Adolf was dethroned in 1809, he persuaded Danish Prince Christian August to become successor to the Swedish throne and held talks with Count Herman Wedel Jarlsberg on a Swedish-Norwegian union. When Christian August died, Platen contemplated proposing Wedel as the new successor to the Swedish throne, but decided to support the plan to elect French Marshall Jean Baptiste Bernadotte Crown Prince of Sweden.
As soon as Bernadotte had been elected, in August 1810, Platen wrote a memo where the primary goal of Swedish foreign policy was to conquer Norway. The reason was the need to compensate for the loss of Finland to Russia in 1809. This loss had also made it necessary to reorganise the defence of Sweden, as Stockholm had now become an exposed border town facing Russian areas in the east. Platen was central in the developing of a new military doctrine aiming at concentrating forces, from 1814 also Norwegian forces, at the plains of central Sweden. The centre was Karlsborg Fortress on the western shore of Lake Vättern, where works started in 1819. In this setting Göta Canal was of vital importance.
Sweden's wish to control Norway was fulfilled by the peace treaty of Kiel in January 1814. After the months of Norway's attempted self-rule under King Christian Frederik, Platen participated in negotiations with the Storting (Norway's parliament) leading to Norway accepting the union on 4 November 1814. For his contributions Platen was made count and promoted to the rank of vice admiral. However, he thought the union had become too loose.
In the autumn of 1827 Platen took over after August Sandels as King Carl XIV Johan's governor-general and commander in chief in Norway. His mission was to strengthen the union after 13 years of conflict between the King and the Storting. In particular Carl Johan was dissatisfied that the Swedish governors-general until now had been too lenient on the growing celebration of Norway's Constitution Day 17 May.
In 1829 Carl Johan banned 17 May celebrations. As a large group of people still gathered at Christiania's marketplace, the military commander of Akershus Fortress, Ferdinand Wedel Jarlsberg, wanted to send soldiers against them. Platen agreed, after seeking the advice of the Minister of Justice, Poul Christian Holst. The soldiers were all Norwegians, and under Norwegian command. The mission was accomplished without loss of human lives, but the "Marketplace Battle" might easily have ended dramatically. By undertaking formal responsibility for the operation, Platen came to save the honour of Norway's civil and military service and enhance their position in people's opinion.
Baltzar von Platen died in office in December 1829. The post of governor-general now remained vacant until von Platen's friend Count Herman Wedel Jarlsberg in 1836 became the first Norwegian on the post.
Source:
Norsk Biografisk Leksikon