Article | Last updated: 06/09/2012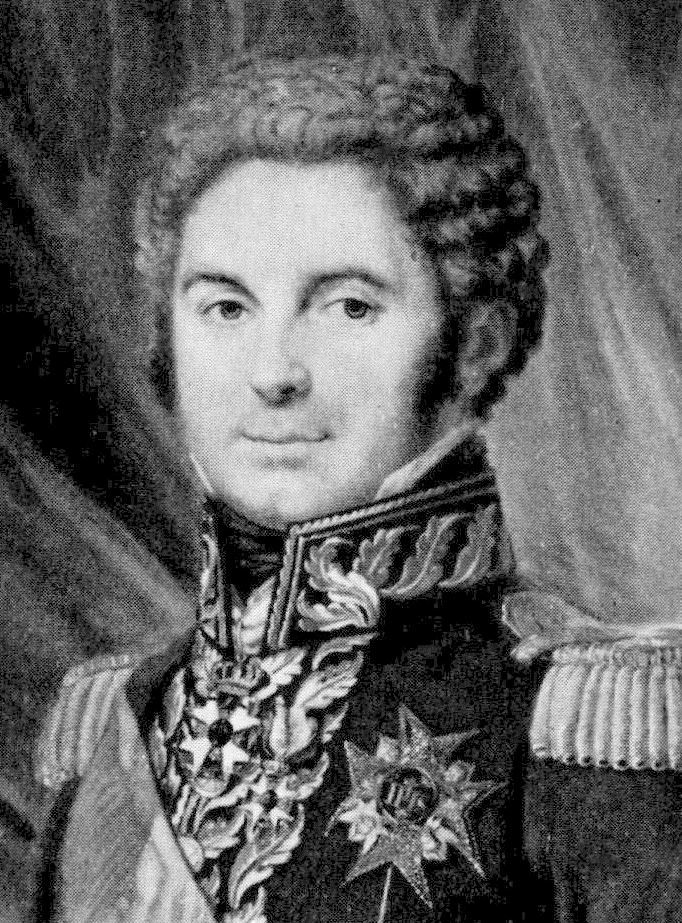 Hans Henrik (Henric) von Essen was nobleman, military officer and civil servant. (Painting: Per Krafft d.y., photo: Riksarkivet, Stockholm).
Governor-General in Norway 11 November 1814-2 August 1816.
Born at Kavlås in Hömb in Västergötland, Sweden 26 September 1755, son of nobleman Fredrik Ulrik von Essen (1721-1781) and noblewoman Anne Charlotte Kruuse af Verchou (1729-1795).
Married at Löfsta in Uppland 11 December 1788 to Charlotta Eleonora de Geer af Leufsta (1771-1791), daughter of nobleman Charles de Geer af Leufsta (1747-1805) and Ulrika Elisabet von Liewen (1747-1775).
Married in Pommern (Pomerania) 29 October 1802 to his niece, noblewoman Hedvig Eleonora Charlotte von Krassow (1779-1855), daughter of nobleman Carl Georg von Krassow (1740-1779) and noblewoman Jeanna Chistina von Essen (1754-1825).
Deceased at Uddevalla, Sweden 28 July 1824. Buried at Västeråker Churchyard in Uppland, Sweden.
Hans Henrik von Essen belonged to an old Swedish noble family originating from the island of Ösel in present Estonia. He began his military education in the cavalry already in 1768. He also studied at the University of Uppsala and the University of Göttingen. He thus had the appearance more of a cultivated nobleman than of a military officer.
In 1777 Essen, a lieutenant, became equerry at the Royal Palace in Stockholm. He soon came on close terms with King Gustaf III. He accompanied the King on several journeys, and rose quickly in the ranks. In 1788 he accompanied the King to the war in Finland, with the rank of lieutenant colonel.
In 1792 Essen learned about the nobility's plans to murder Gustaf III, and tried to keep him from participating in the costume ball in the Stockholm Opera - where the King was shot and wounded. After the shots Essen caught the King in his arms and led him safely away.
In 1796 Essen, now a major general, accompanied Sweden's regent, Duke Karl, to St. Petersburg, as a commissary during the signing of the treaty with Russia. In the same year he was appointed lord in waiting and state equerry. In the years 1795-1797 he was also governor of Stockholm, but resigned from these offices as he felt offended by the young King Gustaf IV Adolf.
In April 1800 Essen was appointed governor-general of Pommern (Pomerania), at the time under Swedish rule. His seven years in Pommern were marked by reforms. The Swedish constitution and an assembly of four estates were introduced, and serfdom was abolished. But Essen did not succeed in partitioning the major landed properties into smaller farms, like he had done at his own estate in Sweden in 1798. He also strengthened the military defence of Stralsund.
After Sweden in April 1805 had joined the coalition against Napoleon, King Gustaf IV Adolf in the autumn of 1806 left the command of Swedish forces to Essen, now a lieutenant general. During the French invasion of Pommern in 1807 Essen proved to be a careful and cold-blooded commander, and after a victory over French forces he at last reached a favourable armistice. However, the King returned and broke the armistice against Essen's advice. Essen was dismissed after criticising the King for this, and Sweden lost Pommern.
For the next two years Essen now retired to his manor Vik in Uppland. He did not take part in the nobility's uprising against King Gustaf IV Adolf in March 1809, but was right after this called to be member of Duke Karl's – the later King Karl XIII's – council of state. Already in September that year he went to Paris as Swedish chief negotiator, to conclude talks on a treaty which once more left Pommern under Swedish rule.
On behalf of Sweden Essen received Pommern as governor-general in January 1810, but did not continue in this office. That autumn his task as acting lord chamberlain was to receive the new heir to the Swedish throne, French Marshal Jean Baptiste Bernadotte, when he first set foot on Swedish soil.
In 1811 Essen, now field marshal, took over the command of Sweden's west coast army in the war against England. Due to Crown Prince Carl Johan's new friendliness with England and Russia, the war against England became a "simulated war" also to Essen. Already in 1812 he was appointed to conquer and then administer Norway. Thus, in May 1813 he established his headquarters at Vänersborg, although offensive operations against Norway would not be possible until the war on the European continent was over.
On 15 January 1814, the day after the Kiel peace treaty had transferred Norway from Danish to Swedish supremacy, Essen received orders to conquer the country; and on 13 February he was appointed governor-general of Norway. However, he did not dispose of a strong army and neither did he have any wish to immediately use military force against the opposition to Swedish supremacy that Danish Prince Christian Frederik was now organising in Norway. One expression of this opposition was that Essen's representative Count Axel Rosen was turned away in Christiania on 24 February.
Essen intended to win the Norwegians by gentle means, and held talks in Strömstad with Norwegian representatives as General Carl J. W. von Schmettow, Count Herman Wedel Jarlsberg and Councillor Carl Dahl. He also supported Norwegian farmers along the border with grains and money. Gradually, however, it became clear that peaceful means would not be sufficient. In April Essen dispatched his plans for a military campaign against Norway to Crown Prince Carl Johan. But only after Norway's national assembly had elected Christian Frederik king of Norway on 17 May, was the use of military power seen to be necessary.
During the short military campaign in August 1814 Crown Prince Carl Johan himself held the command, while Essen became commander of Sweden's 2nd army corps advancing into Norway through Enningdalen and Tistedalen. There were no major battles, and after a few days armistice was declared. Essen now set up his headquarters at Fredrikshald (Halden), still expecting Norway to be willing to join a union with Sweden.
Essen's original instructions as Swedish governor-general in Norway said he would until further notice be the country's absolute ruler on behalf of the King of Sweden, although combined with a certain provincial autonomy, national civil servants and democratic representation.
Norway's constitution passed at Eidsvold in May made this impossible. Rather, on 11 November 1814 Crown Prince Carl Johan appointed Essen governor-general to lead an autonomous Norwegian government on behalf of the King of Sweden and Norway. In support he was given a small chancery with Swedish civil servants, in addition to the Norwegian government offices. Essen was also appointed chancellor of the University in Christiania, and field marshal of the Norwegian army.
Although Norway's constitution limited the Governor-General's authority, Essen came to hold a central position in the new Norwegian state system – in particular as military commander-in-chief. He prepared the new army organisation of 1817, which cut Norway's army by fifty per cent. At the same time he initiated a forceful expansion of the Norwegian navy, which was seen as a support for Sweden against Russia.
Essen continued to hope for a closer union between Sweden and Norway than what was the case with the personal union under one king. But he did not attempt to go beyond what was regulated by Norway's constitution. He held a difficult position between Carl Johan, who wanted him to educate the Norwegians - "this wild and gloomy people" – to obedience, and the Storting (parliament) meeting continuously from July 1815 to July 1816. The Crown Prince found him too lenient with the Norwegians, and Essen himself did not like the post. Already in early 1816 it was agreed that Essen would be relieved by Count Carl Mörner, and after the Storting session had ended in July 1816, Essen left Christiania in early August.
Upon his return to Sweden Essen was in October 1816 appointed marshal of the realm. In the years 1817-1818 he held the command of troops gathering in Skåne to put pressure on Denmark in diplomatic negotiations. He was also member of the Riksdag's standing committee on constitutional affairs. In that capacity he came to offend Carl Johan by criticising one of his ministers to the extent that the minister was impeached. The King now dismissed Essen from his military command but kept him as lord chamberlain.
Essen spent his last six years outside political life. He died during spa treatment in Uddevalla.
Sources:
Norsk Biografisk Leksikon
Balingsta Parish, Church of Sweden