Birger Braadland
Acting Prime Minister 1932
Article | Last updated: 30/05/2011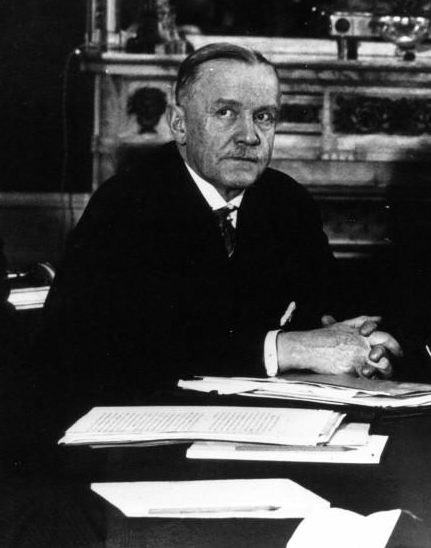 Birger Braadland was military officer, forest owner and politician.
(Photo: Wikipedia).
Minister of Foreign Affairs 12 May 1931-14 March 1932,
acting Prime Minister 1-29 February 1932 and 10-12 March 1932.
Minister of Foreign Affairs 14 March 1932-3 March 1933.
Born in Idd (Halden) in Smaalenene (Østfold) 26 January 1879, son of town treasurer Olaus Olsen (1834-1897) and Sofie Hansen (1851-1934).
Change of family name to Braadland in 1901.
Married 1902 to Ragna Abigael Vogt Stang (1881-1972), daughter of landowner Andreas Stang (1842-1923) and Ragna Abigael Vogt (1856-1957).
Deceased at Ør in Idd 15 January 1966. Buried at Os Cemetery in Halden.
Birger Olsen grew up in a middle-class home in Frederikshald (Halden), where his father was the town treasurer. After his father's death Birger and his mother changed their family name to Braadland, after his father's childhood home at the Braadland entrenchment at Fredriksten Fortress.
After university qualifying examination in 1897 Birger Olsen chose a military career. He graduated from the upper division of the War Academy in 1900 and the Military College in 1903. Following studies in France, he served at the General Staff 1905-1906 and was promoted to captain in 1911. In 1915-1918 he was Army adjutant to King Haakon VII. Braadland left active military service in 1919. He was promoted to the rank of major in 1930.
In 1904 Braadland took over the Torgalsbøen property in Idd from his father-in-law and started forestry. In 1908 he also acquired neighbouring Ør, and became the owner of 27,000 decares of forest. Han settled at Ør when he left his military career in 1919.
From 1914 Braadland was member of Idd municipal council and executive board, initially representing the Conservative Party but from the 1920's as member of the Farmers' Party (Agrarian Party).
Braadland was unknown in national politics when he in May 1931 was asked to become Minister of Foreign Affairs when Peder Kolstad's Farmers' Party Government succeeded Johan Mowinckel's Second Government. The Farmers' Party counted few foreign policy experts and diplomats, and Braadland's military background was probably thought to have given some knowledge of foreign policy. Also, Braadland was skilled in foreign languages and had a pleasant manner.
As Minister of Foreign Affairs Braadland held a low profile in Norway. He had several longer stays in Geneva, where he 1931-1932 was head of the Norwegian delegation to the League of Nations Council. He also led the Norwegian delegation to the disarmament conference in 1932.
In the Greenland affair, Norway's major foreign policy challenge in the early 1930's, Braadland and Prime Minister Kolstad belonged to the more moderate wing. Braadland was too much of a diplomat to support those within and outside the Government who said Norway should occupy Greenland to prevent Danish rule there. When a private Norwegian occupation of East Greenland was a fact in June 1931, the Kolstad/Braadland wing attempted a new negotiating move towards Denmark. As this failed, political pressure grew to a level where the two in 1932 saw no other solution than a Norwegian declaration of occupation. In 1933 Norway lost the case in the International Court in The Hague.
It was when Prime Minister Kolstad fell ill in the winter of 1932 that Braadland was acting prime minister for a month, with the exception of a shorter conference stay in Geneva.
In a government that went through periods of inner division, Braadland was loyal to his prime ministers - Kolstad and Jens Hundseid, who took over after Kolstad's death in March 1932. In the serious conflict between Hundseid and Minister of Defence Vidkun Quisling in the autumn of 1932, which was linked to Quisling's attempt to position himself in the Farmers' Party, Braadland supported Hundseid in his conclusion that Quisling should leave the Government. As this was not politically possible, Braadland was central in the efforts to find a compromise.
When Hundseid's Government was overthrown in March 1933, Braadland continued as Norwegian member of the League of Nations Council until the end of 1934. In 1933 he was elected to the Storting for the County of Østfold for the 1934-1936 period. He continued as deputy Member of Storting 1937-1945. He was member of the Norwegian Nobel Committee 1937-1948, and chairman of the Bank of Norway Council 1947-1953.
As forest owner Braadland was active in the trade's organisations. He was chairman of Østfold Forestry Society 1925-1950 and for a long period board member of the Norwegian Forestry Society.
Braadland died at Ør in 1966, close to 87 years old.
Sources:
Norsk Biografisk Leksikon
Halden Joint Parish Council