Erna Solberg
Prime Minister 2013 - 2021
Article | Last updated: 19/10/2021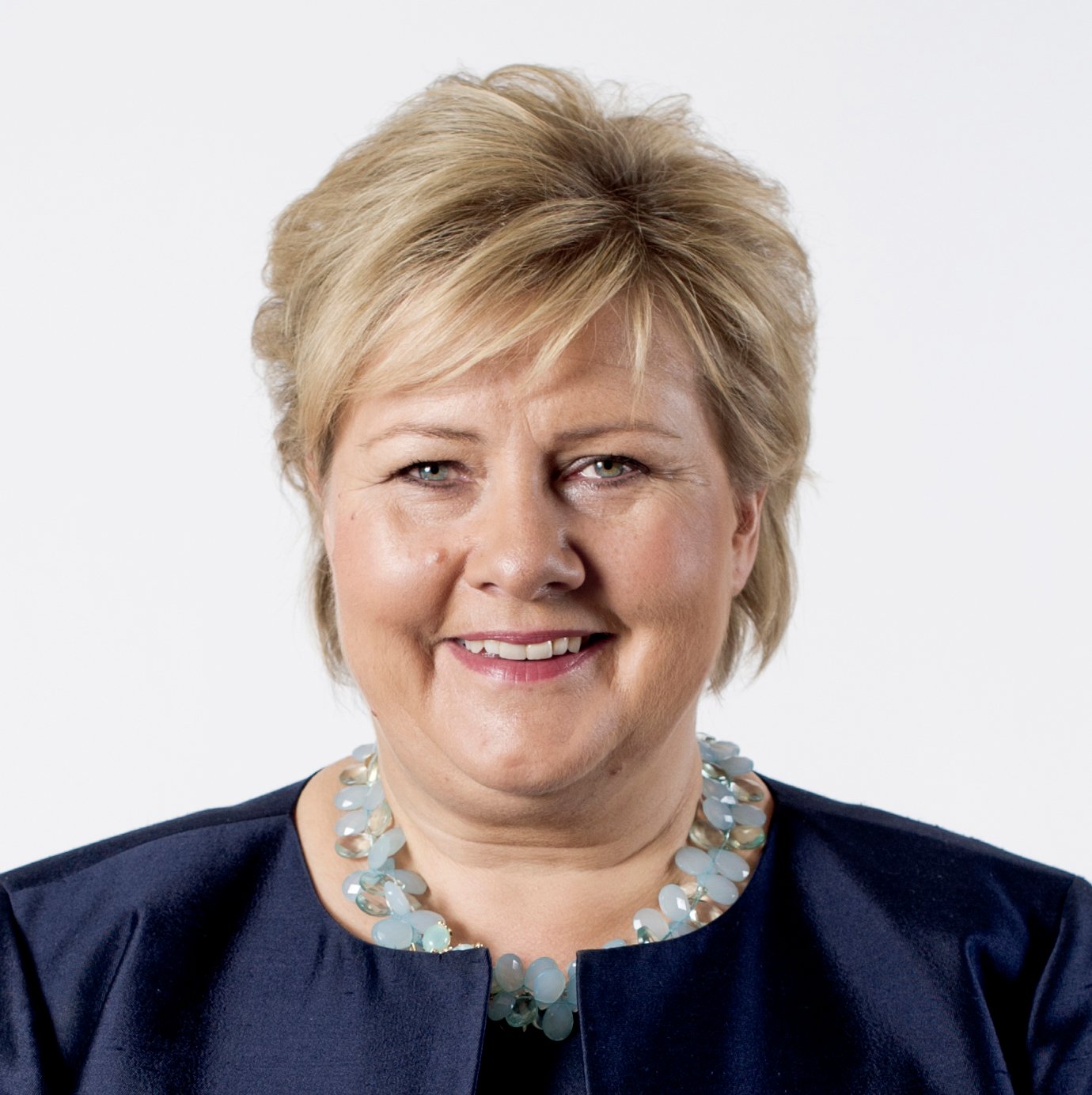 Erna Solberg is a politician, Norway's Prime Minister 2013-2021.
Councillor of State 19 October 2001-17 October 2005, Chief of the Ministry of Local Government and Regional Development.
Prime Minister 16 October 2013 - 14 October 2021.
Born in Bergen 24 February 1961, daughter of executive officer Asbjørn Solberg (1925-1989) and clerk Inger Wenche Torgersen (1926-).
Married in Paris 29 February 1996 to economist Sindre Finnes (1964-), son of office manager Jonny Edvin Finnes (1934-) and Reidun Bjørkedal (1934-1997).
Erna Solberg grew up in Bergen. Following education at Nygård School and Langhaugen Upper Secondary School, she passed her university qualifying exam in 1979. She then studied sociology, political science and statistics at the University of, qualifying for the Cand. Mag. Degree in 1986. In 1988, she passed a partial exam in economics at the same university.
Solberg became politically active during her years at upper secondary school, in Young Conservatives and student organisations.  During her university years she had elected posts in Bergen City Council, Bergen and Hordaland Young Conservatives, the Bergen Conservative Students' Association and the Conservative Party at Sandviken and in Bergen. In 1989, she was elected to the Storting, representing the Conservative Party in the County of Hordaland, a post she has held since – except her period as minister in Kjell Magne Bondevik's Second Government 2001-2005.
During the Storting period 2009-2013, the Conservative Party, the Progress Party, the Christian Democratic Party and the Liberal Party discussed the possibility of forming a government after the general elections in September 2013. As the elections secured a majority for these parties, Solberg chaired discussions to this end. The Christian Democrats and the Liberals chose to remain outside the government, signing a declaration of cooperation with the two other parties who continued their discussions.
When the Conservative Party and the Progress Party were ready to form a government, Jens Stoltenberg's Second Government tendered its resignation on 14 October 2013, after having presented its proposal for the 2014 state budget. Solberg was requested to form a new government, which was appointed on 16 October 2013.
At the change of government in 2013, Solberg was the Conservative Party's parliamentary leader and had 2009-2013 been a member of the Storting's standing committees on health and social care and defence and foreign affairs. She had previously been a member of the Storting's standing committees on finance affairs and local government affairs, and leader of the Storting's delegation to NATO's Parliamentary Assembly.
Solberg has been leader of the Conservative Party since 2004.
Source:
Norsk Biografisk Leksikon