Thorbjørn Jagland
Prime Minister 1996 - 1997
Article | Last updated: 25/06/2014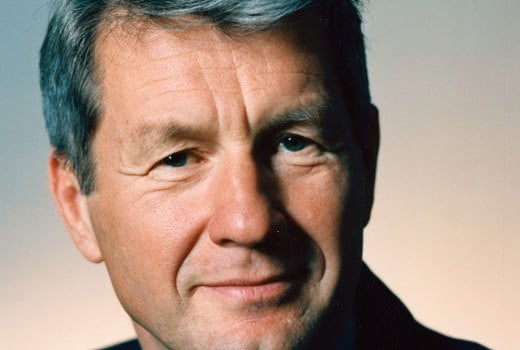 Thorbjørn Jagland is politician:
Secretary-General of the Council of Europe 2009, reelected 2014.
Prime Minister 25 October 1996-17 October 1997.
Minister of Foreign Affairs 17 March 2000-19 October 2001.
Born in Drammen in the County of Buskerud 5 November 1950, son of welder Helge Th. Jagland (1919-) and cook Ingrid Bjerknes (1922-).
Married 25 June 1975 to journalist Hanne Grotjord (1953-), daughter of (stepfather) accountant Harry Selnes (1925-) and Bodil Selnes (1926-).
After university qualifying examination in 1969 Thorbjørn Jagland took up studies in economics at the University of Oslo. Political activity made him leave before achieving his final degree.
Jagland was elected leader of the Labour Party's youth organisation in 1977, and as such also member of the party's central board. He became the party's study secretary in 1981 and acting secretary of the party in 1986. He was elected leader of the Labour Party when Prime Minister Gro Harlem Brundtland resigned from this post in 1992.
As study secretary, party secretary and party leader Jagland was central in the broad readjustment taking part in the Labour Party in the 1980's and 1990's. He renewed and modernised the party, opened up a closed culture and brought members and leaders together in consultations and study groups. However, critics have said the new openness was more apparent than real. Jagland was criticised for not showing respect for the party's traditionalists.
Four years after taking over as Labour's leader, Jagland in October 1996 on a short notice succeeded Brundtland also as prime minister. As a strategist and an ideologist he was met by expectations of a more visionary policy than what Brundtland had been seen to represent. However, Jagland quickly ran into problems, partly due to his lack of government experience and partly linked to the people he had chosen as close advisers. And his vision of "the Norwegian house" was not fully understood.
Before the Storting elections of 1997 Jagland indicated that the Government would not be able to continue if the outcome would not turn out to be at least as good as in 1993 – 36.9 per cent of the votes. As that did not come about, Jagland's Government was succeeded by Kjell Magne Bondevik's Government on 17 October 1997.
Jagland's decision to leave led to internal criticism in the Labour Party. When the local elections of 1999 ended in Labour's worst results in 75 years, the criticism intensified. In February 2000 Jagland declared that he no longer was Labour's prime minister candidate.
Labour's new prime minister candidate now became Jens Stoltenberg, the party's deputy leader since 1992, while Jagland focused on the tasks as party leader. On 17 March 2000 Stoltenberg's Government took over after Bondevik's Government had been voted out of office by the Storting. Jagland now became minister of foreign affairs.
Jagland had first been elected to the Storting in 1992, representing the Labour Party in Buskerud. After Labour's defeat in the Storting elections in late 2001, Kjell Magne Bondevik's Second coalition Government succeeded Stoltenberg's Government. Jagland returned to his seat in the Storting and became leader of the standing committee on foreign affairs.
Labour's defeat triggered a debate on whether it was good to continue with the model of split leadership between Jagland and Stoltenberg. In the spring of 2002 Jagland made it clear that he did not want re-election as leader of the Labour Party.
After Labour's victory in the 2005 elections, Bondevik's Second Government was succeeded by Stoltenberg's coalition Government on 17 October. Jagland had been elected president of the Storting a few days earlier. He now chose to combine this post with an active role as political thinker and strategist. In 2008 he stated that he did not want to be candidate for re-election to the Storting in the 2009 elections.
In 2008 the Storting elected Thorbjørn Jagland member of the Norwegian Nobel Committee, and in February 2009 he was elected leader of the Committee.
On 29 september 2009 Jagland was elected secretary general of the Council of Europe after Terry Davis of the United Kingdom. On 24 June 2014 Jagland was reelected for another five years; the first reelection of a secretary general in the history of the organization.
Source:
Norsk Biografisk Leksikon