Trygve Lie
Acting Prime Minister 1942
Article | Last updated: 24/05/2011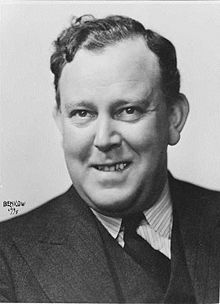 Trygve Halvdan Lie was lawyer and politician.
First Secretary-General of the United Nations 1946-1953.
(Photo: Benkow).
Councillor of State 20 March 1935-25 June 1945, Chief of the Ministry of Justice. Chief of the Ministry of Trade 1 July 1939, Chief of the Ministry of Provisioning 2 October 1939, acting Minister of Foreign Affairs 19 November 1940, appointed Minister of Foreign Affairs 21 February 1941. Acting Prime Minister 16 April-7 July 1942.
Minister of Foreign Affairs 25 June-5 November 1945.
Minister of Foreign Affairs 5 November 1945-2 February 1946.
Councillor of State 4 July-28 august 1963, Chief of the Ministry of Industry.
Councillor of State 25 September 1963-12 October 1965, Chief of the Ministry of Industry. Chief of the Ministry of Trade and Shipping 20 January 1964.
Born in Kristiania (Oslo) 16 July 1896, son of carpenter Martin Lia (1862-1933) and Hulda Otilie Arnesen (1862-1939).
Married 8 November 1921 to café owner Hjørdis Alette Fredrikke Jørgensen (1900-1960), daughter of station master Ludvig Jørgensen (1859-1919) and Jenny Eriksen (1870-1949).
Father-in-law of later councillor of state Jens-Halvard Bratz.
Deceased at Geilo in the County of Buskerud 30 December 1968. Buried at Grorud Churchyard in Oslo.
Trygve Lie was born at Grünerløkka in Kristiania (Oslo) and grew up under simple conditions with his mother and an elder sister. His father immigrated to the USA before Lie was born, and was never mentioned to him by his mother. When Lie was six the family moved to Grorud in Østre Aker (Oslo), where he became involved in sports and soon also in politics. At this rapidly developing industrial site in the rural areas east of Kristiania, Lie's mother ran a café and a workers' pension, and Lie used to read the newspaper aloud to the workers.
One of Lie's teachers at Grorud, Labour Party member Johan Evje, saw to it that the bright boy was granted financial support by landowner H.C. Mathiesen's Bequest for three years. During this time Lie passed intermediate and secondary school, which was not common for workers' youth at the time. Following university qualifying examination in 1914, Lie took up law studies at the University of Kristiania, where he achieved his law degree in 1919.
Lie participated in his first election campaign already in 1912, for Aker Labour Party, and in 1915 he was paid secretary in the same party and also manager of the local social security office a at Grorud. He was elected member of the board of Aker Labour Party in 1916, and soon also chairman, and was for nine years member of Aker Municipal Council and its executive board. When the County of Akershus Labour Party was founded in 1921, Lie became its first chairman – a post he came to hold almost continuously until 1946.
In the years 1919-1922 Lie was secretary at the Labour Party's national office, under party secretary Kyrre Grepp. In that capacity Lie was in 1921 secretary to a party delegation to Moscow. This opened a long-standing contact for him to the Soviet Union.
In 1922 Lie was appointed to a new post as legal advisor to the Norwegian Federation of Trade Unions (LO), a post he came to hold until the spring of 1935. At the LO Lie quickly specialised in the fields of the Labour Dispute Act. Among his cases were labour conflicts in Folldal in 1929 and at Menstad in 1931. He also drafted what in 1935 came to be the national wage agreement between the LO and the Norwegian Employers' Association (NAF).
In March 1935 Lie at the age of 39 became minister of justice in Johan Nygaardsvold's Government. He quickly took the opportunity of abolishing the old prison law, a long-time central issue for the LO.
In the summer of 1935 Nygaardsvold's Government granted residence permit in Norway for Russian revolutionary Leo Trotsky, and was strongly criticised by the non-socialist parties and Nasjonal Samling (NS), the national-socialist party. After the Moscow proceedings came under way during the summer of 1936, Norway was pressured by the Soviet Union to send Trotsky out of the country. By the help of two provisional laws Lie succeeded in first interning Trotsky and then in sending him incognito to Mexico. For this Lie was criticised by the radical wing of Norwegian politics.
In July 1939 Lie became minister of trade, before being transferred to the new Ministry of Provisioning after the outbreak of the war in Europe on 1 September that year. He demonstrated both vision and political energy, ran over civil servants and experts and saw to it that Norway at the Nazi-German invasion in April 1940 had grain provisions for one year's consumption.
Lie demonstrated political energy also during the spring and summer of 1940, in the chaotic months when the Government was on the run after the German attack on 9 April – first in Norway and then on to London. He was central when the Government requisitioned the Norwegian commercial fleet, and during the first months in London he was also responsible for shipping affairs. In August 1940 he had to go to the USA to mediate as 19 Norwegian ship's crews were in strike because US trade unions were demanding that Norwegian ships did not leave for Britain. In this the labour lawyer was on home ground, the case was solved and Norwegian sailors had their wages increased for sailing in war-exposed waters.
In November 1940 Lie took over as minister of foreign affairs after Halvdan Koht, following a dispute on Norway's foreign policy. Lie quickly emerged as a marked foreign minister, wanting to establish good relations to Britain and the USA. He argued for military cooperation between the countries around the Northern Atlantic, also when the war one day would be over. As the USA gradually had a more prominent role in the alliance, Lie came to put less emphasis on this Atlantic line in favour of an equal cooperation with the super powers, and the safeguarding of Norway's security in a collective solution – which would become the United Nations.
While many of the Norwegian government ministers were not happy to stay in London and wanted to go home, Lie flourished. He regularly met with all allied foreign ministers and was politically and socially active. His relationship to Prime Minister Nygaardsvold was conflict-ridden. During Nygaardsvold's visit to the USA and Canada in the spring and summer of 1942, Lie was acting prime minister for nearly three months.
In April 1945 Lie led the Norwegian delegation to the UN conference in San Francisco. When Einar Gerhardsen's Coalition Government succeeded Nygaardsvold's Government in late June 1945, Lie continued as minister of foreign affairs. The same happened when Gerhardsen's Labour Government took over in November 1945. But already in February 1946 Lie left the Government to take up the position as the first secretary general of the United Nations, elected as a compromise candidate.
Lie arrived in New York in March 1946. As the UN did not yet have its own premises, work started at the Waldorf Astoria Hotel. However, within a couple of weeks Lie had provided temporary offices and before the end of the year the UN had secured its own site on Manhattan. As a former local politician Lie was on good terms with New York City's political authorities. Even his staunchest opponents gave him credit for his organisational establishing of the UN. In 1952 the UN building on Manhattan was finished. It may to a large degree been seen as Lie's achievement.
Lie was criticised for appointing US citizens to a majority of the new UN posts. This gave the impression that he was under US dominance. But he also demonstrated his independence, in particular during his first years in office. He developed the post of the secretary general into something more than an administrative one, giving the secretary general the right to take certain political initiatives towards the UN Security Council. Among the conflicts on Lie's table these years was the establishing of the state of Israel and the Korean war. Lie was striving for east-west cooperation, but as conflicts between the western powers and the Soviet Union were increasing, this became difficult.
When the Korean war broke out in June 1950, Lie supported UN action against North Korea as the aggressor. This caused the Soviet Union to no longer accept him as the UN secretary general. In 1952 the US hunt for spies and communists in the UN headquarters took off. The combination of these events was obstructing Lie's service as secretary general to the extent that he tendered his resignation in November 1952. In April 1953 he handed over the post to Swedish diplomat Dag Hammarskiöld and returned to Oslo.
After his seven years at the UN Lie had probably expected a central post at home. Rather, the first years gave him ample time to work on his memoirs, together with assistants that he gathered around him in the family's mountain cabin in Rugeldalen near Røros.
In 1955 Lie was appointed county governor of Oslo and Akershus. As his family had been criticised for moving from their house at Furuset near Grorud to an apartment building at Oslo's more fashionable west side, Lie was now criticised for having asked for a chauffeured car. But Lie took the challenges as county governor with his usual vitality, whether the issue was new bridges or a new motorway to Gardermoen Airport. In 1959-1960 he chaired a government-appointed commission to enhance foreign investment in Norway. In this he had the chance to draw in his international network of contacts from his years at the UN.
Following the Kings Bay mining accident at Ny-Ålesund on Svalbard in the summer of 1963, 67-year old Lie was again appointed member of government – as minister of industry in Einar Gerhardsen's Third Government. He continued on this post also in Gerhardsen's Fourth Government in September 1963, but soon had to be given leave of absence due to a cerebral haemorrhage. He was back in January 1964, now as minister of trade and shipping. He held this post until Gerhardsen's Government resigned after general elections in the autumn of 1965.
Although Lie quit active sports as a youngster, he remained an active small-game hunter who loved outdoor life. He had just finished the last volume of his memoirs when he died at Geilo at Christmas 1968, at the age of 72.
Source:
Norsk Biografisk Leksikon