Norway's Ambassador to Pakistan has died
The Pakistani authorities have confirmed reports that Norway's Ambassador to Pakistan, Leif Holger Larsen, has died in a helicopter crash in the country.
'It is with great sorrow that we received the news today that Ambassador Leif Holger Larsen has died in Pakistan. Our thoughts are with his close family and friends.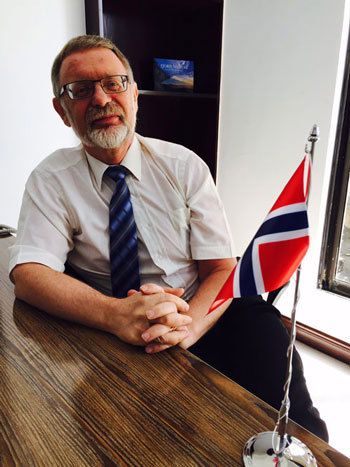 'Leif Holger Larsen was one of our best and most experienced diplomats. He was a much loved and respected colleague. Many people in the Ministry and in our missions abroad are grieving the loss of a good friend and colleague,' said Minister of Foreign Affairs Børge Brende.
Ambassador Leif Holger Larsen who died in a helicopter crash. Photo: Newsweek, Pakistan
Mr Brende spoke today to Pakistan's National Security and Foreign Affairs Adviser, Sartaj Aziz, who informed him that Ambassador Larsen had been on a trip organised by the Pakistani authorities, together with around 30 other diplomats, in the Gilgit-Baltistan area in the north of the country.
'We understand that several people have been killed or injured in the accident, and we offer our condolences to their families and friends,' said Mr Brende.
Ambassador Larsen had worked for the Foreign Service since 1984, when he joined as a trainee. He was Norway's Special Envoy to Pakistan and Afghanistan before he was appointed Ambassador to Pakistan in September last year.
Leif Holger Larsen was 61, and leaves behind him a wife and a son.