Key-note speech at High Level Forum on Sustainable Development
UN Headquarters, New York City, 18 July 2016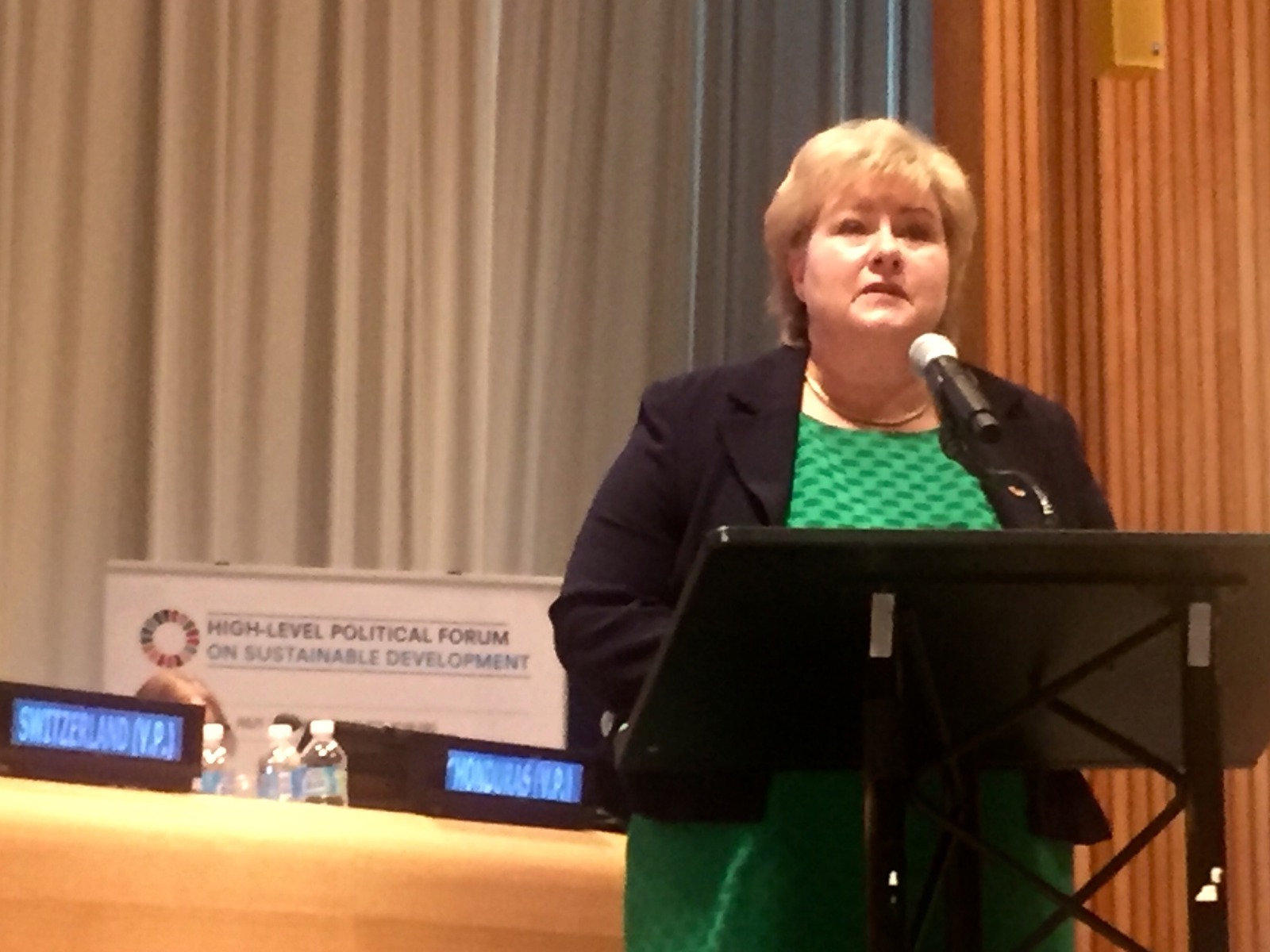 Prime Minister Erna Solberg at the opening of the High Level Forum on Sustainable Development, at the UN Headquarters in New York City on18 July 2016. (Photo: Office of the Norwegian Prime Minister).
Check against delivery
Excellencies, ladies and gentlemen.
It is an honour to address the High-Level Political Forum today.
Our agenda is both vital and urgent.
Poverty, conflict, violent extremism, refugee crises, youth unemployment, forced migration and global warming are pressing issues – issues that cannot wait.
These economic, social and environmental ills affect all of us, regardless of where we live – or how we make a living.
Our aim is to leave no one behind. This means that we must pay special attention to the marginalised groups in the most fragile settings.
The good news is that the Sustainable Development Goals speak directly to the root causes of what is broken in our world.
And as these goals are universal, no one can say: 'I didn't break it, so someone else must fix it'.
We all own these goals – and we can only achieve them together.
In September last year, 193 heads of state and government adopted the SDGs in this building.
I was one of them.
I felt that I was part of something extraordinary.
That we had made a decision of historical proportions.
I think many of those who were there shared this feeling.
To me, adopting the new development agenda meant taking ownership of the 17 SDGs.
Ownership of all the goals – not just by leaders but by everyone – is crucial if we are to mobilise the extra effort required.
It is part of human nature to take care of what you own.
As co-chair of the UN Secretary-General's SDG Advocacy Group, together with President Mahama of Ghana, my job is to help create this sense of ownership – and to make the SDGs a topic of widespread interest.
There are many good examples of building SDG ownership, such as the SDG consultation processes with relevant stakeholders around the world. These should continue.
Awareness and knowledge are both essential for ownership. In Norway, the SDGs are to be included in our school curriculums.
The business sector is also taking ownership of the SDGs, as a growing number of companies align their business strategies with the goals.
And the 22 countries that volunteered to submit national reviews to this forum are demonstrating government ownership.
Today, and every day until the goals are achieved, we must take concrete steps to make the world more sustainable.
This requires leadership in all countries and at all levels of society.
There are several early examples of leadership within the private sector. Meanwhile, political leaders must build and cultivate political will.
This spring I met with the SDG Forum of the South Korean National Assembly.
This bipartisan parliamentary forum is a good example of political leadership.
Political leaders must also translate political will into legislation, policies and concrete plans.
We must finance and implement plans.
Financing sustainable development requires domestic revenue generation combined with good management of existing resources.
This is a national and local leadership issue.
At the same time, international development aid will be needed in the most vulnerable areas of the world to ensure that no one is left behind.
In other words, this is not only a question of global leadership; it is also a question of international solidarity.
The 17 goals are interconnected, and many of them require cooperation across national boundaries.
That means that we will fail or succeed together.
To succeed we must build new and innovative partnerships. In many areas, business as usual will not do.
Governments, businesses, civil society organisations and academia must work together to find efficient, sustainable solutions locally, nationally and globally.
The best-known example of an international, cross-sectoral partnership predates the SDGs:
GAVI, the Vaccine Alliance, was important for the success of the Millennium Development Goals.
Let us find inspiration in the Vaccine Alliance as we form partnerships based on the new goals.
The only thing that is limiting us is our imaginations.
The Sustainable Development Goals are not just a means of fixing what is broken; they will put the world on a different and sustainable path.
They are a roadmap to the future we want.
It will take a lot of effort, but this is our generation's most important task.
Let us get to work.
Thank you.