Afghanistan – humanitarian report for 2008
Norway's substantial political and economic efforts in the fields of humanitarian coordination produced good results in 2008 - even if the security situation deteriorated.
Norway's substantial political and economic efforts in the fields of humanitarian coordination, refugees, health, and mine and cluster munitions clearance produced good results in 2008.
Our total humanitarian assistance amounted to NOK 309 million.
The security situation deteriorated and access for humanitarian actors became more difficult. Three million Afghans were refugees or internally displaced.
Clear division of roles has been emphasised by Norway, and by UNAMA and OCHA 2). A separate OCHA office was established.
The food crisis – due to a combination of high prices and drought – hit the country with full force.
70 % of the benchmarks on mine action and ammunition in the Afghanistan Compact have been reached. This facilitates the resettlement of refugees and is an important humanitarian achievement.
1. General overview
Deterioration of the security situation and several outbreaks of fighting have resulted in an increase in civilian deaths in Afghanistan. Around 1800 people were killed in connection with hostilities during the first 10 months of 2008, compared with around 1500 in 2007. The number of attacks against humanitarian actors is alarmingly high. Humanitarian actors are increasingly being targeted by insurgent groups; 36 aid workers were killed, and 120 direct attacks or threats against NGOs have been registered. OCHA estimates that as much as 40% of the country is inaccessible for humanitarian actors. The problem of access is also emphasised by the ICRC, which is forced to concentrate its efforts on the major towns and cities. This is somewhat counterbalanced by the access that the Afghan Red Crescent Society (ARCS) has to the provinces. All in all, however, it is very difficult to gain a full picture of the humanitarian crisis that is unfolding in the country.
Division of roles. Clarifying the boundaries between humanitarian actors, other civil society organisations and the military forces continued to be a challenge in 2008. Norway's views on the division of roles have received growing international support. The UN Humanitarian Action Plan[1] highlights the need for a clear division of labour and for protection of the humanitarian space, and this message is clearly directed to the Provincial Reconstruction Teams (PRTs). The civilian humanitarian actors maintain that the confusion of roles is undermining their security and restricting their access to the population. The preparatory work on the strategy for Faryab and the Norwegian PRT sets out important principles and practical guidelines for how military and civilian efforts can be kept separate but at the same time be coordinated.
The food crisis. The already serious humanitarian situation worsened in 2008 due to the food crisis and drought. Wheat production fell by 85%, affecting 1.2 million children and 550 000 mothers. Malnutrition among this group is a growing problem. The northern areas were hardest hit. The UN launched two appeals to address the food crisis, and Norway provided a total of NOK 42 million to WFP, WHO and FAO. The food crisis is described in the UN Humanitarian Action Plan as Afghanistan's most serious humanitarian problem, and it has been exacerbated by the winter. The situation in i Faryab, however, seems to be less serious than expected.
Human rights are under pressure in Afghanistan, and there were few bright spots in 2008. Norway has given particular priority to freedom of expression and transitional justice. Much of our support has been channelled to media organisations that are seeking to increase the security and independence of journalists. Norway has actively sought to increase cooperation between donors, UNAMA and Afghan civil society. Norway provides substantial support for the Afghanistan Independent Human Rights Commission (AIHRC), and will play an active role in building up the commission's capacity and independence. The commission's mandate is to monitor and protect human rights and to be a key point of contact with the Afghan authorities on issues relating to the treatment of prisoners, civilian killings, the death penalty and freedom of expression. In 2008, Norway also provided support for capacity building in the Ministry of Justice and the Ministry of Foreign Affairs, with a view to strengthening Afghanistan's implementation of international human rights obligations. These programmes are being carried out in cooperation with UNDP, UNAMA and UNICEF, and are expected to result in increased human rights capacity and better compliance with human rights norms.
2. Results of Norwegian humanitarian assistance in 2008
Humanitarian coordination. Since 2006, Norway has spearheaded efforts to give the UN a strong coordinating role in the humanitarian field by providing support for UNAMA and later OCHA. This enabled OCHA and UNAMA to produce, for the first time in since 2002, a humanitarian action plan (HAP) that sets out the overall priorities in relation to the humanitarian challenges. The humanitarian action plan has been drawn up in close consultation with the Afghan authorities. OCHA is currently working to establish the organisation on the ground and is planning to set up regional offices in Herat, Kandahar, Mazar-e-Sharif and Jalalabad. The humanitarian appeal for 2009 is for a total of USD 604 million, and reflects the continued serious humanitarian situation in the country. Norway will make a substantial contribution to the appeal. It is also important that Norway encourages other countries to support OCHA's efforts.
Refugees. According to the humanitarian action plan, there are 1.7 million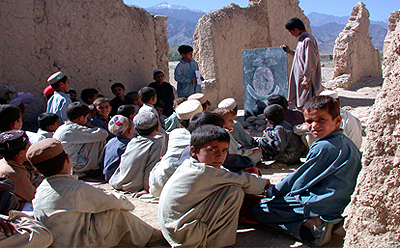 registered refugees in Pakistan and approxi-mately 1 million in Iran. There are some 232 000 internally displaced people in Afgha-nistan. UNHCR, the Norwegian Refugee Council and Right to Play have made a major effort to help these refugees and IDPs with Norwegian support, and have used considerable resources on resettlement and reintegration. In 2008, 277 000 Afghan refugees in Pakistan were reintegrated in Afghanistan. These efforts have contributed significantly to meeting the goals of the Afghanistan National Development Strategy (ANDS) on stability, and social and economic development in 2008.
The Norwegian Red Cross and the health sector. The Red Cross Movement has been an important actor in the health sector and within disaster prevention and preparedness. In 2008, the Norwegian Red Cross continued its efforts to develop the Kabul Ambulance Service (KAS) into an operational and independent organisation. Today, the ambulance service is recognised in Kabul for its life-saving work and also received support from the Ministry of Public Health. Funding channelled via the Red Cross Movement in 2008 was also used to support the Afghanistan Red Crescent Society's health efforts. Through its local network in Afghanistan, the Red Crescent Society can bring urgently needed humanitarian assistance to areas that are not accessible for other organisations. Considerable support was provided to the ICRC appeal for Afghanistan. In 2008, preparatory work was started on an agreement with the Norwegian Red Cross on cooperation within the health sector for 2009-2011.
ACTED is a good example of an NGO that has been able to gain access to and provide humanitarian assistance in areas seriously affected by armed conflict. In the autumn of 2007, following ISAF's military operations in Ghormach, west of Faryab, UNAMA was requested to move into the area and carried out a humanitarian needs assessment with Norwegian support. The assessment indicated that humanitarian organisations could go into Ghormach and provide assistance. In close coordination and dialogue with UNAMA and the Norwegian Embassy in Kabul, ACTED has demonstrated its determination and ability to deliver water, health and sanitation services in cooperation with other NGOs.
The HALO Trust is an important partner in our humanitarian disarmament efforts in Afghanistan. Unexploded mines and cluster munitions are a serious problem. However, this is an area where developments are moving in the right direction. The United Nations Mine Action Center for Afghanistan (UNMACA) reports that 70% of the benchmarks on mine action and ammunition in the Afghanistan Compact have been reached. The HALO Trust is an important actor in this area. Mine clearance makes it possible for internally displaced persons and refugees to return to their communities and start farming again
3. Conclusion
In 2008, the humanitarian situation in Afghanistan was extremely serious. The complex causes make the challenges particularly tough, and the need for humanitarian and transitional support is still urgent. Working with key, experienced partners in the field, Norway is an important humanitarian actor in Afghanistan and a strong supporter of the UN and OCHA. Norway's humanitarian support in Afghanistan has thus produced good results.
Given the continued difficult humanitarian situation, it is important to encourage broad support for OCHA's efforts. Norway will continue to provide support to organisations in Afghanistan that are working in our priority areas: refugees, humanitarian disarmament, health, and human rights.
In 2009, greater focus will be given to the situation in the border areas in Pakistan. These additional challenges will have to be addressed through political and practical efforts. The distinction between humanitarian and military actors will have to be made even clearer.
[1] Afghanistan - 2009 Humanitarian Action Plan (HAP), OCHA. Published 17 January 2009
[2] Acronyms and explanations:
UNAMA = United Nations Assistance Mission in Afghanistan
OCHA = Office for the Coordination of Humanitarian Affairs (UN)
ICRC = International Committee of the Red Cross
PRT = Provisional Reconstruction Team
WFP = World Food Programme (UN)
FAO = Food and Agriculture Organization of the United Nations
WHO = World Health Organization
UNDP = United Nations Development Programme
UNICEF = United Nations Children's Fund
UNHCR = Office of the United Nations High Commissioner for Refugees
HALO Trust = NGO specialising in the removal of the hazardous debris of war