Norway - Candidate to The World Heritage Comittee 2017
Culture-nature, integrated approach, generations, future, community, cooperation, pride, sustainability, credibility
Norway - Candidate to The World Heritage Comittee 2017
Download brochure (pdf)
La Norvège - Candidate au Comité du Patrimoine Mondial 2017
Télécharger la brochure (pdf)
Noruega – candidato al Comité del Patrimonio Mundial 2017
Descargar folleto (pdf)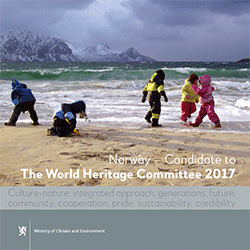 The basis for Norway's management of the environment is the relationship between culture and nature. Nature cannot be managed without also considering traces of earlier human activity.
Norway believes cultural and natural resources are best understood and safeguarded through an integrated approach.

Norway wishes to strengthen the World Heritage Committee's efforts to promote a more integrated management of World Heritage properties.
This is consistent with the intentions of the World Heritage Convention, and reinforces its unique characteristics.

Norway aims to participate in the multilateral community in areas in which it has special expertise.
Publication number: T-1558 E
ISBN 978-82-457-0500-3
Numéro de publicacion: T-1558 F
ISBN 978-82-457-0501-0
Número de publicación: T-1558 S
ISBN 978-82-457-0502-7