Ministry of Defence
Norwegian cluster munitions soon to be history
Historical archive
Published under: Stoltenberg's 2nd Government
Publisher: Ministry of Defence
News story | Date: 07/05/2009
Norway has been a driving force internationally in the work to ban cluster munitions. It was therefore with great satisfaction that Deputy Minister of Defence Espen Barth Eide was today able to press the button to destroy the first batch of Norway's stockpile of cluster munitions.
"We wish to follow up our international efforts with practical action here at home, and we have wanted to make a start on the destruction of these weapons as quickly as possible but in a safe and environmentally friendly way," says Deputy Minister of Defence Espen Barth Eide.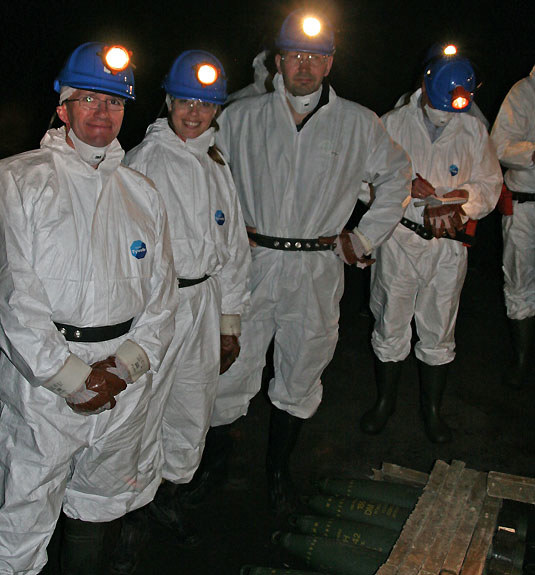 Photo: Ministry of Defence
From left: Deputy Minister Espen Barth Eide (MOD), Annette Bjørseth (MFA) and Per Nergaard (Norwegian People's Aid)
The destruction of the Norwegian stockpile is a consequence of the Convention on Cluster Munitions which was signed in Oslo in December last year.
The Convention is the result of a Norwegian initiative in autumn 2006 to establish a negotiation process with the aim of banning a type of weapon which had been shown to cause serious and long-lasting humanitarian suffering. The Norwegian initiative soon gained wide international support and a grand total of 107 states, the UN and many NGOs adopted the Convention in Dublin in May 2008. Norway was the first country to both sign and ratify the Convention when it was opened for signing during the Oslo conference in December. The Convention has so far been signed by 96 countries and a number of other countries have indicated that they will sign in the near future. Not least, it is important to emphasise that the Convention has been signed by 20 of the 28 NATO countries.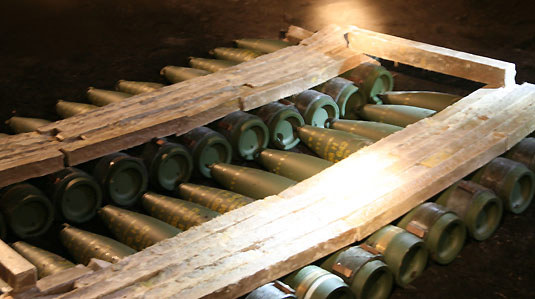 Photo: Ministry of Defence
"According to the Convention, there is an 8 year deadline for destruction of national stockpiles. However, to avoid further proliferation of existing stocks, I find it extremely important that states start the national destruction processes as soon as possible. By being among the first states to start destroying our stocks, it is my hope that this will send a strong signal to other states," says Barth Eide.
In March this year the Norwegian Armed Forces and Nammo Demil Divisjon AB signed a contract covering the destruction of the Norwegian stockpile of cluster munitions. The process of destroying these munitions is, as from today, under way at Løkken Verk in Trøndelag. The Deputy Minister of Defence was shown round the old copper mines, 910 metres below ground, where the initial batch of munitions was stacked. Once back on the surface, it was Barth Eide's job to press the button to trigger the explosion which blew up the munitions. It is expected that the process of destroying these munitions will be completed by the end of July 2010.
"It is good that in Norway we have the necessary skills and facilities to undertake the job of destroying these munitions. With so many countries facing a similar task, this is an area of expertise that will be much in demand, both nationally and internationally," says Barth Eide.