Article | Last updated: 02/09/2011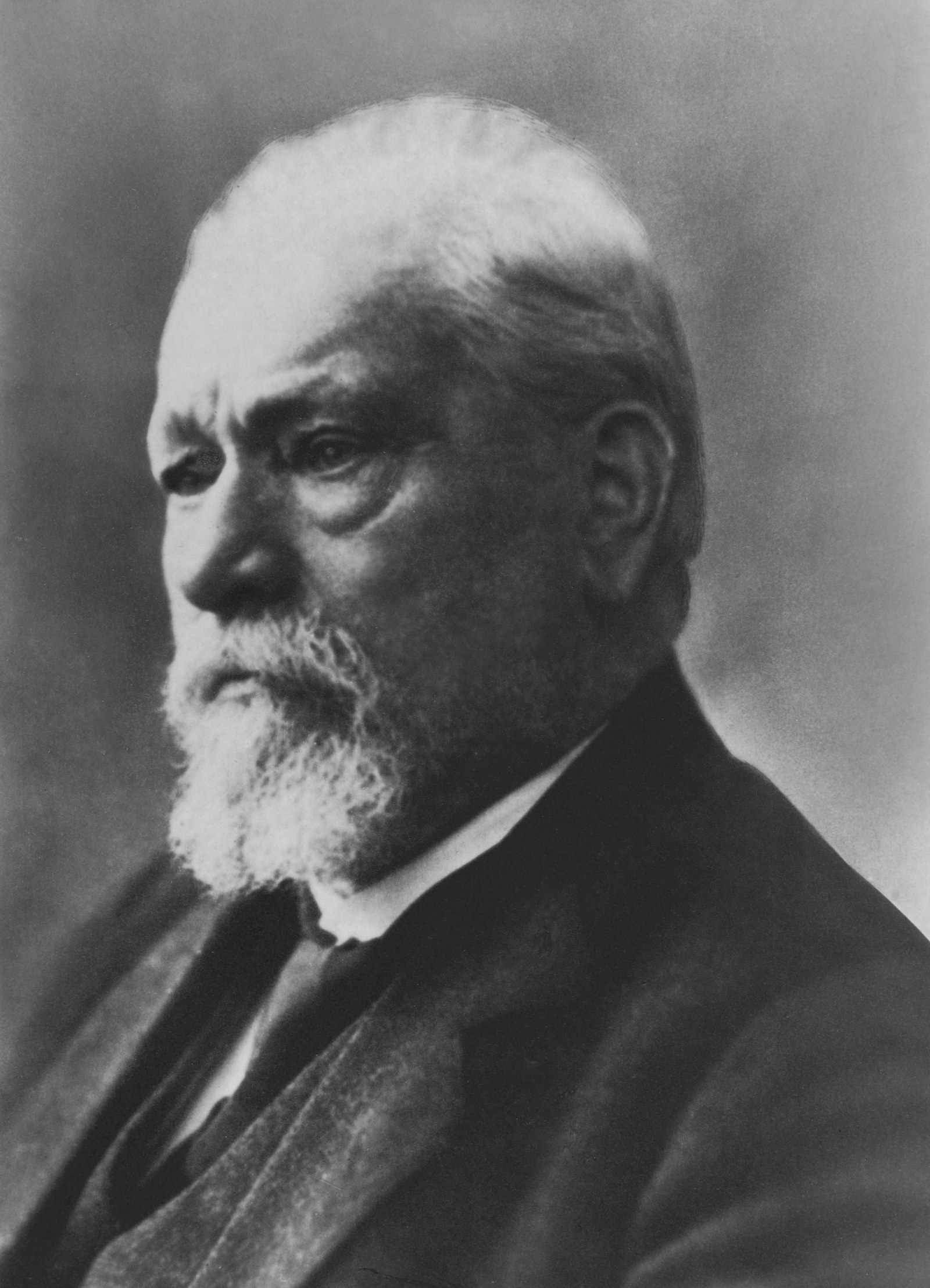 Abraham Theodor Berge was teacher, civil servant and politician.
Councillor of State 7 November 1906-28 October 1907, Chief of the Ministry of Finance.
Councillor of State 28 October 1907-19 March 1908, Chief of the Ministry of Church and Education.
Councillor of State 2 February 1910-20 February 1912, Chief of the Ministry of Finance.
Councillor of State 6 March-30 May 1923, Chief of the Ministry of Finance.
Prime Minister 30 May 1923-25 July 1924, also Chief of the Ministry of Finance.
Born in Lyngdal in the County of Lister and Mandal (Vest-Agder) 20 August 1851, son of worker Johan Tobias Johnsen Berge (1813-1883) and Helene Andreasdatter Kvalsvig.
Married 1875 to Anne Elisabeth Kylleberg (1847-1917), daughter of farmer and pilot Tønnes Elias Pedersen Kylleberg and Elise Severine Olsdatter.
Deceased in Tønsberg 10 July 1936. Buried at Tønsberg Old Cemetery.
Abraham Berge learned to read already at the age of four, in a home with more books than what was normal at the time. He had his strongest impulses from his mother and his grandfather.
In 1867 Berge became teacher at Nordberg School in Vanse, after a 15-months study at sacristan Reinert Rødland's Apprentice School. He held this post until 1903, while at the same time running Nordberg Farm and in 1886-1890 also a minor shipping company.
Berge became politically active when he was elected to Vanse municipal council in 1877, where he was a member until 1889 and again in 1901-1904. He was for a period mayor and chairman of the local school authority, and became conciliation commissary in 1886. He was several times elector and held many posts under the county council.
Abraham Berge was first elected to the Storting in 1892, representing the Liberal Party in the County of Lister and Mandal. Except for the years 1895-1897 he remained member of Storting until 1912. He quickly came to stand out in debates, with his concise style and a talent for agitation. In the years 1899-1901 he was also the Liberal Party's general secretary.
In the spring of 1905 Berge became president of the Odelsting (the Storting's major house), and came to play a central role in the process towards the Storting's decision to dissolve the union with Sweden on 7 June that year. He was part of the Storting deputation at the crowning of King Haakon and Queen Maud in Trondhjem (Nidaros) Cathedral on 22 June 1906.
In November 1906 Berge was appointed minister of finance in Christian Michelsen's Government, after Edvard Hagerup Bull. When Michelsen resigned in October 1907 and Jørgen Løvland succeeded him as prime minister, Berge was appointed minister of church and education. After the change of government in March 1908, he was appointed county governor of Jarlsberg and Larvik (Vestfold).
After the dissolution of the union with Sweden the differences within the broad and heterogeneous Liberal Party became more evident, and the split came in the spring of 1908. Gunnar Knudsen and his wing achieved majority for dissolving the old Liberal association at the Storting and establish a new one. Liberal members of Storting who did not support this – among them Berge, were excluded from the Liberal Party's parliamentary group.
In 1909 Berge was one of the founders of the Liberal Left Party, representing a broader liberal current in Norwegian politics. The party underlined intellectual freedom and opposed absolutism in issues like language and temperance. In economic politics the party was based on the principles of classical economics.
In the Storting elections in 1909 the Conservative Party and the Liberal Left Party saw a small majority, and in 1910 Berge became minister of finance in Wollert Konow's coalition government. When this government was forced to leave in 1912, due to internal conflict, this caused a split in the Liberal Left Party's parliamentary group. Berge, Konow and several others left the group and did not support Jens Bratlie's Conservative government. Berge again became president of the Odelsting, but left the Storting after the Liberal Party's election defeat later that year.
Berge now took up his office as governor of the County of Jarlsberg and Larvik, combining this with actively participating in the political debate. In March 1923 this again led him to a government post, as minister of finance in Otto Halvorsen's coalition government. When Halvorsen died in May that year, and the Conservative Party's chairman Ivar Lykke declined to take over as head of government, 72-year old Berge became prime minister on 30 May 1923. He continued as minister of finance as well.
During the bank crisis of 1923 Berge saw it as a state responsibility to try to prevent a bank collapse. He had the Storting guarantee the commitments of state banks. To avoid bankruptcy in one of the major banks, Den norske Handelsbank, he had the Government agree to a secret deposit of 25 million Norwegian kroner. In the spring of 1924 the same bank was again in major trouble. Berge then had the Storting support the bank, without informing the Storting that the Government had already supported it.
This led to the impeachment of Berge and six of his ministers in September 1926. The verdict came in late March 1927, finding them not guilty. At that time Berge and his government had long left their posts. That had happened in July 1924, due to a proposal to strengthen government finance by ending the liquor ban without a foregoing referendum.
Abraham Berge kept a strong interest in the history of his native district Lista, and wrote several books on the topic. However, he remained in Tønsberg until his death in 1936, and was buried there.
Source:
Norsk Biografisk Leksikon
Tønsberg Joint Parish Council