Kåre Willoch
Prime Minister 1981 - 1986
Article | Last updated: 31/05/2011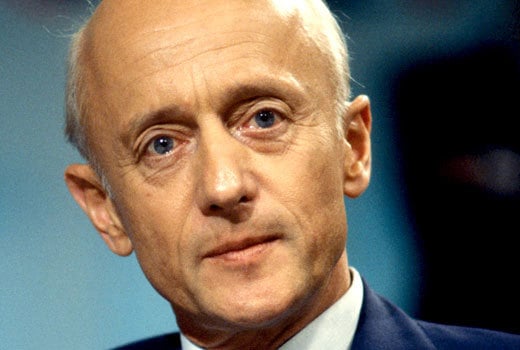 Kåre Isaachsen Willoch has been economist, politician and county governor.
Councillor of State 28 August-25 September 1963, Chief of the Ministry of Trade and Shipping.
Councillor of State 12 October 1965-5 June 1970, Chief of the Ministry of Trade and Shipping.
Prime Minister 14 October 1981-9 May 1986.
Born in Oslo 3 October 1928, son of manager Haakon Isaachsen Willoch (1896-1955) and Agnes Christine Saure (1895-1994).
Married in Oslo 30 April 1954 to Anne Marie Jørgensen (1929-), daughter of organ builder Josef Hilmar Jørgensen (1892-1961) and teacher Anette Tolvine Wirstad (1894-1991).
Kåre Willoch grew up at Oslo's affluent west side. After university qualifying examination in 1947 he studied economics at the University of Oslo and achieved his Cand. Oecon. degree in 1953. He worked as secretary at the Norwegian Shipowners' Association 1951-1952 and as executive officer at the Federation of Norwegian Industries 1954-1963.
Willoch was member of Oslo's municipal council 1952-1959, representing the Conservative Party. In 1954 he was elected deputy Member of Storting and in 1957 full member.
Willoch quickly stood out as a pronounced Storting politician, also as member of the standing committee on finance. He also became central in the Conservative Party. His development of a programme for a freeholder democracy came to be central in the party's economic policy. Willoch was the party's general secretary 1963-1965.
In John Lyng's short-lived non-socialist coalition government between Einar Gerhardsen's Third and Fourth Government, in August-September 1963, Willoch was minister of trade and shipping. Two years later he returned to the same post, in Per Borten's coalition Government. Until he left the post in June 1970 Willoch was one of the central members of the Borten Government. His reason for leaving the Government was his election as the Conservative Party's chairman in April 1970.
With Willoch as chairman and Erling Norvik as general secretary the Conservative Party reached new groups of voters in the 1970's. In the same period the Labour Party was marked by internal conflicts. The Storting elections in 1981 became a success for the Conservatives, and on 14 October Willoch formed the first Conservative government since 1928. In June 1983 the Government was expanded to represent also the Christian Democratic Party and the Centre Party.
Willoch's Government initiated a policy which in many ways brought lasting changes in. Norwegian Broadcasting Corporation's (NRK) monopoly was abolished, regulations for shop closing hours were liberalised and the property market was deregulated. The effect was a more open society, while the Government was criticised for having moved too fast.
In the 1985 Storting elections Willoch's Government lost its majority and became dependent on the right-wing Progress Party.
Early 1986 saw a drastic fall in oil prices, and Willoch's Government now proposed a package of restrictive economic measures. Labour found the social profile insufficient, and decided to oppose the package. One proposal was to increase the price of petrol, which was also opposed by the Progress Party. Willoch demanded a vote of confidence on the issue, and the Storting majority voted against. On 9 May 1986 Willoch's Government was succeeded by Gro Harlem Brundtland's Second Government.
Willoch now left the role as Conservative prime minister candidate to Rolf Presthus. In 1987 he was a candidate for the post as NATO's secretary general, but lost to West-German Manfred Wörner. In the years 1987-1989 Willoch was chairman of the International Democratic Union, gathering Conservative and Christian Democratic parties.
Willoch left the Storting after more than 30 years in 1989, and was appointed county governor of Oslo and Akershus. He held the post until retirement age in 1998. He now continued as director of the Fridtjof Nansen Institute until 2001, while also being chairman of the board of Norwegian Broadcasting Corporation 1998-2000.
Both in his years as county governor and later, Willoch has stood out as an active debater and author. In a number of fields, among them environmental issues and the situation in the Middle East, he has been a marked critic of a policy he now has found to be too passive.
Source:
Norsk Biografisk Leksikon