Peder Anker
Prime Minister 1814 - 1822
Article | Last updated: 23/05/2011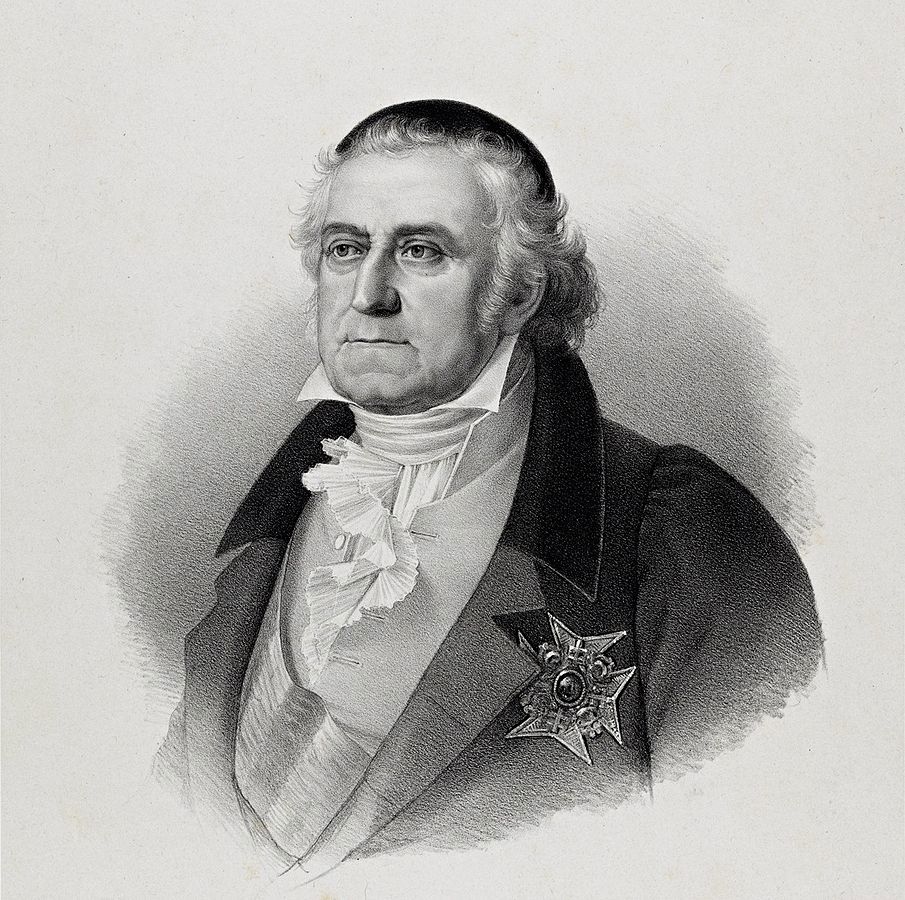 Peder Anker was landowner and politician.Norway's first prime minister.
(Painting 1815: Fredric Westin, photo: Norwegian National Library).
Prime Minister 18 November 1814-1 July 1822.
Born in Christiania (Oslo) 8 December 1749, son of merchant Christian Ancher (1711-1765) and Karen Elieson (1723-1806).
Married 26 October 1772 to Anna Elisabeth Cold (1749-1803), daughter of Crown Court Justice Isaac Andreas Cold (1716-1761) and Elisabeth Catrhine Nissen 1717-1751).
Member of the Danish-Norwegian nobility 1778, with the name Anker.
Father-in-law of later councillor of state and governor-general Herman Wedel Jarlsberg.
Deceased at Bogstad in Aker (Oslo) 10 December 1824. Buried in the Wedel Memorial Chapel at Sem Church in Jarlsberg (Vestfold).
Following education in Christiania and a year as student at the University of Copenhagen, Peder Anker and his brothers (Bernt and Jess) from 1762 spent five years travelling with their private tutor in Great Britain, France, Germany, Italy and Sweden. The purpose was to study language, trade, technical science, sport and European manners. Being the sons of Christiania's leading timber merchant, they possessed sufficient financial means to buy considerable amounts of art during the journey.
In 1772 Anker purchased Bogstad Manor in Sørkedalen from his mother's family (Leuch). Bogstad now gradually became a centre in the social and political life in Christiania.
Anker's industrial activity was mainly based on forestry, timber trade and ironwork industry. He expanded the Bogstad property by purchasing large parts of the forests of Nordmarka (north of Oslo), and also areas along Randsfjorden and in Valdres. He was the owner of a number of timber mills, purchased Bærum Iron Mill in Lommedalen and expanded this with a new hammer-works in Maridalen.
Anker also engaged in road building, and was appointed general road commissary in Akershus County in 1789. In this capacity he was active in the large-scale construction of roads in Southern Norway towards the end of the 1700's – from Christiania toward Trondhjem in the north, Bergen in the west and Christianssand (Kristiansand) in the south.
Anker developed his enterprises in a period of strong economic expansion for Norwegian timber trade and ironwork industry. When the Napoleonic Wars in 1807 led Denmark-Norway to war with Great Britain, Norway's largest timber customer, crisis struck. Anker's enterprises barely survived.
During the difficult years of 1807-1814 Anker became politically involved, primarily through his son-in-law – Count Herman Wedel Jarlsberg – who married Anker's daughter Karen in 1807. Wedel was a member of the interim government commission that was appointed in Christiania when the war blockade broke communications between Norway and Denmark.
After Prussia, Russia, Great Britain and Austria in the Kiel Peace Treaty of 14 January 1814, had transferred Norway from Danish to Swedish rule, Anker represented Akershus County at the National Assembly that Prince Christian Frederik summoned at Eidsvold. Anker was elected first president of the Assembly. Count Wedel also met, representing Jarlsberg County. Both Anker and Wedel belonged to the unionist party, supporting the union with Sweden – with Wedel as the leader. Of the two, Wedel was the active politician.
When Swedish Crown Prince Carl Johan arrived in Christiania to form a Norwegian government after the Storting (parliament) had accepted the personal union with Sweden on 4 November 1814, he chose Wedel as advisor. Among other places talks were held at Bogstad. Wedel was appointed minister of finance while Anker hesitantly accepted to become Norway's first prime minister, based in Stockholm.
Anker executed the office as prime minister with great skill, representing Norway in a good way in Stockholm for nearly eight years. He spent his last years from 1822 back home at Bogstad.
Source:
Norsk Biografisk Leksikon