Severin Løvenskiold
Prime Minister 1828 - 1841, Governor-General 1841 - 1856
Article | Last updated: 20/03/2013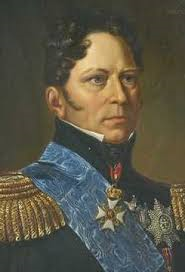 Severin Løvenskiold was factory owner, civil servant and politician.
(Painting 1836: Fredric Westin, photo: Oslo Museum).

Councillor of State 28 November 1814-1817, emissary to Denmark.
Prime Minister 10 July 1828-27 February 1841.
Governor-General in Norway 27 February 1841-17 June 1856.
Born in Porsgrunn 7 February 1777, son of landowner Søfren (Severin) von Løvenskiold (1743-1818) and Benedicte Henrica Aall (1756-1813).
Married in Copenhagen 9 April 1802 to Sophie Hedevig Baroness Knuth (1784-1819), daughter of Count Adam Christopher Knuth-Lilliendahl (1755-1844) and Sophie Magdalene Moltke (1765-1829).
Grandfather of later prime minister Carl Otto Løvenskiold.
Deceased at Fossum in Gjerpen 15 September 1856. Buried at Gjerpen Churchyard.
Following gymnasium in Eutin in Holstein, and studies in mining in Sachsen and Schlesien, Severin Løvenskiold got his law degree at the University of Copenhagen in 1796. He then worked for some years in the Danish-Norwegian central administration in Copenhagen, among other things as secretary to the Minister of Finance – his intermarried relative Count Ernst Heinrich von Schimmelmann. Løvenskiold had much of his political understanding from this period, defining himself as a conservative monarchist.
In 1802 Løvenskiold inherited Fossum Iron Mill after his father. Between 1803 and 1813 he was also governor of the County of Bratsberg; in the years 1805-1811 also of the County of Larvik.
Løvenskiold was elected first representative from the County of Bratsberg to the National Assembly at Eidsvold in 1814. Here he belonged to Count Herman Wedel Jarlsberg's unionist party, speaking for the union with Sweden. As opposed to Wedel, Løvenskiold was politically no liberal. He was against the idea of the sovereignty of the people, and often belonged to the minority in voting at Eidsvold.
After the union with Sweden was a fact on 4 November 1814, Løvenskiold on 28 November was appointed Norwegian negotiator in the debt settlement proceedings with Denmark, with the title of councillor of state. He held the office until 1817. He now stayed out of politics for some years, except that he in 1821 worked to avoid the abolition of nobility in Norway.
After Prime Minister Matthias Sommerhielm's death in the autumn of 1827, King Carl XIV Johan appointed Løvenskiold prime minister in July 1828. Both Løvenskiold's positive attitude to the union as well as his other opinions was quite in line with the King's thinking.
When Wedel, who in 1836 had become the King's governor-general in Norway, left this office in August 1840, Prime Minister Løvenskiold was appointed governor-general in February 1841. In May 1841 Løvenskiold left Stockholm to take up this new office in Christiania (Oslo).
He remained in the office until June 1856, few months before his death in September that year. After him the office as governor-general in Norway remained vacant until it was replaced by the new office of prime minister in Christiania on 1 July 1873.
Both as prime minister and as governor-general Løvenskiold was at edge with the farmer opposition in the Storting. He opposed the liberal proposal for an act concerning municipal executive boards. When King Carl Johan in the summer of 1836 dissolved the radical Storting of 1835, he had Prime Minister Løvenskiold's full support. For not having advised the King from doing this, Løvenskiold was impeached few days later. The King initially intended to refuse Løvenskiold to meet in court, but Løvenskiold applied for resignation and attended the proceedings. He was sentenced to a fine of 1,000 Norwegian daler, but the King did not allow him to resign from the office as prime minister.
In the field of union politics Løvenskiold underlined that he had been leading in preparing the royal decree on free use of the Norwegian merchant flag in 1838, and that he had been instrumental in having the King appoint the first union commission of 1839.
In his years as the King's governor-general in Christiania from 1841, Løvenskiold was at edge with the young Councillor of State Frederik Stang, who later became first minister and prime minister. At this time Stang was an advocate of liberal reforms and better cooperation between the Government and the Storting, while Løvenskiold was rather sceptical to the political influence from the February Revolution in Paris in 1848. The dawning labour movement in Norway, led by Marcus Thrane, caused profound concern at Løvenskiold's side.
The conflicts between Governor-General Løvenskiold and the Storting continued also after the 1851 elections had returned an even more radical Storting. Løvenskiold advised the King to refuse approving the Storting's decision to allow Jews to enter the realm. So was also the case with the Storting's decisions on railway construction and a mortgage bank. But in these matters the King did not follow Løvenskiold's advice. In general, Løvenskiold upheld his scepticism to democratic reforms – as the right to vote, the Inheritance Act, the Jury Act and the abolishing of the post as the King's governor-general in Christiania. Løvenskiold's view was that the King had an absolute veto in matters concerning the Constitution.
With his attitude and his manner, Løvenskiold was a solitary man in Norway's public life. He was still respected for his open and strong-willed character. He had a reliable, practical and independent judgment, combined with wisdom and knowledge of the human nature. It was said that a powerful humour often lit his stern and solemn face.
Sources:
Norsk Biografisk Leksikon
Herman L. Løvenskiold