Svenn Stray
Acting Prime Minister 1984
Article | Last updated: 25/05/2012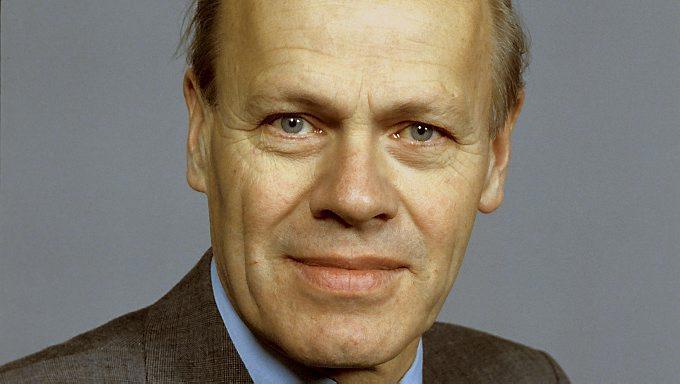 Svenn Thorkild Stray was jurist, lawyer and politician.
Minister of Foreign Affairs 22 May 1970-17 March 1971.
Minister of Foreign Affairs 14 October 1981-9 May 1986. Also acting Prime Minister 17 April 1984-12 June 1984.
Born in Arendal in the County of Aust-Agder 11 February 1922, son of dentist Gudmund Stray (1885-1970) and Anne Johanne Marie Frøstrup (1893-1975).
Married 17 March to 1954 Gwynneth Enoch (1925-), daughter of stores manager and Member of Parliament John Enoch (1898-1971) and Ada Ladysmith Manley (1900-1976).
Deceased in Oslo 20 May 2012.
Svenn Stray grew up in a politically engaged family in Arendal. Following his university qualifying exam in 1941 he took up law studies at the University of Oslo. When German occupation authorities started their student arrests in 1943, Stray fled to Sweden and chose to enrol in the Norwegian police troops. In February 1945 he was part of the Norwegian police force sent to the northern County of Finnmark to take control of areas that had been liberated by Soviet forces.
After the war Stray continued his studies in Oslo and achieved his law degree in 1946. This year he was chairman of the Conservative Students Association and in that capacity also member of the central board of the Conservative Party. At 24, Stray was noted for his courage to challenge long-time party chairman C. J. Hambro on the party's profile and election strategy.
Stray was a deputy judge in Oslo 1947-1948 and in Moss, in the County of Østfold 1948-1950, before establishing his own legal practice in Moss. He was elected chairman of Moss Conservative Party and deputy Member of Storting for the County of Østfold 1949-1953. From 1953 to 1985 he was a full Member of Storting for Østfold. Stray was leader of the Conservative Party's parliamentary group 1965-1970 and vice president of the Storting 1973-1981.
At the Storting Stray was more the patient internal operator than the visible public player. He was central in negotiating Norway's national insurance system. Gradually security and defence politics became his main field of work, due to his membership on the Storting's standing commission of foreign and constitutional affairs.
When John Lyng decided to step down as minister of foreign affairs in Per Borten's government in May 1970, Stray was appointed as his successor. When the government resigned ten months later, Stray returned to the Storting. Ten years later Stray was again appointed minister of foreign affairs, when Kåre Willoch formed his government in October 1981. When this government in June 1983 was reshuffled into a coalition, it was decisive for Willoch that Stray continued as foreign minister.
During Prime Minister Willoch's two months of sick leave in the spring and early summer of 1984, Stray was also acting prime minister.
Svenn Stray's work as foreign minister was marked by his basic view that a small country may achieve the most in its contacts with larger powers by operating so that one is being listened to. His unwillingness to conduct foreign policy via the mass media, and his lack of interest in being in the limelight, made critics claim that he was not sufficiently active in promoting Norwegian views. Still, he saw considerable results of his efforts, not the least within the NATO cooperation.
Svenn Stray was chairman of the Young Conservatives 1950-1954 and vice chairman of the Conservative Party 1962-1970. He was president of the organisations Folk og Forsvar (People and Defence) 1955-1971 and the European Movement 1971-1981.
Source:
Norsk Biografisk Leksikon