Announcement of Awards in Predefined Areas (APA) 2016
Historical archive
Published under: Solberg's Government
Publisher Ministry of Petroleum and Energy
Press release | Date: 17/03/2016
|
No:
008/16
Today, the Ministry of Petroleum and Energy is announcing this year's licensing round for mature areas on the Norwegian continental shelf – Awards in Predefined Areas (APA) 2016.
In the APA 2016 round, the predefined area has been expanded by 24 blocks in the Norwegian Sea and 32 blocks in the Barents Sea. Several blocks are located around the Hansteen field in the Norwegian Sea. In the Barents Sea the blocks are mainly located in the area around the discoveries Castberg, Alta and Gotha. Additional resources in the area surrounding a planned or producing field may increase profitability, optimize utilization of resources and value creation from the petroleum resources.
"Awarding prospective exploration acreage is a central element in the Government's policies. Our licensing policy promotes effective resource management, high value creation and employment. These are all-important factors, particularly in light of the challenging situation in the industry, says Minister of Petroleum and Energy Tord Lien.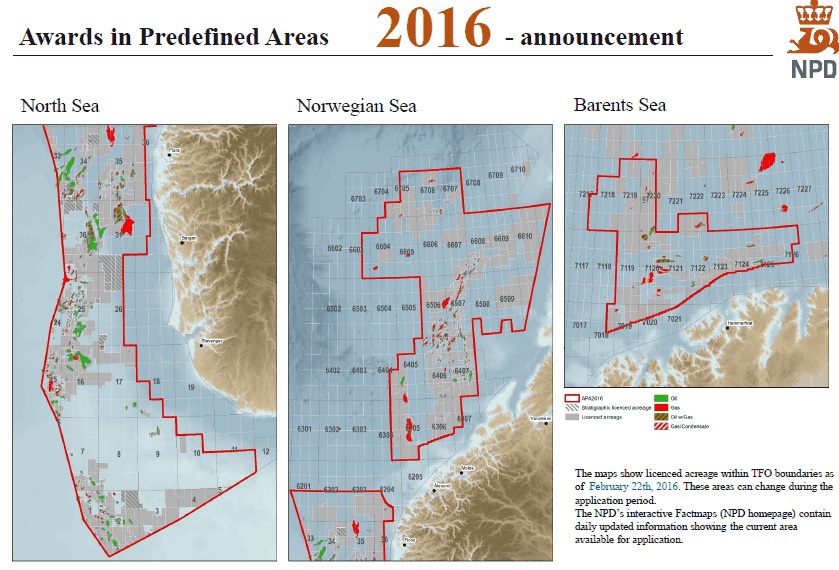 A complete announcement text, an updated map of the announced blocks, health, safety and environment (HSE), environmental and fisheries conditions and further information are available on the website of the Norwegian Petroleum Directorate.
The application deadline for companies is 12 pm noon on 6th of September 2016.The aim is to award new production licences in the announced areas at the beginning of 2017.
Background
Awards in Predefined Areas (APA), is one of two equal licensing rounds on the Norwegian continental shelf. The scheme was introduced in 2003 to facilitate exploration of geologically mature parts of the shelf using current methods.
The APA area includes the geologically most mature parts of the Norwegian continental shelf. The expected size of discoveries in these mature areas is smaller. Exploration largely focuses on smaller discoveries that would not justify independent development but may be profitable if developed in conjunction with other discoveries and/or utilising existing or planned infrastructure.
Exploration of these areas by using up-to-date methods is therefore important. Effective exploration requires predictability regarding the areas that can be applied for under the APA system, and a steady stream of new acreage. The APA rounds are therefore organised annually.
An evaluation is undertaken every year as to whether the area covered by the system (the APA area), should be expanded. Assessments by petroleum experts determine whether new areas should be added to the APA area. The area is expanded as new areas mature.
Petroleum activities in Norway are subject to stringent health, safety and environment requirements, as well as requirements to safeguard the external environment. Significant emphasis is placed on ensuring sound co-existence with other industries.