Christian Michelet
Acting Prime Minister 1923
Article | Last updated: 24/05/2011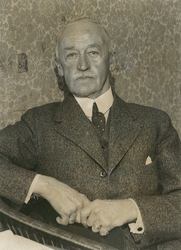 Christian Fredrik Michelet was lawyer and politician.
(Photo: Oslobilder).
Minister of Foreign Affairs 21 June 1920-22 June 1921.
Minister of Foreign Affairs 6 March-30 May 1923, acting Prime Minister 24 March-30 May 1923.
Minister of Foreign Affairs 30 May 1923-25 July 1924.
Born in Christiania (Oslo) 23 June 1863, son of lieutenant colonel Georg Ove von Ramel Michelet and Anna Beata Stang.
Married in Kristiania (Oslo) 9 May 1888 to Elisabeth (Betzy) Holmsen (born 1867), daughter of head of division Nils Nilson Holmsen and Helga Young.
Deceased at Birkeli in Eastern Bærum 25 July 1927. Buried at Haslum Cemetery in Bærum.
Christian Michelet belonged to a family with long military traditions, but due to weak health he chose a juridical career. He entered the University of Kristiania in 1881 and achieved his law degree in 1888. Following a year abroad he served as district stipendiary magistrate clerk and solicitor's clerk until he in 1890 established a legal practice together with his colleague Edmund Harbitz. The firm was soon well reputed, and Michelet was also appointed to central posts in business life – as in Elektrisk Bureau, Tofte Cellulosefabrik and Den norske Creditbank.
In 1897 Michelet became engaged in local politics in Bærum, where he had settled after purchasing the Birkeli property at Fornebu. He was a popular mayor of Bærum 1899-1910, but left the post as he in 1909 had been elected to the Storting from the constituency of Bærum and Follo.
There were several reasons for Michelet's political interest, among them his admiration for his uncle Carl Johan Michelet who was county governor and Member of Storting, his colleague Edmund Harbitz who was chairman of the Conservative Party 1905-1908 and his general interest in social issues. At the Storting he came to work on various standing committees, but only really settled in when he in 1919 became president of the standing committee on constitutional affairs. Michelet combined a free and daring style in the corridors with a precise and fascinating form at the Storting's rostrum.
In June 1920 Michelet reluctantly accepted to be appointed minister of foreign affairs in Otto B. Halvorsen's First Government until June 1921, an office he returned to in Halvorsen's Second Government in March 1923 and in Abraham Berge's Government 1923-1924. When Halvorsen suddenly became ill in March 1923, Michelet was acting prime minister in the two months until Berge was appointed in May.
As minister of foreign affairs Michelet handled several major issues, as the Danish-Norwegian conflict over Greenland and the liberalisation of Norway's alcohol policy. The latter involved the reopening of wine and spirits import from Southern-European countries, in order to avoid a trade war. Michelet' understanding was that Norway's alcohol ban could not stand.
Nationally Michelet's years in government were marked by a railway strike in 1920, a general strike in 1921 and the economic recession from 1923. In this situation the Government's secret economic support to Den norske Handelsbank led to the later impeachment of the Government's members. They were all freed in March 1927, but the case was a major strain for Michelet and others.
In 1921 Michelet had rejected re-election to the Storting and withdrawn from all public activities except the office as minister of foreign affairs. Following three years out of politics he had during the summer of 1927 decided to return. He had promised to participate at the assembly of the League of Nations in September, and had agreed to nomination for the Conservative Party in the County of Akershus in the Storting elections.
However, in July 1927 Michelet died of an accidental shot at his home at Birkeli, while releasing a jammed cartridge in a saloon rifle.
At Michelet's funeral it was said that Norway's public life had suffered a great loss. For the Conservative Party this was the second time in four years that one of its leading persons had died, after Prime Minister Halvorsen's death in 1923.
Source:
Norsk Biografisk Leksikon
Paul Thyness