Article | Last updated: 21/03/2012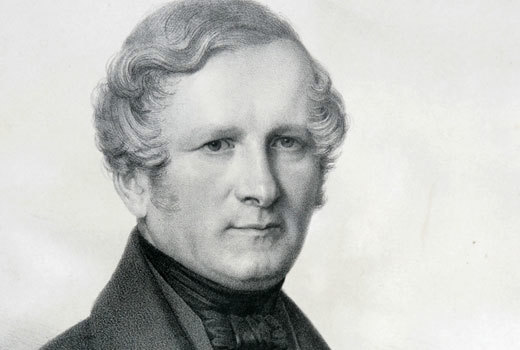 Frederik Gottschalck Haxthausen Due was military officer, civil servant and politician. First Norwegian prime minister not belonging to the nobility.
State Secretary at the Norwegian Council of State Division in Stockholm 3 October 1822-27 February 1841. Acting Councillor of State in Stockholm September-November 1828, acting Councillor of State in Stockholm April-June 1836, acting Councillor of State in Stockholm June-July 1837.
Prime Minister 27 February 1841-16 December 1858.
Born in Trondhjem 14 April 1796, son of merchant Carsten Schjødt Due (1762-1809) and Pauline Heltzen (1776-1850).
Married in Christiania (Oslo) 28 February 1828 to Alethe Wilhelmine Georgine Sibbern (1812-1887), daughter of later councillor of state Valentin Christian Wilhelm Sibbern (1779-1853) and Anne Cathrine de Stockfleth (1785-1865).
Grand-nephew of Councillor of State Frederik Haxthausen. Brother-in-law of Prime Minister Georg Sibbern.
Deceased in Christiania 16 October 1873. Buried at Vår Frelsers gravlund (Our Saviour Cemetery) in Christiania.
Frederik Due grew up in Trondhjem. On his mother's side he was a grand-nephew of Councillor of State Frederik Gottschalck von Haxthausen (1750-1825). His father's family came from Duved in Jämtland, Sweden.
At the age of 13 Due became an artillery cadet in Copenhagen, ending his training as a non-commissioned officer in 1813 as second lieutenant. He participated in Denmark-Norway's war against Sweden in 1814. Shortly after the Swedish-Norwegian union had been established in late 1814, Due was approached by the Royal Palace in Stockholm. In 1815 Crown Prince Carl Johan appointed him adjutant to Prince Oscar. He continued on this post also when the Prince in 1818 became crown prince, when Carl Johan at the death of King Carl XII became King Carl XIV Johan.
With his affable character and his fluency in French Due's links to the Palace gave his career a rapid start. He became lieutenant in 1818, captain in 1819 and major in 1822. This year he also became acting Norwegian state secretary in Stockholm – that is head of the secretariat of the Norwegian Council of State Division there. He was formally appointed to the post in 1823. At the age of just 27 Due now served in an office where he also was French-speaking King Carl Johan's interpreter during sessions of the Norwegian Council of State. He also presented all Norwegian matters to the King in French before the King's meetings with his Norwegian ministers.
Due was never criticised for having exploited his close relationship with the King. Rather, Due had a reassuring effect on the impulsive monarch, so that possible crises between the King and his Norwegian government were avoided.
When Prime Minister Severin Løvenskiold in February 1841 was appointed to the office as the King's governor-general in Christiania, the politically inexperienced Due was appointed to succeed him in Stockholm. Due's lack of political experience quickly led to a constitutional crisis, as he kept the government in Christiania out of negotiations on the Øresund customs. The issue almost led to Due's impeachment. After this episode he conducted the office as prime minister in a tactful and correct way.
King Oscar I did not value Due less highly than King Carl Johan had done. However, when Crown Prince Carl became regent during King Oscar's illness in 1858, tensions increased between the King and the Norwegian Government. The First Minister in Christiania, Jørgen Vogt, applied for resignation in early December 1858. As a result Due resigned in mid-December.
Due was now appointed Swedish-Norwegian ambassador to the courts in Vienna and Munich, an office he held for the next 13 years. He resigned from public service in October 1871. After living in Copenhagen for a couple of years, Due moved to Christiania in July 1873. He died there some months later.
Source:
Norsk Biografisk Leksikon