Nils Trædal
Acting Prime Minister 1932
Article | Last updated: 30/05/2011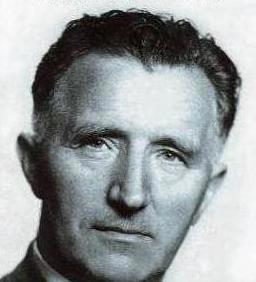 Nils Trædal was a Lutheran priest and politician.
(Photo: nyhetsspeilet.no).
Councillor of State 12 May 1931-14 March 1932, Chief of the Ministry of Church and Education. Acting Prime Minister and acting Minister of Foreign Affairs 29 February-10 March 1932.
Councillor of State 14 March 1932-3 March 1933, Chief of the Ministry of Church and Education.
Born in Sunndal in the County of Southern Trondhjem (Møre and Romsdal) 29 November 1879, son of farmer Ole Nilsen Trædal (1853-1925) and Synnøve Haaven (1853-1917).
Married in Kolvereid 15 October 1918 to Gunda Amalie Ruth Holm (born 1897), daughter of shopkeeper Ole Ivar Holm (born 1869) and Marie Ulberg (born 1873).
Deceased in Oslo 12 October 1948. Buried at Støren Cemetery in the County of Sør-Trøndelag.
Nils Trædal was raised in a farming community marked by an open-minded version of Norwegian Pietism. Following intermediate school at Volda in 1900 and university qualifying examination at Ragna Nielsen School in Kristiania (Oslo) in 1902, he took up sciences studies at the University of Kristiania. In 1904 he switched to theology, graduating in 1910.
After having been ordained a priest in the (Lutheran) Church of Norway, Trædal was for a while curate in the Diocese of Trondhjem (Nidaros), before becoming vicar of Kolvereid in 1911 and in 1918 rural dean of Ytre Namdal – both in the same diocese. As a priest he represented a down-to-earth, practical Christianity.
Trædal's political activity began during his years as vicar of Kolvereid, when he also served as the local mayor from 1914 to 1919, representing the Liberal Party. In 1919 he was one of the authors of the oppositional "Sunnmørs Programmet" at the Liberal Party's congress, intended to strengthen the party's rural policy and improve conditions in the countryside. This led to him being excluded from the Liberal Party, and in 1920 he joined the new Farmers' Party (Agrarian Party).
In May 1931 Trædal entered national politics, as minister of church and education in Peder Kolstad's Farmers' Party Government. When Kolstad fell ill in February 1932, Foreign Minister Birger Braadland became acting prime minister. However, when Braadland had to attend a League of Nations meeting in Geneva, it fell to Trædal as next in rank to be both acting prime minister and acting minister of foreign affairs from 29 February to 10 March. When Jens Hundseid's Farmers' Party Government took over four days later, Trædal continued as minister of church and education.
In 1932 Trædal had been appointed vicar of Støren in Nidaros, but already some months after Hundseid's Government had stepped down in the spring of 1933, he was elected to the Storting. In 1934 Trædal was elected vice-chairman of the Norwegian Farmers' Union, in 1935 vice-chairman of the Farmers' Party and in 1938 chairman of the Farmers' Party.
In the autumn of 1940, after Nazi Germany's occupation of Norway, Trædal played an active role in preventing the Farmers' Party from becoming a department of the Nazi party Nasjonal Samling (NS), which was led by Trædal's former government colleague Vidkun Quisling. Trædal was the Farmers' Party representative in negotiations with the German occupation authorities during the summer of 1940, and then switched to underground work – as an XU agent and in other ways.
As a priest Trædal repeatedly criticised NS authorities in his sermons, before discontinuing the state part of his office in the spring of 1942, together with all Church of Norway bishops and most of the priests.
Trædal belonged to the rural opposition in the Norwegian Resistance Movement, and vigorously opposed the plans for a military transition rule at the German capitulation, and also against the attempt in May 1945 to establish a government with Supreme Court Chief Justice Paal Berg as prime minister. Already in the summer of 1945 Trædal was the first Member of Storting to speak of reconciliation and against the re-introduction of capital punishment - even though his son Olav had died in a German prison camp few months before.
Trædal opposed all attempts to make theological issues and religion part of the political debate, and had little understanding for the establishing of the Christian Democratic Party.
In late 1948 Trædal died of head injuries when he, probably by accident, fell through a window in the Oslo apartment building where he had a small flat. He was buried at Støren Church, but memorial statues have been erected also at his native Hov Church in Sunndal and at Kolvereid Church.
Sources:
Norsk Biografisk Leksikon
Johan J. Jakobsen