Marcus Rosenkrantz
First Minister 1814 - 1815
Article | Last updated: 01/06/2011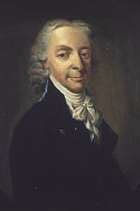 Marcus Gjøe Rosenkrantz was landowner, county governor and politician. (Painting: Christian August Lorentzen, photo: Eidsvoll1814).
Councillor of Government 2 March-19 May 1814, Chief of Rigsbanken (Danish National Bank) in Norway.
Councillor of State 19 May-11 November 1814, Chief of Rigsbanken in Norway. Chairman of the Committee on Enlightenment 4 June 1814, First Minister 20 August 1814, Chairman of the Interim Government 10 October-11 November 1814.
Confirmed in office 11 November 1814. Resigned 12 January 1815.
Born at Randesund near Christianssand (Kristiansand) 25 January 1762, son of Major Otto Christian Rosenkrantz (1727-1785) and Karen Johanne Rønning (1719-1779).
Married 19 February 1791 to Amalia Tugendreich Barner (1768-1792), daughter of Major General Helmuth Gotthard Barner (1714-1775) and Henriette Margrethe Lente-Adeler (1731-1786).
Married 21 June 1796 to Maren Juel (1749-1815), daughter of Councillor Hans Juel (1702-1765) and Else Sophie Dorothea Rasch (1723-1807).
Younger brother of Niels Rosenkrantz (1757-1824), Denmark-Norway's/Denmark's foreign minister 1810-1824. They belonged to an impoverished branch of one of Denmark's leading aristocratic families.
Deceased in Christiania (Oslo) 11 May 1838. Buried at Vår Frelsers gravlund (Our Savior Cemetery) in Christiania.
After a year at military school in Christiania, bad vision led to Rosenkrantz being declared unsuited for military service in 1777. A sister of his father then paid for his law studies in Copenhagen, where he achieved his law degree in 1784. He now returned to Christiania to work at the Crown Court, from 1787 as judge.
A legacy from a distant relative made Rosenkrantz leave the Crown Court in 1790, and buy Lerbæk Manor near Frederikshavn in Jylland, Denmark. When his first wife died the following year, he sold the manor and returned to Christiania, where he became president of the city board.
In 1796 Rosenkrantz married the wealthy widow Maren Juel, who had considerable landed property in Aker (Stubljan and Hvitebjørnbruket manors) and in the County of Smaalenene (Borregaard and Hafslund manors). The following year Rosenkrantz resigned from the presidency of Christiania's city board. The couple settled at Hafslund Manor, from where he would now manage his wife's property and business. He gradually became one of the country's major sawmill owners and timber exporters.
In 1804 Rosenkrantz was appointed county governor of Smaalenene. When the Napoleonic War in 1807 made it necessary to establish an interim government commission in Christiania, as communications between Norway and Denmark were blocked, Rosenkrantz was appointed member of the commission. When the commission was dissolved in 1810 he became diocesan county governor of Akershus. He was also member of the Intermediate Criminal Court. In 1813 he was appointed chief of the Danish National Bank's new division in Norway, and left the office as county governor.
Rosenkrantz was among the 21 leading men who participated in Prince Christian Frederik's meeting at Eidsvold in February 1814, to discuss Norway's position after the winning powers in the Napoleonic War had transferred Norway from Danish to Swedish sovereignty in the Kiel Peace Treaty. Rosenkrantz was among those who advised the Prince not to claim Norway's throne on the basis of the Royal Act of 1665, but to summon a national assembly.
When Christian Frederik appointed his government council on 2 March 1814, Rosenkrantz became member – as chief of the Norwegian division of the Danish National Bank. He continued as councillor of state when the council had its name changed by the National Assembly on 19 May 1814, and on 4 June became chairman of the Committee on Enlightenment – the forerunner of the Ministry of Church and Education.
When Councillor of State Frederik Haxthausen resigned in August 1814, Rosenkrantz was senior councillor of state until mid-November 1814. After King Christian Frederik's abdication in early October Rosenkrantz was also president of the Norwegian Council of State – that is acting head of state – until the Storting accepted the union with Sweden in early November 1814. He continued as member of the first Wedel Government until 12 January 1815, as first minister in Christiania and chief of Rigsbanken in Norway.
After Maren Juel's death in 1815 Rosenkrantz' financial position became difficult, in line with the decline in the timber trade. He settled in Frederikshald (Halden) in 1825, where he at the death of his brother Niels had the entire family archive transferred from Rosenholm Castle in Jylland, Denmark. The following year the archive was lost in a large city fire.
Rosenkrantz spent his last years in Christiania, on state pension.
Source:
Norsk Biografisk Leksikon