Johan Ludwig Mowinckel
Prime Minister 1924 - 1926, 1928 - 1931 and 1933 - 1935
Article | Last updated: 30/05/2011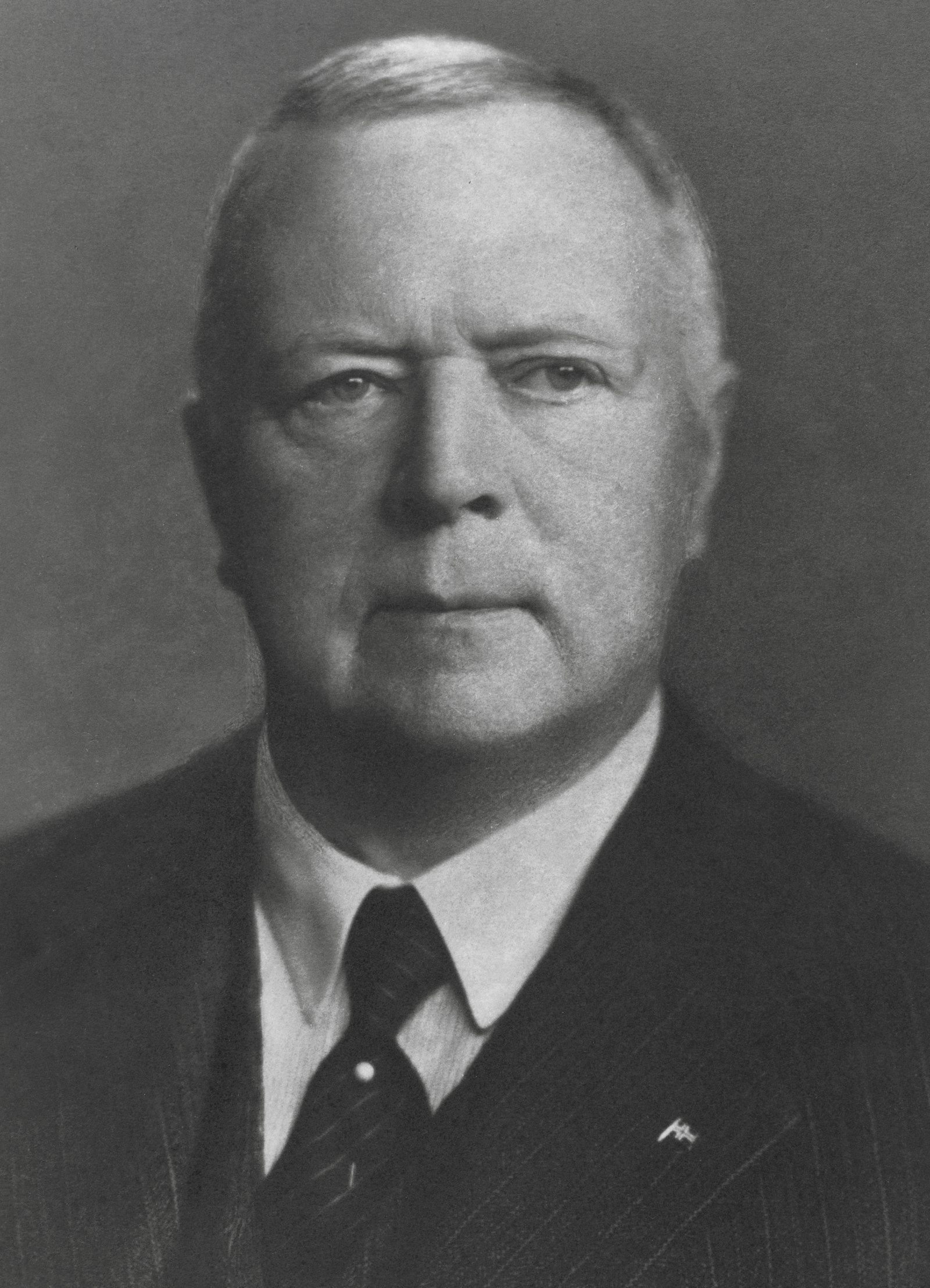 Johan Ludwig Mowinckel was ship owner and politician.
Councillor of State 22 June 1921-6 March 1923, Chief of the Ministry of Trade. Also Minister of Foreign Affairs from 31 May 1922, Minister of Foreign Affairs 20 October 1922.

Prime Minister 25 July 1924-5 March 1926, also Minister of Foreign Affairs.

Prime Minister 15 February 1928-12 May 1931, also Minister of Foreign Affairs.

Prime Minister 3 March 1933-20 March 1935, also Minister of Foreign Affairs.

Councillor of State without ministry 22 April 1940-5 June 1942, Government representative in Stockholm.
Born in Bergen 22 October 1870, son of merchant Johan Anton Wilhelm Mohr Mowinckel (1843-1918) and Edvardine Magdalene Margrethe Müller (1851-1871).
Married 9 October 1894 to Caroline Andrea Stabell (1871-1898), daughter of physician Fredrik Wilhelm Stabell (1836-1900) and Catharine Christine Sundt (1851-1922).
Married 9 April 1902 to Sigfrid Sundt (born 1882) (cousin of Caroline Stabell), daughter of merchant Gerhardt Sundt (1850-1910) and Anna Sophie Jebsen (born 1859). Marriage dissolved 1913.
Married 25 September 1917 to Julie Gran (1882-1972), daughter of merchant Jens Gran and Eveline ("Evy") Johanne Lemkuhl (1857-1940).
Deceased in New York City 30 September 1943. Buried at St. Jacob Cemetery in Bergen.
Johan Ludwig Mowinckel was born into one of Bergen's old merchant families. After university qualifying examination, he went abroad in 1899 to study language and business in shipbroker companies in Bremen and London.
In 1893 Mowinckel returned home and was engaged in later prime minister Christian Michelsen's shipping company. After some years he bought a ship on his own and in 1901 established his own company. In 1912 Mowinckel turned this shipping partnership into a limited company with several ships: A/S J. Ludwig Mowinckels Dampskibsrederi (J. Ludwig Mowinckel's Steamship Company Ltd.) – one of Bergen's three largest. The company kept its position into the interwar period, when it saw major growth in tanker and liner trade.
Mowinckel early on was engaged in efforts to strengthen the shipping industry in general, and was one of the founders of the Norwegian Shipowner's Association in 1909. After the outbreak of the First World War in 1914 he led the work to establish a compulsory war risk assurance for Norwegian ships.
Already from 1893 Mowinckel was politically engaged in Bergen, initially through Bergen Liberal Union. In 1899 he was elected chairman of Bergen Liberal Association. He became member of the municipal council and its executive board in 1898 and was mayor of Bergen 1902-1906 and 1911-1913.
In 1906 Mowinckel joined the Liberal Party's national board and was elected Member of the Storting for Bergen. At the Storting he joined the Liberal opposition to Christian Michelsen's union policy, and was one of the leading forces in what came to be Gunnar Knudsen's consolidation of the Liberal Party in 1908.
Until 1921 Mowinckel's profile in national politics was that of the radical and eager polemist often provoking opponents as well as supporters. For a long period he was close to Johan Castberg, working to preserve close relations between the Liberal Party and Castberg's non-socialist Labour Democrats. In practical politics, however, Mowinckel belonged to the Liberal Party's mainstream, as a loyal supporter of Gunnar Knudsen. In 1916 Mowinckel became chairman of the Liberal Party's parliamentary group and was elected president of the Storting.
During 1916 Mowinckel indicated a more independent line in relation to Prime Minister Gunnar Knudsen, i.a. by a more critical attitude to the Government's neutralism during the First World War. Mowinckel wanted a neutralism that could be credible also seen from the German side. In February 1917 he stated his dissatisfaction by proposing a coalition government of all parties. However, the proposal did not receive sufficient support in the Liberal Party's parliamentary group.
Mowinckel had represented Bergen at the Storting 1906-1909 and 1913-1918, but was rejected in the 1918 elections. Contributing to this had been his support to the norwegianisation of the Danish names of cities, counties and Church of Norway dioceses, supporting "Bjørgvin bispedømme" (Diocese of Bjørgvin) as the new name of what was then "Bergens stift".
For the next couple of years Mowinckel remained outside national politics and was able to present his own political profile more clearly. In economic policy he cultivated an industrial liberalism in opposition to the crisis policy during the First World War as well as to Gunnar Knudsen's belief in an active state.
When Knudsen withdrew from active politics in 1921 and the Liberal Party formed government under Otto Blehr's leadership, Mowinckel was appointed minister of trade and later minister of foreign affairs. As he had left the Church of Norway in earlier years, Mowinckel had not been electable as a member of government until a change of Norway's constitution in 1919.
In 1921 Mowinckel was also re-elected to the Storting. In the Government as well as in the Liberal Party's parliamentary group Mowinckel now became the real leader, and the next time the Liberals formed a government – in 1924 – he was the obvious candidate for the post as prime minister. Mowinckel now remained the Liberal Party's leader for the rest of the interwar period, alternating between the posts as prime minister and parliamentary leader. From 1927 he was also the Liberal Party's elected chairman.
Mowinckel led three governments - 1924-1926, 1928-1931 and 1933-1935. They all had a weak basis in the Storting, in a time dominated by economic and fiscal crisis. Mowinckel was forced to make some deviations from his principal economic liberalism, through temporary crisis measures.
In particular Mowinckel's doctrine of economic self-help was put to a test by the debt and sales crisis in the agricultural sector from around 1930. An agricultural policy solely concentrating on productivity measures, led to sharp controversies between Mowinckel and the Agrarian Party (Farmers' Party). In 1935 this caused the Agrarian Party to join forces with the Labour Party to oust Mowinckel's Third Government.
Mowinckel had rejected the forming of non-socialist alliances against the Labour Party, preferring a minority parliamentarism with the Liberal Party in the decisive position. The 1935 shift of government and the 1936 elections made a new Liberal government less probable, and did not alter Mowinckel's attitude to the forming of non-socialist alliances. Gradually he now became comfortable with a factual cooperation with Johan Nygaardsvold's Labour Government, in particular in the field of security politics.
In all his years as prime minister Mowinckel was also minister of foreign affairs. The main elements in his foreign and security policy were free trade, arbitration agreements and neutrality. He had a strong faith in economic cooperation as an appeasing factor between states, and attempted to check protectionist tendencies in the Norwegian customs policy in the 1920's.
In 1930 Mowinckel initiated the Oslo Convention on customs cooperation between Norway, Denmark and the BeNeLux countries, to prevent higher customs walls. He was also the central Norwegian force to achieve an arbitration agreement between the Nordic countries in 1925-1927.
Mowinckel was convinced that a wise foreign policy was Norway's best defence, and the critical development in Europe towards the end of the 1930's did not weaken this attitude. Neutralism, a minimal military defence and close and friendly relations to Great Britain were his main pillars.
Mowinckel participated actively in the work of the League of Nations, although in doubt whether Norway might benefit from this collective security system. Rather, he saw the risk that this might drag Norway into dangerous conflicts, and he took the initiative to release Norway from the duty of participating in sanctions.
Mowinckel's foreign policy line was defeated when Nazi Germany invaded Norway on 9 April 1940. When Nygaardsvold's Labour Government was extended to a coalition government on 22 April, Mowinckel was appointed as government minister based at the Norwegian embassy in Stockholm.
Together with his colleague Rasmus Frihagen Mowinckel reported to the Norwegian Government in exile in London on the situation in occupied Norway. As some of the reports were strongly marked by the defeatism dominant in Oslo during the first months of occupation, and as Mowinckel had been responsible for the pre-war security policy, there was dissatisfaction that Mowinckel was member of the Government.
In the spring of 1942 Prime Minister Nygaardsvold therefore decided to offer Mowinckel a leading post on Nortraship – the governing body of the requisitioned Norwegian merchant fleet, a post that could not be combined with being member of the Government. Mowinckel accepted, tendered his resignation from the Government and went to New York in May 1942 to take over as chairman of the advisory committee to the Norwegian shipping director.
However, Mowinckel's service on this post would not last long. He had been seriously ill in the autumn of 1941, and in 1943 his health failed once more. Mowinckel died in New York City on 30 September 1943.
Sources:
Norsk Biografisk Leksikon
Bergen Joint Parish Council