Strategic Benchmark Index
Government Pension Fund Norway (GPFN)
The objective for the management of the GPFN is to maximise financial returns as measured in Norwegian kroner, given a moderate level of risk. The strategic benchmark index adopted by the Ministry forms the basis for the management of the GPFN.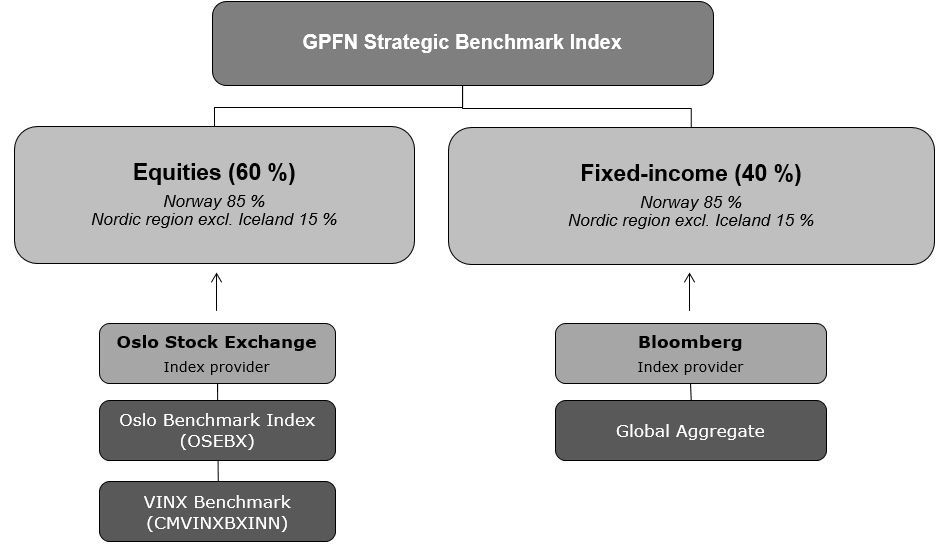 Source: Ministry of Finance
The benchmark index is composed of four separate sub-indices and provides a detailed description as to how the assets of the fund shall, as a main rule, be invested. The benchmark is divided into equities (60 percent) and fixed income instruments (40 percent), and into two geographical regions; Norway (85 percent) and the Nordic region excluding Iceland (15 percent).
Oslo Stock Exchange has been chosen as the provider of the two equity benchmarks, whilst Bloomberg (1) is the provider of the benchmarks for fixed income instruments. The composition of the benchmark index is described in detail in the management mandate for the GPFN.
(1) Bloomberg L.P. completed its acquisition of Barclays Risk Analytics and Index Solutions Ltd. from Barclays PLC on August 24, 2016.