Governance Framework
Government Pension Fund Norway (GPFN)
The Storting has in the Government Pension Fund Act, made the Ministry of Finance responsible for the management of the Government Pension Fund Norway (GPFN). The operational management of the Fund is carried out by Folketrygdfondet. The Ministry has issued provisions on the management in a separate mandate.
The mandate describes the general investment framework for the Fund and stipulates requirements with regard to risk management, reporting and responsible management. The mandate is general in nature and principle-based, and is premised on Folketrygdfondet adopting more detailed internal rules.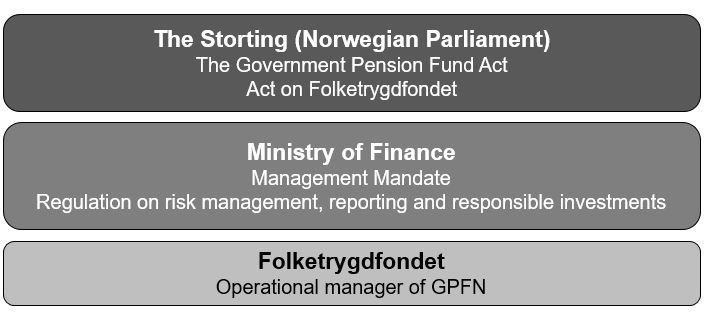 Folketrygdfondet may, within certain limits, deviate from the benchmark. The purpose of such deviations is to facilitate a cost-effective execution of the management assignment and to improve the performance of the Fund. The Ministry has stipulated a 3 percentage point per year limit on deviations as measured by tracking error.