The launching of the Government's plan of action for the implementation of UN Security Council resolution 1325 (2000) on women, peace and security
Historical archive
Published under: Regjeringen Stoltenberg II
Publisher Utenriksdepartementet
Speech/statement | Date: 10.03.2006
Much has already been done, and we have made a great deal of progress. It is beginning to be generally accepted that the gender perspective must be included in all the areas on the international agenda, says Foreign Minister Jonas Gahr Støre. (10.03.06)
Foreign Minister Jonas Gahr Støre
The launching of the Government's plan of action for the implementation of UN Security Council resolution 1325 (2000) on women, peace and security
Oslo, 8 March 2006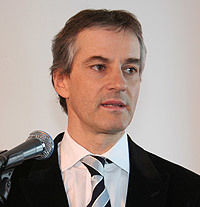 Translation from the Norwegian
Check against delivery
Congratulations on International Women's Day!
This day is devoted to promoting human worth, promoting equality between women and men. It is a symbolic day, a day that has long traditions, a good day. A day for celebrating, and a day for pointing out everything that hasn't been accomplished. And a day for being concrete.
The last of these is the reason why we are here today. To present a plan of action to improve the situation of the most vulnerable of all women, those affected by war and conflict.
This reminds me of an article in Aftenposten last summer about a woman named Marguerite Barankitse in the town of Ruyigi in Burundi. She is known as Maggy, and everybody knows her. She heads the organisation Maison Shalom, which builds houses for orphans and helps former child soldiers with schooling and finding jobs. Hutu children live next door to Tutsi children. With a simple message of reconciliation and love, she gives the children of the Burundi massacres hope. Marguerite says that the new generation must overcome their parents' hate. More than 400 houses have given more than 10 000 children a new start.
This is a story of hope. But also of despair and struggle, where this one woman symbolises the burden borne through the ages by women all over the world during and after a conflict.
Promoting equality between women and men has been on the international agenda for a long time. Adopting the gender perspective means recognising that all people have equal rights and the same human worth.
When Nobel Peace Laureate Shirin Ebadi received the prize in Oslo on 10 November 2003, she said, "… it is not so easy to rule over a people who are aware of their rights, using traditional, patriarchal and paternalistic methods." She also said: "Women constitute half of the population of every country. To disregard women and bar them from active participation in political, social, economic and cultural life would in fact be tantamount to depriving the entire population of every society of half its capability."
Much has already been done, and we have made a great deal of progress. It is beginning to be generally accepted that the gender perspective must be included in all the areas on the international agenda. This applies not least here in Norway and to what Norway can do, which is what this event and the launching of the action plan for the implementation of Security Council resolution 1325 is all about.
But we still have a long way to go before the significance of gender equality is fully recognised – and accepted. There are still some people who regard women's rights as different from and less important than human rights.
We still have a long way to go before the gender perspective has been fully integrated into our efforts to promote peace and security. This is what we have to try to change.
We are living in a world where there are internal, violent conflicts in many countries – weak states that lack basic social structures, where rival groups vie for political power, where small elites exploit the country's resources for their own private purposes. This is happening in Africa, Asia and Latin America – and also in Europe.
The civilian population is always particularly vulnerable in such conflicts.
And there is one thing that never seems to change: women are most severely affected. Women are most vulnerable to poverty, hunger, disease, abuse.
Armed conflicts arise in societies where conditions are not conducive to respect for human rights.
Armed conflicts take place in societies where women have been subject to discrimination, oppression and violence for a long time. This is aggravated by the conflicts.
There is a clear connection between security, democracy and welfare. Societies where democracy functions and human rights are respected are more secure. Only when the social structures are in place can a country concentrate on the security and welfare of its citizens. Of all its citizens.
Both women and men must be able to use their creativity and participate in society if we are to achieve equitable and sustainable development. I know this sounds obvious, but we must remind ourselves of it. If the international community is to succeed in meeting the many formidable global challenges it is facing, we must draw on all the human capital that exists, on all of humanity. No country can afford to exclude half of its population, as Ms Ebadi reminds us.
In many of today's conflicts, women are excluded from conflict management and from managing peace and reconciliation processes.
It is obvious that this is not how it should be. The involvement of women would have provided a far better – and broader – basis for finding solutions. Women's experience, knowledge, networks, contributions to welfare and development, to dialogue and reconciliation, their alternative approaches – all of this would provide a better basis for managing conflicts and peace processes.
If the gender perspective is integrated into peace processes, this will increase women's political, economic and social participation, increase their control over their own lives, and enhance the prospects of building lasting peace within a democratic framework. This is the main message of the plan of action.
Women play a key role in efforts to develop peace strategies, and in efforts to ensure that political solutions are accepted by the people of a country – and implemented.
Research and experience show that many of the resources the international community employs in conflict situations are not effective enough. Peace processes break down, and post-conflict reconstruction is an extremely difficult task.
Nonetheless, perceptions of what is needed to create lasting peace have changed.
We are talking about complex conflict situations. About dealing with problems with a whole range of different means – military and civilian, short-term and long-term. We are talking about humanitarian efforts and aid.
And we are talking about the critical transition from humanitarian aid in a crisis to development and reconstruction once peace has finally been made. Here the UN is taking a new approach in establishing a Peacebuilding Commission, which is intended to coordinate our efforts in this critical phase. And here the situation and interests of women must be given a more prominent role.
The discussion on the gender aspects of conflict led to the UN Security Council adopting resolution 1325 on women, peace and security five years ago.
The purpose was to establish that the situation of women and their resources have a central role in preventing and resolving conflicts. The resolution takes both a rights perspective – acknowledging the importance of safeguarding women's human rights in a conflict situation – and a pragmatic perspective – acknowledging the fact that the participation of women is essential to all aspects of promoting peace and security, managing conflicts and building and maintaining peace.
Our guest of honour here today is Elisabeth Rehn, former Finnish Minister of Defence, who, together with the recently elected president of Liberia, Ellen Johnson Sirleaf, wrote the book Women, War, Peace for UNIFEM in 2002. The two women travelled all over the world documenting women's situation and their participation in war and conflict areas. Today their book is an important tool and source of inspiration to us in our efforts to follow up resolution 1325.
Today we have special reason to have the newly elected president of war-ravaged Liberia in our thoughts. Norwegian Minister of International Development Erik Solheim visited Ms Sirleaf a few days ago. Liberia has a new leader who inspires hope and confidence. We must be ready to give her our support.
Resolution 1325 is important. But as we all know, resolutions in themselves don't solve any problems.
Although the resolution is binding on all the member states of the UN, it has been no easy task to put the good intentions into practice. The responsibility for following up the resolution lies with the individual member states and regional organisations such as the OSCE, NATO, the EU and the AU, and with the UN system.
The resolution did not establish an internationally recognised follow-up or monitoring mechanism. The responsibility for follow-up and monitoring lies with the authorities and civil society.
For a long time Norway has been at the forefront of efforts to promote gender equality, internationally, regionally and nationally. Norway has taken a leading role in applying the gender perspective to peacekeeping and post-conflict reconstruction.
However, we have not been effective and systematic enough. We see this now. We haven't had an overall strategy, a plan that takes account of the gender perspective in the context of international peacebuilding efforts and what is needed in terms of coordinated national efforts.
The Ministry of Foreign Affairs has been responsible for coordinating the work on the Norwegian action plan, which has been drawn up in cooperation with the Ministries of Defence, Justice and the Police, and Children and Equality.
And equally important, a dialogue and contact have been established with Norwegian NGOs and research institutions. Here Norway has a great deal of experience we can draw on – and share with others. This is one element of a Norwegian model that has proved to be very effective.
The plan of action is thus the product of broad-based cooperation. Its purpose is to systematise efforts to promote peace, security and a more democratic society. Now the plan is to be put into practice, and it is vital that we succeed. The process that has begun bodes well.
I would like to express special thanks to Helga Hernes, Torunn Tryggestad and Siri Johansen. You have done a great job of compiling all the ideas and comments and combining them to produce a coherent the plan of action.
Together with Denmark, Sweden and the UK, Norway is one of the first countries to draw up an action plan for implementing resolution 1325. We are presenting this plan for three reasons:
First, coherence. An overall strategy and systematic follow-up will make it possible to utilise all existing resources efficiently.
Second, visibility and measurability. The plan will spotlight our ambitions and set benchmarks for our efforts. And we are happy to compete with other countries.
Third, dialogue and process. We are interested in openness and debate on the plan of action. The document is not an exhaustive, finished product that can never be altered. It is a plan in progress, which can be adjusted, altered and improved. We will report regularly on its progress, and will encourage debate and discussion.
Again, congratulations on International Women's Day!