Statsminister Jens Stoltenberg
Tale til FNs klimakonferanse på Bali
Historisk arkiv
Publisert under: Regjeringen Stoltenberg II
Utgiver: Statsministerens kontor
Tale/innlegg | Dato: 13.12.2007
-Svaret fra Bali må være: vi har viljen, vi har redskapene, vi har bestemt oss for å sette i gang, sa statsminister Jens Stoltenberg i sin tale til FNs klimakonferanse på Bali i dag.
Mr President,
Mr. Secretary-General,
I have come here directly from the Nobel Peace Prize Award ceremonies in Oslo.
There we celebrated the achievements of the International Panel on Climate Change and Al Gore.
Once again this prestigious prize serves as an inspiration to a great cause.
The IPCC under its chair Dr. Pauchauri has provided the facts.
Al Gore has communicated the message in a way that we cannot ignore.
Together they have made 2007 a turning point in our history. The last remainder of any reasonable doubt about the threats of climate change has finally been put to rest. We therefore all congratulate Dr. Pauchauri and Al Gore with the Nobel Peace Prize so well deserved.
Another Nobel Laureate, Desmond Tutu, said: "To ignore the challenge of global warming may be criminal." And he added "The future of our fragile, beautiful planet is in our hands."
Therefore, in Bali we must agree to launch a negotiation process to reach a comprehensive global agreement on climate change - a Bali road map.
Our objective must be that global temperatures rise no more than 2 degrees. And that global emissions peak no later than 2015.
Those who think that we can return to business as usual after Bali are wrong. We face tough decisions. And future generations will judge us on our actions.
Norway will do its utmost. We will over-fulfil our Kyoto commitment by 10 percentage points by 2012. We will reduce or off-set 30 per cent of our emissions by 2020. And we will become carbon neutral at the latest by 2050 by financing emission reductions both at home and abroad.
The countries with obligations under the Kyoto Protocol cause 30 per cent of global emissions.Even drastic reductions in these countries will not be enough. Therefore, the new agreement must include all major emitters. It must be just and workable.
The rich countries bear the historical responsibility for the state we are in. And the rich countries must shoulder the main burden of reversing climate change. For cutting emissions in their own countries. And for financing cuts in the developing world.
The challenge is indeed a daunting one. However we can succeed. By carbon capture and storage and the prevention of deforestation alone, we can make a major step towards our goal.
The release of CO2 from power generation, large scale industrial sites and deforestation alone accounts for almost half of the total emissions.
Significant reductions could be achieved through effective measures in these sectors. The technology we need is within our reach.
The Norwegian Government has embarked on an ambitious programme for carbon capture and storage. Within a few years, we aim to operate a full-scale facility installed at a large-scale power plant. Already, we have 10 years' experience of safely storing CO2 under the sea-bed. Carbon capture and storage could become an important solution to the threat of climate change.
I strongly believe that such projects must be given Clean Development Mechanism status.
Through effective measures against deforestation we can achieve large cuts in greenhouse gas emissions - quickly and at low cost. The technology is well known and has been available for thousands of years. Everybody knows how not to cut down a tree.
Therefore I am pleased to announce that the Norwegian government is prepared to increase its support to prevent deforestation in developing countries to more than 500 million US dollars a year. I urge other countries to join us in these efforts.
But we have to work out systems that ensure that emission reductions are real. We are going to pursue this together with the UN, the World Bank and partner countries.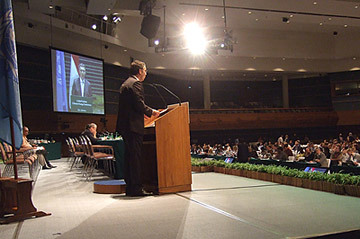 Statsminister Jens Stoltenberg holder sin tale til FNs klimakonferanse på Bali. Foto: SMK
Mr President,
In order to mobilise the resources necessary, we need to put a price on carbon. Then we create incentives to behave climate friendly. Then we make polluters pay for their emissions. Therefore we have to create a global system of carbon trading and CO2 taxes.
Mr President,
The post-Bali process will be demanding. It will require difficult compromises from all of us. To facilitate this process, Norway is ready to sponsor a meeting of the parties leading up to Copenhagen.
The climate challenge is enormous, but so are the potential rewards and opportunities for growth and positive change. Al Gore said in his Nobel lecture earlier this week: "For now we still have the power to choose our fate." And he asked: "Have we the will to act vigorously and in time?"
The response from Bali must be: We have the will; we have the means; and we have the determination to act.